Disappointing but Not Surprising: Ketanji Brown Jackson Faces Racism During Her Supreme Court Nomination
For over two centuries, the United States of America has succeeded in securing appointments of old white men to the Supreme Court, but President Biden's nominee Judge Ketanji Brown Jackson, if approved by the Senate, will be the first black female to hold a seat.  
In the history of the U.S., there have been 115 justices in the Supreme Court, with 108 of those Justices being white men, but only 5 women and 3 people of color.
The nomination of Judge Jackson is a historical nomination because, if she is approved, she will be the first Black woman to have a voice in critical rulings from the Supreme Court. Throughout the legal profession as a whole, the black female voice has been absent. According to a study released in 2020 by the American Bar Association, only 5% of lawyers are African-American and only 37% of lawyers are female. The study also acknowledges the overwhelming representation of white lawyers with 86% of lawyers being non-hispanic white.
Judge Jackson is an extremely qualified candidate with two Harvard degrees, 10 years of federal judicial experience, and a record of serving under Justice Steven Breyer as a clerk, who she would be replacing. Even with her immense qualifications, I have no doubt that certain members of the U.S. Senate like Senator Lindsey Graham and television pundits like Tucker Carlson will use her race and gender to undermine her impressive achievements. 
Judge Jackson's work experience includes representing clients as a federal public defender. This would allow her to be the only justice that has ever practiced as a public defender.  This experience would undoubtedly benefit her appointment with a deep understanding of representing defendants in criminal proceedings. This experience provides Judge Jackson with more empathy and knowledge about the practical realities of criminal justice than most other justices, as she will no doubt understand the effect the law would have on an ordinary citizen. 
The Supreme Court deals with cases that impact every ordinary citizen of America. It's important that a justice understands the ramifications of their rulings and looks at the defendants as people, not just names on a paper. 
Shortly after President Joe Biden announced his nominee, Senator Lindsey Graham took to Twitter saying the Senate Judiciary Hearing will be "respectful but interesting". This tweet is exactly the type of dismissive comment that politicians will be using to excuse their covert racist and misogynistic agenda toward Judge Jackson. We live at a time where there is no shame and it is obvious that some people in the country will go to any length to try and put down Judge Jackson as part of identity politics. In past comments, Political commentator Tucker Carlson asked for the LSATs scores of Judge Jackson believing they would prove she is unqualified to sit on the highest court of America. Seeing the achievement of Judge Jackson disregarded because of her race and gender is not only demeaning but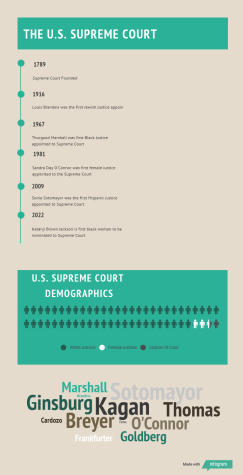 people of color view such standard practice as exhausting.  Judge Jackson's nomination should be inspirational to all of us, as her perseverance in the face of adversity has clearly never faltered.
"There are still many obstacles for people of color in this country and in this society today. But it should be at least somewhat encouraging to know, based on our history, that change does happen and that even the most dire circumstances can be overcome." Judge Jackson said in a speech at the 2021 Constance Baker Motley Gala.
America has had a long history of using the Supreme Court to exclude and discriminate against people of color. With historic cases like Plessy v. Ferguson and Terry v. Ohio, it is obvious that the underrepresentation of Black Americans and Americans of color has previously led to the historical normalization of racism in this country. Judge Ketanji Brown Jackson's nomination is an additional step towards a more inclusive and accurate representation of America, especially needed in this time of uncertainty and fear. Ketanji Brown Jackson has shown perseverance in the face of racism directed toward her by those who are afraid of a much-needed change in this country.