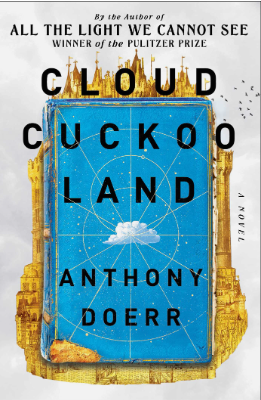 If I read an excerpt of Anthony Doerr's Cloud Cuckoo Land to an audience, I'm doubtful they would understand what compelled me to read all 626 pages in only three days. What makes the book so alluring isn't necessarily the skillful writing, but rather the captivating stories it tells. 
Why Cloud Cuckoo Land is so unique is hard to pinpoint. It's genuinely a story unlike any that I've ever read, and for that, I applaud it excessively. But, if I had to pick just one aspect that stands out to me the most, it'd be the innumerable plotlines, like an entire bedtime story in every chapter. 
The book contains the stories of five narrators, each incomprehensibly gripping. Every perspective shift is so wild that it feels as though you get the content of many books all contained between the covers of this one. Timelines jump with the perspectives, which I approached with caution because of how easy it can be to lose track of events that aren't chronological, but it is done so well here that any reason to worry is entirely nullified. 
The changes in the narratives are done with such savvy that the switch is on occasion down-right painful. The writing immerses the reader in each perspective and makes it near impossible to leave, just before the chapter switches into a whole different millennia. 
The content ranges from futuristic sci-fi in the Argos, a spacecraft in search of a planet to replace the ruined Earth, to historical fiction, following Anna and Omeir in 15th century Constantinople. The way that these vastly different worlds connect is incredibly satisfying, and it makes a gold mine of symbolism and themes to study for any literary analyst like myself. 
It's not just the plot, which has the reader in a chokehold, that makes it so hard to put the book down for even just a minute; it's also the fact that all of the protagonists are simply impossible not to root for. 
The writing makes it completely implausible to get out of reading the book without at least one emotional attachment. The characters' feelings are flawlessly incorporated into the story, weaving in and out between narrative and emotion. Doerr is a grandma who never once ceased his skillful knitting throughout the entire book. 
With this, it's no surprise to me that Cloud Cuckoo Land won the 2022 Grand Prix de Littérature Américaine, a French literary award for the best book by an American author translated into French that year. That's not where Doerr's mastery ends — All The Light We Cannot See is yet another outstanding novel of his, awarded the Pulitzer Prize for Fiction and the Audie Award for Fiction, as well as two others for creative arts and fiction. 
I've never heard of anything even remotely similar to this book. Its quality is so incredible that my brain short-circuits from trying to contain every bit of art into the few words the English language allows me. What I can say is this: there really is no one I wouldn't recommend this book to.