See Moments From Jazz Bands' February Concert: "It Was Our Best Concert of the Year"
Creek's Jazz A and B bands performed their third concert of the year on Friday. Directed by band teachers Jessica Vaughn and Tim Libby, the bands played a few songs each, all featuring student solos.
"I'm pretty happy with how our band did," junior Jazz B tenor saxophonist Dallas Van said. "It was our best concert of the year so far and everyone has improved so much."
The jazz bands at Creek are conducted in a completely different manner compared to the concert bands. At the beginning of the song, the director cues the band, then steps aside and lets the band groove and play the song more independently. They must depend on each other and their own counting to stay in time.
Four songs were selected for each band. One song played by Jazz A was called "Sagebrush," and it was not selected by the band directors, but rather a student soloist.
"I got to work with Annie Booth, the composer of [Sagebrush], at a jazz camp this summer," junior tenor saxophonist Isabella Sandvall said. "I basically just annoyed Libby for months by asking if we could play it."
Jazz B's setlist was also appreciated among the audience, with "New Orleans Midnight" being a fan favorite. "The songs really challenged us this concert and all the hard work did pay off in the end," Van said. "These songs made me overall a better player ever since our last concert."
Both bands had tunes that featured passages of improvisation, along with melodies that challenged students to play in high keys and quick rhythm.
"I truly enjoyed all of the songs on this set," Sandvall said. "We spent a lot of time working to understand the styles of each of the tunes, and that filled the music with a lot of soul."
Jazz band allows students to play instruments that wouldn't be played in concert bands, including a full drum set, electric guitar, and string bass. It also brings unique variations to concert instruments. Senior Jamie Chaffin's solo featured a mute that gave her trumpet a Hitchcock-style quality. Junior Kyle Scheerer's solo came with a plunger head that he moved on and off the trumpet bell to give it a wavy, funky sound.
Several students improvised solo performances, getting the chance to stand out and groove with the music. "My last solo was one of my favorites I've performed in concert," Van said. "It really got the crowd making noise."
Students weren't the only soloists. During a couple of the Jazz A songs, Libby joined his students on trumpet, playing the 4th trumpet part on one song and playing a solo of his own on another.
Many students from both bands were proud of their performance, along with the progression they've made as musicians since their first concert in September.
"Everyone has definitely improved," senior Jazz A trombonist Tori Lashbrook said. "People are taking more solos and using music theory more."
It's unconventional in contrast with Creek's concert bands. However, it gives students the chance to exercise a unique passion for music in a completely different way.
"I am really proud of Jazz B for how gone we've gotten as a group and as individuals," Van said. "We all have really settled into the band, and with it we had a great performance this concert."
See moments from the concert below.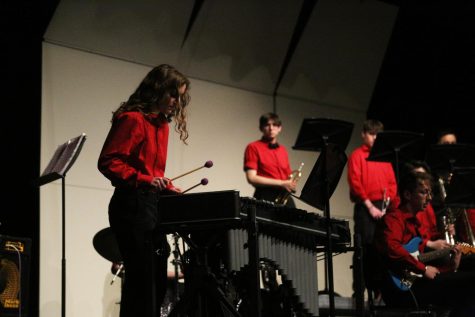 Senior Roya Behbakht performs a vibraphone solo during Jazz B's "Stuck in a Groove." Behbakht also played the guitar during the concert.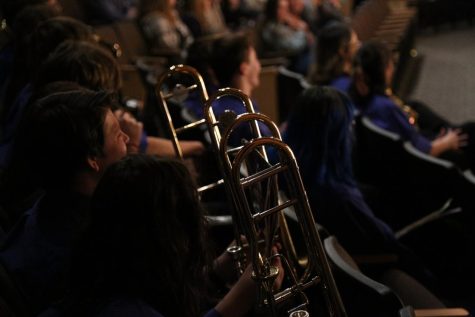 Jazz A trombonists (from left) senior Tori Lashbrook, sophomore Theo Doot, and senior Rachel Novak watch the Jazz B performance.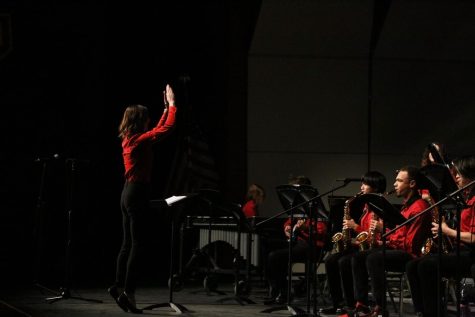 Jazz B director Jessica Vaughn cuts off the band at the end of the song "On Green Dolphin Street."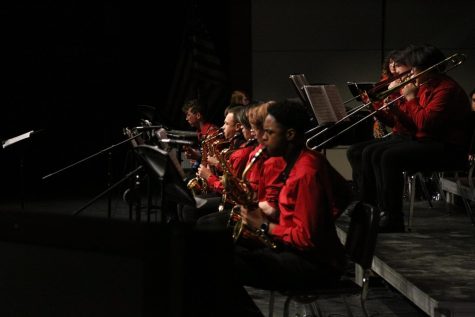 The Jazz B saxophone line performs "702 Shuffle," the final song of their concert.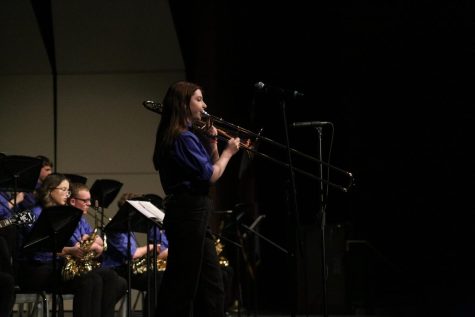 Senior Jazz A trombone Tori Lashbrook performs a solo during "Blues Conference." Several students from each band got the chance to play or improvise a solo.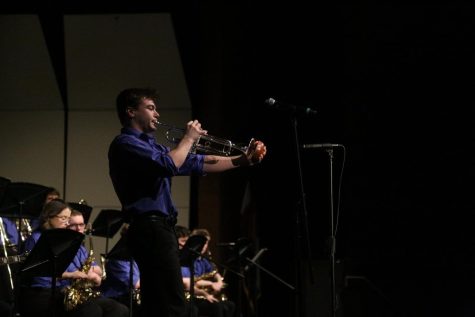 Junior Jazz A trumpet Kyle Scheerer uses a plunger head to modify the sound on his trumpet. His solo in "Blues Conference" featured high notes that had a wobbly, wavy sound due the unconventional mute.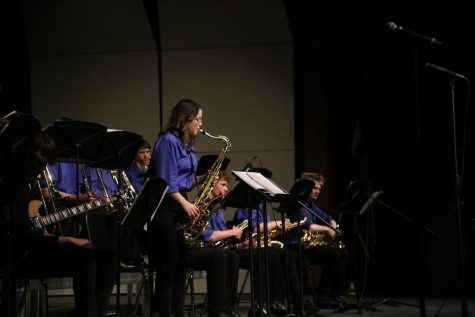 Junior Jazz A tenor saxophone Isabella Sandvall performs a solo in "I Mean You." Rather than standing next to the microphone at the front of the stage, saxophones performed their solos using microphones mounted next to their chairs. "I think I am happy with how well many aspects of [my solos] went, but there is always room to improve upon," Sandvall said.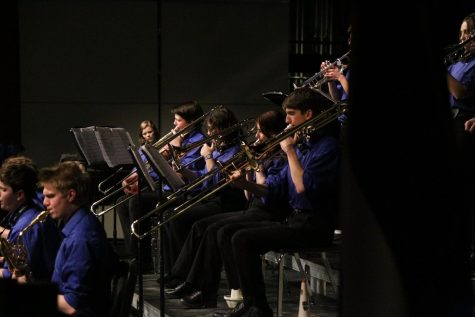 Jazz A trombonists (from left) sophomore Theo Doot and seniors Rachel Novak, Tori Lashbrook, and Parker Walsh perform "Sagebrush."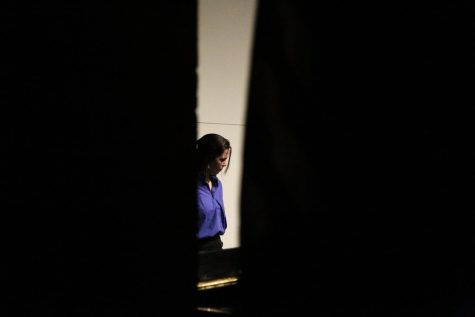 Senior Jazz A percussionist Maggie Lee plays the vibra slap for "Everything Happens for a Reason."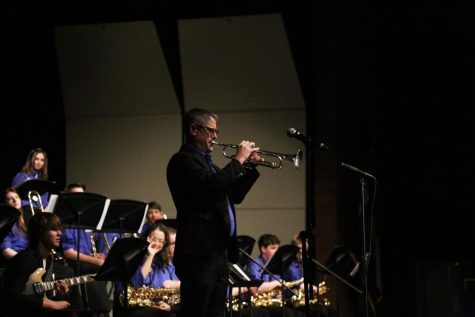 Junior tenor saxophone Isabella Sandvall signals approval as Jazz A director Tim Libby performs a trumpet solo during "Everything Happens for a Reason."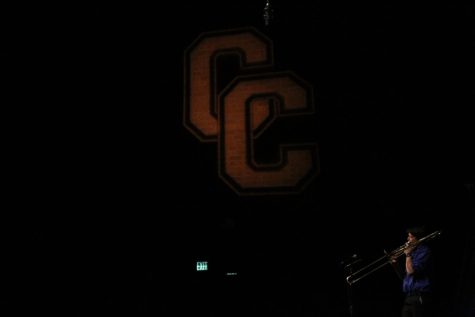 The Cherry Creek projection looms above sophomore Theo Doot as he performs a trombone solo during "Sagebrush."