'This Isn't Even Possible': Boulder County Residents Tell the Story of the Marshall Fire
The fire, Colorado's most destructive in its history, destroyed over 1,000 structures and damaged almost 200 more
In 2020, a town came inches away from burning to the ground in the Rocky Mountains.
In the East Troublesome Fire, one of Colorado's worst, homes tucked below the picturesque Trail Ridge Road were flattened. The fire burned just yards away from downtown Grand Lake, Colorado. And since that fire, Coloradans in  mountain communities from Evergreen to Silverton to Fraser have feared they could be next.
No one ever expected it would be suburban Louisville and Superior, just south of Boulder, with picture-perfect developments and curved cul-de-sacs. Wildfires don't burn suburban neighborhoods down. And they certainly don't do so in December.
But on Dec. 30, 2021, in a matter of hours, a grass fire burned through around 1,000 homes in Louisville, Superior, and unincorporated Boulder County, damaging around another 150, according to an early estimate from Sheriff Joe Pelle. Fueled by winds over 100 miles per hour, the Marshall Fire grew to a few thousand acres, quickly becoming the most destructive fire in Colorado history – and making neighborhoods in Superior and Louisville into the next Grand Lake.
The Marshall Fire began on Dec. 30 with origins that are, as of yet, mostly unclear. But the 100 mile-per-hour winds that day, not abnormal for Boulder County, quickly spurred the fire into a neighborhood-consuming inferno, giving little warning and little time to realize what was happening.
Crystal Masterson, a nurse-midwife in Louisville, described how quickly everything began. So quickly, in fact, that she was actually on the phone with her husband Billy Masterson, a firefighter, when he was called to the fire.
"Right around noon, I noticed all the smoke, and I called [Billy] at the fire station," Masterson said. "And I said, Hey, what's going on? I see a lot of smoke. It looks like it's coming from Marshall Mesa. He said, 'Yeah, actually, there's a fire at Marshall Road and Cherryvale Road that we heard about.'"
Shortly after, an alarm rang in Billy Masterson's Longmont Fire station, and he was called to fight the growing Marshall Fire.
"As we were on the phone, their alarm went off in their station, calling them [the station] to the fire," Masterson said. "He and his crew left to go fight the fire. So from that point, my kids and I were trying to secure everything in our backyard because the 80- to 100-mile per hour winds were knocking over the fence, and we have a rabbit in our backyard. We had to go rescue her, and we just thought we were bringing her indoors to get her out of the smoky air because it was so thick with smoke."
At that point, Masterson and her family had little warning they were going to have to evacuate.
"While I was downstairs doing some things, my daughter heard my phone ring upstairs," Masterson said. "I answered it, and it was the reverse 911 call telling us to evacuate. But the call itself was quite vague and it said anyone east of McCaslin [Boulevard] should be evacuating. We kind of were like 'Whoa, that's weird. I don't know what this means. I don't understand how a fire could get all the way into Louisville. There's no way, this isn't even possible.'"
Louisville and Superior are suburban towns, nestled just southeast of the much-larger Boulder. With a combined population of about 34,000, Louisville being the larger of the two, it's not a sparsely populated area. The two cities are home to several housing developments, mostly only a few decades old, and aren't surrounded by heavy forests like many towns in the Rocky Mountains. For that reason, few suspected that wildfires would reach the neighborhoods of Louisville and Superior. And yet, the danger to the two cities was very, very real.
"I look out to the back yard and I see this probably five by seven inch square piece of debris fly into the yard with embers lit. And I was like, holy s***. What is that?" Masterson said. "And then a minute later after the 911 called, Billy texted and said 'I'm in Louisville fighting this fire. You need to go to Erie [Billy's parents' home] now.' So once I got his text, I was like, 'Oh, this is legit.' So then the kids and I were trying to get the rabbit into the car and get our dog and then we had to go rescue our neighbor's dog because they were in Florida."
The shock and disbelief was common among residents of Boulder County that day. Shira Nathan, a 10th grader at Centaurus High School in Lafayette, described how sudden and unexpected it all was.
"My day started with my grandpa being sent to the hospital," Nathan said. "He had had a fall the night before and my dad was rushing out the door to go get him. My parents both left in a hurry, and I was just sitting on the couch, feeling worried for my grandpa, as this insane wind howled outside. High winds are becoming more frequent in Boulder County, so it didn't seem unusual, just intense."
Soon after, however, the winds turned deadly.
"I was just going about my day really, until about an hour later when I went to walk my dog," they said. "I noticed this huge greyish brown cloud to the east. I'm kind of an anxious person, so I immediately called my mom, because that combined with the wind made me concerned about a tornado. My mom told me she had just been about to call me; there was a fire by McCaslin [Boulevard], and it was spreading quickly. The winds were blowing away from us, so there was probably not much to worry about, but she asked me to start packing. In that moment I felt pretty calm and level headed, but that wore off pretty quickly."
The suddenness of the fires left Boulder County residents fumbling to decide what could come with them and what would have to stay behind. Nathan described how overwhelming it was to pack to evacuate, not knowing whether they'd see any of the things left behind again.
"I went inside, and was just kind of gazing at all of my things, at my room, at anything in sight, trying to grasp the information I'd just been given," Nathan said. "A lot of families had much less warning as far as I know; we were about 2 hours ahead of official updates/orders just by way of our own cautiousness."
Masterson said her family had no choice but to leave their five chickens behind.
"There was no way we were bringing our chickens inside," Masterson said. "Once we did evacuate, we made sure we filled up all their water and the food. [But] we didn't think we were leaving. Like, we're deep into Louisville – there's houses all around us, right?"
As Masterson and her family prepared to leave, so did their whole town. Pretty soon, it was chaos.
"As we're driving out of our cul de sac, every house has people coming out, throwing stuff in their trunks, trying to pull out, and it was just pandemonium," Masterson said. "You know, nobody's ever had anything like that occur as far as I know. And it was pretty nuts. One of our neighbors is older and he didn't really believe the evacuation order. So I went and told him, 'You need to go, you guys need to get out.'"
Masterson and her kids piled into two cars, one driven by Masterson, and the other driven by her 17-year-old son, Jackson. The roads out of Louisville were packed, and Jackson realized that in order to get out on time, they would have to take a back route.
"He got out of the car, ran up to my window and said, 'We're not moving. This line is not moving. We need to go the back way,'" Masterson said. So they wound around the neighborhood, taking an alternate route that many people who had been diverted from Highway 36, which was closed between Broomfield and Boulder, wouldn't have known.
Masterson and her kids made it to her in-laws' home in Erie safely, and it was there that her husband, Billy, was able to find refuge the following day.
"He came back to his parents house in Erie at about 10 am on Friday," Masterson said. She added that his eyes were "fully bloodshot from all the smoke exposure and just being up all night long," she said. "And he looked so defeated, but he told us a few stories and then he laid down on the floor and was out cold for about two hours."
For the past day, Billy had been fighting the Marshall Fire near Harper Lake in Louisville, on the northeast end of the fire. Crystal Masterson described how he watched places familiar to him burn in the fire, with little ability to stop it – and no knowledge of if his own home was still standing.
"I ended up getting to talk to Billy around 6pm," Masterson said. "He wasn't anywhere near our house to let us know if it was gone or not."
The pump for some fire hydrants in Louisville burned and, as a result, were no longer functional. Instead, Billy and some of his fellow firefighters were forced to drive elsewhere for water. They would drive into Louisville for water, then return to Harper Lake and empty their tanks onto the burning homes. They repeated this process for around four hours, but many homes in the neighborhood still burned.
"We have friends who lost their houses, one of which was a house that Billy was at, up at Harper Lake, trying to protect, because it just happened to be in the line of houses he was already at," Masterson said. "But he watched that house catch on fire. Close family friends of ours."
While Billy was fighting the fire, Crystal and her kids were able to watch news coverage of the fire, worried every moment that their home was among the ones flaming.
"We had the TV on and we finally got to see footage," she said. "Probably a couple hours into that, Channel 4 News was filming from the corner of 95th and Dylan Road with the cameras facing where our house is. The background was this big open space field that's owned by Louisville. As we watched the news over those couple of hours, that field was fine. And then all of a sudden that field was flaming. And I was just devastated. I was like, 'Our house is gone. It's gone. There's no way that that fire did not get down into our neighborhood because it's just fields of grass, dry, wild grass, up to our house from there.'"
Within just a few hours, the Marshall Fire had consumed entire neighborhoods. Masterson and Nathan were both lucky enough to return to their homes undamaged, but over a thousand other families did not get that chance. For both of them and many other residents of Boulder County, the time since the fire has been spent supporting the community around them.
"We have a bunch of friends who lost their homes," Masterson said. "One of them is my son Luke's friend, and she's in our house right now. It's been hard, knowing how to support them, because they're all in shock. We had stuff to offer her today, like clothing and shoes, and she just couldn't accept it. It just felt too overwhelming for her."
Masterson is also on the board of Louisville Rising, an organization initially created during the COVID-19 pandemic to support the Louisville community. Now, it's being used for fire relief. One of their main efforts so far? Replacing new holiday gifts that kids lost in the fire.
"We just started up a gift drive for kids that lost all their gifts from Hanukkah and Christmas and stuff, and to try to at least bring some joy to these families who lost everything," Masterson said.
Nathan said that they had been volunteering a lot, along with a lot of their community.
"There was a very strong sense of community and unity, because the fire was affecting everyone here," Nathan said. "The whole time we were sending texts and checking on people, and they were doing the same for us. And afterward, the whole community has really stepped up in providing donations and shelter. I've been volunteering at various places. The whole of Louisville still doesn't have water or gas, so that's a big focus."
Even for people whose homes didn't burn down, the effects of the fires have reached into their lives. Public buildings and businesses were among the damaged, including several schools. The Colorado School Districts Self Insurance Pool (CSDSIP) was called in to evaluate schools in Boulder County. Jason Catlett, the property claims adjuster for CSDSIP, was called to look at eight schools in the fire area, including Coal Creek Elementary, Fireside Elementary, Superior Elementary, Louisville Elementary, Louisville Middle School, Monarch K-8, and Monarch High School, as well as several others with smoke damage. Catlett said that none of the schools suffered major fire damage, but all of them needed to be cleaned of smoke.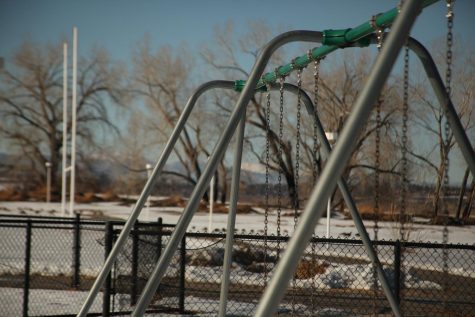 "The closest the fire got was to Monarch High School," Catlett said. "It got to the end of the perimeter of the school…probably 300 yards away from the actual building itself. So there was no actual fire damage to the school. Most of the damage was from the wind from the smoke."
Catlett's team conducted deep smoke cleans on the schools, which used a combination of wiping everything down and  HEPA vacuums. He said that the main damage that is affecting schools' functionality was actually because of the pipes bursting due to the power outage. Parts of Boulder County were also on boil-water orders after water was contaminated due to the fire. Overall, however, Catlett said the schools, which reopened Jan. 5, were mostly lucky to avoid damage.
"The schools were extremely, extremely lucky," Catlett said. "I know a lot of the staff and other people in the schools lost their homes in the fire, and yet they still showed up for work. So just really commend them for hanging in there and doing their best."
Reports published the week following the fire found there to have been 1,091 structures destroyed, 1,084 of which were homes and seven of which were businesses. Another 179 structures were damaged, 149 of which were homes and 30 of which were businesses. The estimated cost of the damage is upwards of $513 million. The Marshall Fire devastated the Superior and Louisville communities, and that damage will not soon be forgotten.
"I don't have words to describe what it was like to learn about the massive fire or to see what it did to the community I love," state representative Matt Gray, who represents parts of Boulder County in House District 33, said in a statement to The Union St. Journal. "The recovery is going to be harder than most people would expect. But we're going to recover and take care of each other. I know that."
It's important to note how abnormal the fire was, both in the areas it affected and the time of year it occurred. Experts worry that at the root of the fire is a steeply changing climate, which helped to cause Colorado's severe delay in snowstorms this past year. In future years, climate change could foster conditions that would result in disasters similar to the Marshall Fire. In light of their experiences, Nathan hopes that this tragedy will result in more awareness of climate change.
"We're all hoping that this really gets people going surrounding climate action, because this was undoubtedly caused by the climate crisis," Nathan said. "I mean, the phrase 'devastating wildfire in late December' kind of tells you all you need to know. I think the general opinion within Boulder County is that climate change is real and scary, but won't necessarily affect us. That belief is out the window."
This article won First Place News Feature from CSMA.