Harry Styles's Love On Tour Brings Much-Needed Energy Back To Denver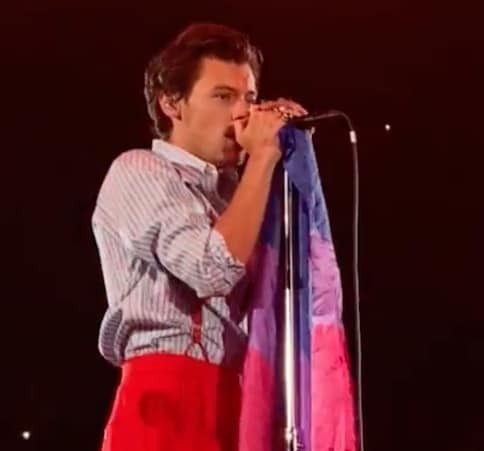 Denver audiences were dazzled Tuesday by Harry Styles's "Love On Tour" show in Ball Arena. Two of our staff writers, Katya Roudakov and Norah Rudnick, were there. They sat down to talk about why the concert was so meaningful.
Katya Roudakov: Harry Styles's concert was crazy, right?
Norah Rudnick: Yeah it felt great to be able to be back at a concert after so long!
KR: A lot of people feel that way, I'm sure. It was my first concert since COVID started, and it was amazing to be in an arena filled with people again.
NR: It certainly felt like a lot of people went, the sheer number of people wearing the Love On Tour shirts in the halls really surprised me.
KR: Yeah, a lot of Creek kids went. The concert was fantastic, though; I think Harry was glad to be back on stage just as much as we loved being in the audience. He brought a ton of energy, dancing, and joy. It was a great change of pace from regular life.
NR: Every song sounded so amazing; my ears are still a little fuzzy from the enthusiasm. People, including my overly-emotional self, were super happy to hear the older One Direction songs.
KR: "Olivia" was definitely surprising to hear before the show, and "What Makes You Beautiful" had everyone going insane. The playlist before the concert started seemed like the perfect way to get everyone prepared. They also played Mac Miller's "Blue World," since it was the three-year anniversary of his death that day, and I really appreciated that.
NR: It was amazing that he played that song. It definitely added another level to the concert. Jenny Lewis' opening was awesome as well, I'd never heard her music before, and now I'm hooked. I've never been a fan of country music, but hers was a perfect blend of country and indie that I loved.
KR: She was definitely an interesting choice, since Harry doesn't really do country, but it fit really well. I also loved how he changed up his songs from the recorded versions. The note changes were so cool.
NR: The songs during the concert were blended so nicely. I loved the shift from "Two Ghosts" right into "Falling." I thought it was so funny how people in the pit would follow him around the stage, and have their own dance parties during the concert. He really involved the audience, telling us to dance all the time. Especially during "Sunflower Vol. 6," "Canyon Moon," "Treat People With Kindness," and "What Makes You Beautiful." He tried really hard to engage the audience. I started crying when he talked about how important music is to so many people, and how much he values us as well. His music has really helped me get through so much.
KR: Me too. There was loads of cardio with that dancing, for sure. He did a ton for the fans, and I really enjoyed how much he related what he said to Colorado. When he said, "I went for a hike in the Flatirons this morning," people loved that. He's also been seen all around Denver, which I know a lot of fans appreciate. Some artists just spend all of their time in their tour buses, but Harry makes an effort to get out and see wherever he's visiting.
NR: He really values his fans so much, it's a great characteristic for a celebrity. I feel like there was a tone set for future post-COVID concerts.