Meeting Mac Miller through his posthumous album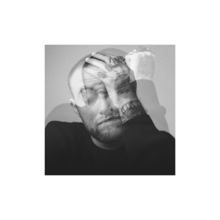 Mac Miller's intensely intimate, posthumous album took the world by storm on Friday, Jan. 17. I'm not really that into hip-hop but something about listening to a dead person's album caught my attention. I'm also not really an album listener. I'm very picky and lose interest in tracks very quickly. So, let me tell you, "Circles" playing non-stop since the moment it was released is an incredibly unorthodox behavior in my listening regimen. 
As a 17-year old girl, Mac Miller's name was only familiar to me because of Ariana Grande. I've followed Grande from a young age. I'm not going to admit I was invested in their relationship, but I was invested in their relationship. I lived for the ups and downs of Grande's relationships, feeling the heartbreak of their break up, the hopeful turn into her engagement with Pete Davidson, and then the devastation of Miller's death. After Grande wrote "ghostin" about her struggle with the loss of Miller and the stress it put on her relationship with Davidson, it quickly found a staple spot in my "sad-girl-hours" playlist.
When "Good News" by Mac Miller popped up in my YouTube recommended page, uploaded 4 hours ago it said, I was very confused. Because Mac Miller died. Like a long time ago.
I think what captured me was the intimacy of the sounds. It felt like Mac was talking to me. The words and lyrics, are so raw and vulnerable and messy. He goes, "Well, so tired of being so tired/Why I gotta build something beautiful just to go set it on fire?/I'm no liar, but sometimes the truth don't sound like the truth" in his single, "Good News". But the sounds are so calm and other-worldly. Perhaps the juxtaposition is what added to the chaos of emotions and struggles. 
I think maybe because he's gone, the rarity of the content increased a lot in my mind. I feel this eliminated the usual "filler tracks."
Anyway let's talk about some of my favorites off the record. 
The two singles – "Good News" and "Circles" – slap so hard. They're kind of an E for everyone. I feel like these were what hooked me and so many others into listening in the first place. You can listen to them without the lyrics and they're just these beautiful, vibey tracks. "Good News," a little more upbeat, incorporates very warm synth and mellow guitars that makes it feel like you're sitting in a homey spot with sunlight spilling through a big window and just enjoying a quiet moment. Or maybe that's just me. 
If the video for "Good News" says anything about the song, it's very otherworldly and cosmic. Sort of 2-dimensional sound, but like a totally deep and alternate dimension in terms of ideas and lyrics.
My all time favorite has to be "Blue World." It's very unique in its upbeatness compared to other tracks. 
I'm absolutely in love with the beginning. He brings in some mid-century sounds. It's one of those – I'm sitting in my chair but this song is so clean I need to do an awkward head bob to bop along. It's such a 180 in terms of place of mind. 
It makes it even more sad, because you can feel the high and the low. It shows depression isn't really this monochrome sadness, it's a depth that requires a fall from somewhere high. You can tell his career and his music is something that fueled him. The passion and adoration for something that makes you feel like you have a purpose. Miller sings, "I'm here to make it all better/With a little music for you/I don't do enough for you."
By far my most repeated listen is "Once a Day." It just hurts. Again, I was never really invested in Mac's life, aside from Ariana, and wasn't really aware of most of his struggles until this album came out. But something about the rawness and relatability of the words just hits different. 
You can tell how earnest he's being. How he's fighting these demons, not to be another celebrity that fights with mental struggles and drug abuse, but to just tell you what it's like and that he's trying his best. 
His line about the loneliness of bottling your emotions, "Don't keep it all in your head/The only place that you know nobody ever can see" feels like someone took a plastic fork and is just twisting it around in my heart. Such a solid, beautiful conclusion to his album.
I think Brion did a phenomenal job putting together the album, and Miller produced some incredible music in his time. The whole listening experience intensified by the very real loss of someone who knew what it's like to hurt and knew how to aptly put it into words.