Creek Climbers Mourn Loss of Indoor Rock Climbing Institution
Rock'n and Jam'n, the most accessible climbing gym in the area, closed on Feb. 28
Junior Sophia Diaz-DaCruz began rock climbing less than two years ago, dragged to an indoor climbing gym by her dad and brother. Then, an employee offered to belay her, she got on the wall for the first time, and she fell in love. She's been a regular at Rock'n and Jam'n ever since, finding a community in a sport and gym.
But indoor rock climbing institution Rock'n and Jam'n closed Feb. 28. "It feels like they're taking away my home," Diaz-DaCruz said. "They're taking away my family, my love, and the place that I always go to when I need to escape from reality." 
Rock'n and Jam'n, or R&J, has been serving South Metro Denver since 2004 and has fostered a unique community that has maintained rock climbing's values and preserved its roots in the midst of a massive evolution of the sport.
In late 2022, the building R&J leased for almost 20 years was put up for sale, but R&J's owners weren't aware of that fact until there were already multiple offers placed.
Kegan Minock, head routesetter and general manager of R&J, explained that the landlord didn't ask R&J or their owners whether they wanted to put an offer on the building or not, and were assured that they would be protected in the new lease. However, the building was sold, and the new owner is opting not to extend R&J's lease, evicting the gym.
"We were kind of blindsided with this," Minock said. "It feels like a betrayal."
R&J's members will have to find newer, more expensive gyms to climb at, losing a community that they've been building for years. Other gyms have newer walls and nicer equipment, but R&J has long attracted students from Creek and elsewhere.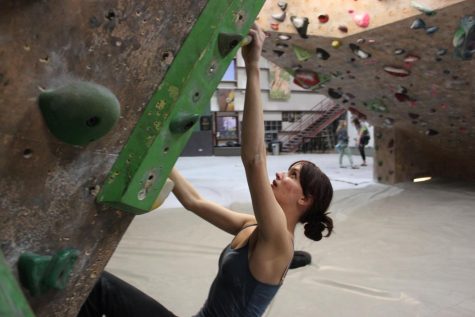 After getting her start at R&J, it was the community that kept Diaz-DaCruz coming back. "I think everybody there is very humble," Diaz-DaCruz said. "Because people go there because it's affordable." 
It was the closest climbing gym to Creek, the cheapest gym in the state, and the most accessible for kids on a budget. For over a decade, R&J hosted a Student Night where students had to pay only $10 to climb (a typical day pass ranges from $17-$20, depending on hours). 
Creek graduate Hunter Robar ('21) was initially drawn to R&J by the $10 student night. It offered a lower-stakes, fun way of trying out climbing. "We could be around people from other high schools and we could just have a good time together," Robar said.
Robar then joined the Creek climbing team, which he remained on for four years, eventually becoming a captain. Climbing was the only sport he participated in in high school — for kids who don't feel at home in team sports, climbing is a drastically different alternative: individual, equal parts mental and physical, centered around the outdoors. R&J was many students' first introduction to climbing.
"Unless you're actively in a competition, the only person you have to compete against is yourself," Robar said. "And so everybody is rooting for you."
Instead of beating opponents, competitive climbing focuses on pushing personal boundaries and defeating the route. "We want to see everybody surpass their goals," Robar said.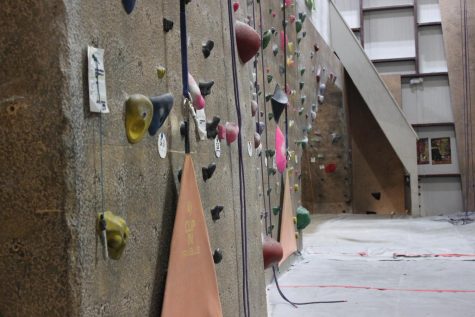 Theresa Morris, former adventure teacher at Creek, has long advocated for giving kids the opportunity to climb. She first started a climbing team at Creek in the mid-90s, and it has evolved into a well-established program with numerous state titles, most recently the girls' varsity team on Feb. 25. 
Morris recognized the population of high schoolers who didn't find a place in traditional sports but still wanted to be active and challenged. "I wanted to give those kids an alternative outlet in a positive way and share my passion for climbing," Morris said.
Morris also pioneered the American Scholastic Climbing League (ASCL), a non-profit that organizes competitive high school and middle school climbing in Colorado. R&J has supported the ASCL from its creation, hosting competitions every season and offering discounts to ASCL members.
With the loss of R&J, the ASCL will be forced to find additional gyms willing to host competitions throughout the season.
Thanks to its old-school values and long presence, R&J has a steadfast member base who have stuck with it despite various challenges. Minock credits the gym's longevity to the members and the family they created. "We've gotten our members through cancer, through divorces, through breakups, through all these things, and we're still here as a community," Minock said.
In recent years, rock climbing has experienced a rapid growth in popularity, spurred on by the success of indoor climbing corporations like Movement, which has locations in seven states. Movement Englewood, the next closest climbing gym to Creek, boasts over four times the square footage of climbing wall of R&J, with walls reaching 60 feet high compared to R&J's 40.
However, despite all of its additional amenities and attractive features, Movement Englewood didn't poach all of R&J's members when it first opened in 2018.
"I think it's this weird thing where everybody wants the gyms to look like the new gyms but they like the personable feel, they like being able to go in and know everybody that's going to be there," Minock said.
As a result of this commercialization, thousands of people have been exposed to climbing. More specifically, a version of indoor climbing that has strayed significantly from the original sport.
Indoor climbing first started as a sort of back-up to outdoor climbing. If the weather was bad, climbers could spend their time training at an indoor gym, and most routes were set to mimic outdoor styles of climbing. Now, indoor climbing is a standalone genre with routesetting that tends to value aesthetic, flashiness, and problem-solving over natural movement.
R&J was one of the few gyms left whose head routesetter was an outdoor climber, according to Morris. 
"I think it's one of the oldest gyms in the nation, really," Morris said. "And it's been a staple in Colorado for a quarter of a century, and they did an amazing job of setting the standard. It's like a little iconic piece of Colorado that's gone."
This story won First Place News-Feature from CSMA.