English Teacher Joel Morris Takes Love of Writing, 'Macbeth' Into New Novel
Creek English teacher Dr. Joel Morris teaches nearly 100 15-year-olds the story of Macbeth every year, leading spirited discussions, screening the 2010 film version, and grading many students' hot takes in the form of essays. But for the past few years, Morris has been delving into Macbeth on his own time, too – writing a novel from the perspective of Lady Macbeth, which serves as a prequel to the Shakespearean play.
The story focuses on Lady Macbeth's life with her first husband and her son. It's based on details found when closely examining Macbeth and what historians have been able to find on the actual Lady Macbeth.
"She has that one kind of throwaway line about how she knows what it means to love the baby that she's nursing," Morris said. "And so that just got me interested, because she says that there's no other mention in the play of children. There's almost nothing known about [the historical Lady Macbeth] except for her marriages and her son."
According to the history Morris has found, Lady Macbeth was married at 15 to her first husband before having her son. Macbeth then killed this first husband and married her instead.
In his story, Morris focuses on Lady Macbeth's own tragedy.
"Her childhood is really kind of based on what it's like to be a woman or girl growing into a woman in an age in a place that is dominated by men," he said. "So she's trying to navigate the misogyny of that world and the brutality of that world and raise her son in that world as well."
Morris made many editorial choices when writing the story, such as not using Lady Macbeth and her son's historical names (Gruoch and Lulach), but instead simply referring to them as Lady Macbeth and the boy. The book also switches perspectives back and forth from Lady Macbeth in first person to her son in third person.
Morris worked with The Bent Agency, based in New York and London, to edit his book and get it into the hands of publishers. Eventually, he got a deal with G.P. Putnam's Sons, a prestigious imprint of Penguin Group. He expects the book to be released in 2024.
This may be the first book he's publishing, but for Morris, it's far from his creative writing debut. In fact, he says, he's been creating stories before he could even write himself.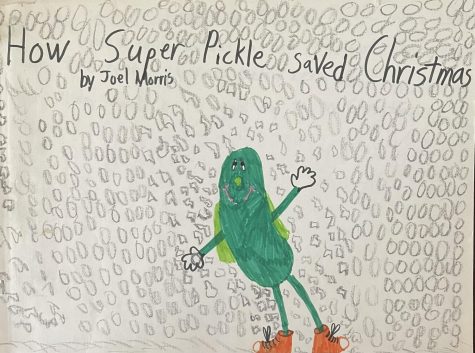 "Before I could write, I remember sitting on the couch with my dad," Morris said. "I would draw these books. My first character was called Hanky. He was a yellow dog, and he would get into all kinds of trouble and stuff. And I would dictate to my dad and he would write the text of it."
Later on, Morris wrote short stories. There was always "something kind of off or wacky" about them, he says. The first one he published, in his 20s: a story of a lost kid adopted by bears, an "impossible" story.
This love for fantasy carried into Morris's novels, many of which were young adult fiction.
"One was about a world of goblins," he said. "It's kind of like this medieval world where the society is kind of walled off and they're trained to fight off goblin attacks, essentially. The big twist is that they find out that they are actually themselves goblins in the end, so kind of fighting this 'other' that's out there, and they've been lied to about it."
Another centered around a modern high school-aged girl who can travel through mirrors. She travels to find herself in other universes as her evil mother follows her through the dimensions. That one, he says, he might pick up again. "That had, I think, some potential," he said.
Morris's history with Shakespeare is also extensive, but it wasn't Macbeth that caught his attention first. He recalls reading Romeo and Juliet, Othello, and Hamlet as a high schooler.
But in college, Morris dug deeper into Macbeth. "I took a class my freshman year called Women in Shakespeare," he said. "That was where I first met Lady Macbeth, was in that class."
Even then, it took Morris a while to dig deeper into the real stories behind Shakespeare's classic plays. And after that, Macbeth only became more important to him.
"It's been a book that's been with me now for a long time," he said. "It wasn't even my favorite Shakespeare play at the time. Maybe it is now. But it's really grown on me. And that's just maybe because I've been able to look at all these different film versions and read it over and over again, and just think about these characters."
Morris shares his office in East with two other Shakespeare aficionados, English teachers Mhari Doyle and Jason Foster. According to Doyle, the three spend a lot of time discussing the Shakespeare they teach – all three teach Macbeth in English 10 Honors – and how they can dig deeper into the characters so students understand them better.
One of these characters is Lady Macbeth. "She's not just a straight up villain, right?" Doyle said. "There's so much more that's kind of motivating what she's like, and why she does the things that she does. I think that there are tons of politicians who've been labeled as a Lady Macbeth, because they're powerful women, or…because they are power hungry. So we talk about those types of issues."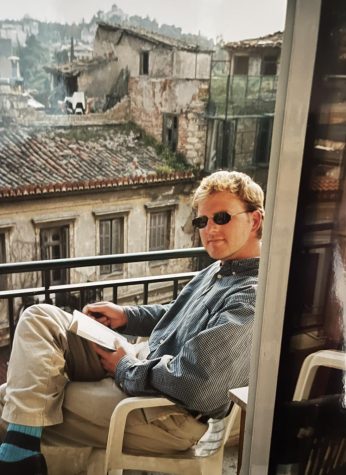 Morris was inspired to analyze Macbeth from Lady Macbeth's perspective in part because he read a counterpart to Beowulf as a senior, written from monster Grendel's perspective. He said it "blew my mind as a high school senior."
"And so I've always kind of been fascinated by those alternate stories," Morris said. "It just really opened things wide for me in terms of like, wow, how cool can you take the basic text or the core text, and then give it a different perspective?"
But even with the seed for the idea planted, Morris's version of Lady Macbeth's story wasn't always supposed to be a book. Originally, he toyed with the mystery of Lady Macbeth's child by adding him into the original Macbeth as a short story.
"I've always been curious about Lady Macbeth and that line that she had a child," he explained. "And the real history of that is kind of interesting, too. But it doesn't fit with what happens at the end of the play. Shakespeare totally changed everything. And I decided to make him kind of a little ghost boy haunting the castle or something."
But soon Morris put the story away, not to bring it out again until the pandemic. And after that, it took him around two full years to reshape his story to its current version and complete his first manuscript – mostly working over summers and school breaks, because teaching is demanding enough on its own, he says.
"I spent [this] July mostly just hammering it out, putting in full days, because I was like, 'I have to get this done before school starts,'" he said. "Right about when school started was when I started querying agents."
Soon after, Morris got in contact with The Bent Agency, which has sponsored bestsellers such as The Hate U Give by Angie Thomas, The Night Tiger by Yangsze Choo, and countless others. James Mustelier, a literary agent who has worked heavily with Morris, said that the story immediately caught his attention.
"There's a very clear voice right from the start there," Mustelier said. "You can feel a lot about the two protagonists just through the voice without being told a lot of specifics about their lives."
Normally, Mustelier says, the editing process from when the agency first starts looking at a book to when it gets sent off to publishers can take months to over a year. For Morris, Mustelier says it took "maybe three weeks or so."
"I think that really just has to do with how polished the book was from the start," Mustelier said, "and how well conceived the project was."
Mustelier commends the book on how it captivates readers using "interesting engagement with the time period."
"It felt very honest and a kind of realistic look at this world and this time period, but also there's definitely a kind of other-worldliness to it," he said. "There are elements of the supernatural, or at least later, implications of it. And I think it toes that line really well, playing with that without ever fully committing one way or the other to those elements. That allows it to exist as something that's in the balance and kind of keeps things very heightened and very interesting."
Mustelier also says that he has enjoyed working with Morris directly. "Joel was really passionate about discussing his work and discussing Shakespeare," he said. "I think that passion comes through and is inspiring to other people. It makes other people really want to work with him and believe in him even more, just to feel that emotion connected with the creative work that he's doing."
Mustelier and The Bent Agency connected Morris with Putnam, which has published fiction authors such as Mike Lupica, Tom Clancy, W.E.B. Griffin, and Delia Owens. With this publisher and the story he wrote, Mustelier believes Morris is well on his way to a successful book.
"I want the book to be successful and for a lot of people to read it," Mustelier said. "I feel very confident it will be because it's something that's both well-written and has a lot of depth and nuance to it, but that is exploring a character that I think a lot of people are really interested in. There's a lot of interest in exploring Lady Macbeth's motivations, which is obviously kind of vilified."
Morris hopes that the potential success of this book will lead him into more writing projects, maybe even more Shakespeare-inspired works, and other originals. With his current deal with Putnam, the publishing company will get first dibs on any of his future contracts, meaning he has a good shot of getting them published. "I'd like to really start working on another novel that I think is getting to the end of its first full draft stage," he said. Morris wants to try to get that novel out in the next three or four years.
But with his Lady Macbeth novel, Morris has likely already accomplished one of his long standing goals.
"I kept telling myself for the longest time, all I wanted to do is be able to walk into a book store and see [my] book on a shelf," Morris said. "That's all I cared about. But I don't know. I mean, I think time will tell."
This story won First Place Personality Profile from CSMA.