English Teacher Joel Morris' Sixth Sense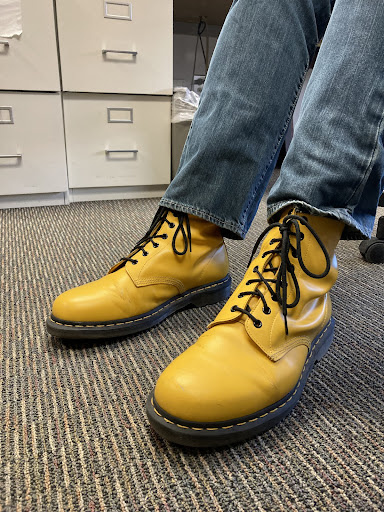 "Today is a yellow day," English teacher Joel Morris confidently announces to one of his sophomore classes. The response is a mixture of students either firmly disagreeing or agreeing with him; there is no in between. 
This lighthearted debate is a frequent one, because Morris has synesthesia. 
According to Healthline, synesthesia is "a neurological condition in which information meant to stimulate one of your senses stimulates several of your senses." Although Morris does not think he has "really diagnosable synesthesia," he does link colors with topics that do not have a certain color. 
"I tend to associate colors with certain topics or concepts that otherwise do not have color to them," Morris said. "I don't know if I have a real synesthetic response to many things, but it has always been the case with me that I have always associated the days of the week with a certain color and it's always been the same color."  
For instance, Mondays are red, Tuesdays are yellow, Wednesdays are blue, Thursdays are yellow, Fridays are blue, and the weekend does not have a color, but if a color was assigned, it would be gray. 
"When I think of Saturday and Sunday . . . I don't have a specific color that is associated with them," said Morris. "I don't know if it relates to the school week [or] the work week, but the weekend is totally void of color or gray."  
Besides the colorful days of the week, Morris also associates color with certain sounds or music, yet the days of the week have become what he mainly associates colors with.
Despite the fact that Morris can often be seen in East wearing colorful shoes such as yellow Dr. Martens, he does not feel the need to dress according to the color of the days of the week, although sometimes the color he wears happens to match up with the day of the week. 
Because Morris frequently talks about the colors of the days of the week in his classes, many of Morris' students have formed opinions themselves, and some disagree with him. 
"Monday is yellow, Tuesday is pink, Wednesday is green, Thursday is brown, [and] Friday is blue," sophomore Sayeesha Garud said via text interview. 
While Morris' weekends are colorless, Garud thinks that Saturday is orange and Sunday is red, yet regardless of their opposing views, Morris' synesthesia helps him to create a more engaging environment in the classroom. 
"I think it makes the class a lot more interesting as we get to see other people's ways of thinking when it comes to synesthesia, and I am more involved in his teaching [because of it]," Garud said.