Protesters Demand Ban on Guns in Colorado Through Sit-In on State Capitol
At 5 a.m on Monday, hundreds of protesters gathered at the Colorado State Capitol building to stage a sit-in, demanding action on gun violence. Organizations like Here 4 the Kids, who seek to end gun violence in America, will continue the sit-in through Thursday in an effort to persuade Governor Jared Polis to ban guns at a state level.
Much of the protesters' incentive to stage the sit-in lies in the fear that their children will experience gun violence firsthand.
"I'm here because I want my kids to be safe, and I want [gun violence] gone because I don't want [kids] to have to grow up with that," Kay Coughlin, a Here 4 the Kids organizer, said.
Denver organizer and volunteer BriAnne Garcia McClellan has been active in protests against gun ownership and violence because of her own experience with the subject, like many others at the sit-in.
"I was raised in a family of hunters, and was taught how to be safe around a gun. I raised my child the same way," McClellan said. "And then one random Tuesday, I did not secure my firearm the way I should have because I was running late. I dropped my child off at home, and they were alone for 20 minutes. In those 20 minutes they got on social media and got attacked by a bully that had been bullying them at school, and they threatened their own life with my unsecured firearm."
McClellan has also seen the emotional effects of guns around children. "My nephew started kindergarten and told me his friend got in trouble for making noise. And I said, 'Well, you have to be quiet in class,' but he told me, 'No, he got in trouble for being loud during the [active shooter] drill…because if you're not quiet, then the bad guys will find you.' And that broke my heart that at five years old that was something that he was already thinking about," she said. 
Like most of the protesters, Coughlin believes that the best way to ban guns at a state or national level is to repeal the Constitution's Second Amendment, the amendment that protects the right to bear arms. 
"I don't think there's any question. I think we are headed directly for repealing the Second Amendment, [through] a constitutional convention," Coughlin said. "That's absolutely what we want.
But repealing the second amendment is not as easy as it might sound. There are two ways to amend the Constitution; either the proposed amendment must pass both the House and Senate with a two-thirds majority vote and then be ratified by 38 out of 50 states, or a Constitutional Convention could be held; where two-thirds of state legislatures would call for the convention, and states could write any amendment that then would be have to be ratified by three-fourths of the states.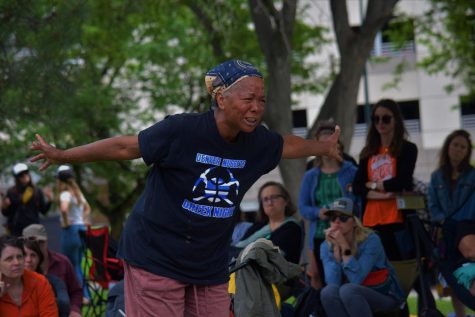 In addition to organizations like Everytown and Here 4 the Kids, many student-run organizations like Students Demand Action have also recently begun to advocate for gun legislation to be passed. While some students including Creek sophomore Meryl Welsh did attend the sit-in, most chapters of Students Demand did not. 
"The second amendment is obviously the largest and most used objection to gun control, but people are going to continue to die in large numbers if we cannot get over or move around it. It was established in a time when people needed a way to protect themselves, but there are other ways to do that now," Welsh said over text interview. "If we continue using this logic and take into account that guns are now actively hurting people, not protecting them, it becomes clear that it is no longer doing its job and should be updated to reflect current needs."  
Like many other students in the Denver area, Welsh has also been influenced by recent mass shootings, including two shootings at Denver East highschool, and looks to become more involved with the anti-gun violence movement.
"Anyone living in this country is faced with [gun violence], as it has become such a prevalent issue," she said. "It's hard to not feel the loss of people your age, especially when it happens in such a violent manner."
The sit-in joins the numerous anti-gun protests that have appeared in Colorado over the last few months, and protesters agree that they will not stop until change occurs.
"You don't have to believe it yet, you just have to want it," Coughlin said.