Chess Club Cheers On Students of All Skill Levels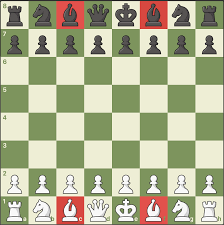 Creek's chess club provides a welcoming community with an easygoing approach for students with many different chess skill levels. The club helps members improve their cognitive skills like pattern recognition which are used both in chess and beyond. 
"The chess club is organized to allow people to play chess in a competitive way with other schools to learn the basics and improvements of the game, and to form a community based around a shared love for the game," junior and Chess Club co-president Neil Bhavikatti said. 
The club meets on Mondays after school for about an hour and is sponsored by Business teacher Erika Schofield who helps organize club meetings. At the start of their weekly meetings, club members listen to a lesson taught by either Bhavikatti or senior Owen Christ, who is the other co-president, for about 10 to 15 minutes. 
"At the beginning of each meeting, there is a lesson on a strategy that is designed to improve the skills of our members," Christ said. "Then, everybody plays games with each other. We frequently host tournaments within our club and with other schools."
To improve the club, both Bhavikatti and Christ want to encourage new members to join as well as incorporate more resources like chess books as a strategy to help club members.
The chess club recently started using engaging practices similar to a March Madness bracket to help students prepare to compete at the state or national levels. 
"They're playing with each other and mixing up and it's been really fun to see them compete against other kids they might not have played before," Schofield said. 
To accommodate players based on their skill set, there are two separate teams in the club. The teams are very fluid, so players can be moved between the two teams based on their performance. 
"If there's a JV player who continues to win and is accelerating, then we will bump them up to varsity and later those are the ones who are available for the state tournament," Schofield said. 
Although this is Schofield's first year sponsoring the club, she has been met with a welcoming chess community. 
"[The chess community is] definitely a lot larger than I thought it was," Schofield said. "I myself am not a good chess player, but I help support [members] and cheer them on."
The club is open to all kinds of students who have a love for chess regardless of their experience. 
"Chess club is different from other clubs in that it's super relaxed, and anyone can join no matter what their skill level is or even just stop by one day," Christ said.
According to members, the chess club is more than a community of chess players. It also provides members with an experience that will help students after high school. 
"I think running the Creek chess club has helped to improve my leadership skills and has made me more organized which [makes] me well prepared for the future," Christ said.