2021 Astroworld Festival: An Avoidable Disaster
Recently, Travis Scott has received great backlash due to his 2021 Astroworld Festival which resulted in nine reported deaths & many injured. A&E Editor Aila MonLouis and Staff Writer Finn Elliott sat down to discuss what unnecessary tragedy occurred.
The normal text indicates A&E Editor Aila MonLouis. Bold text indicates Staff Writer Finn Elliott.
Aila MonLouis: My TikTok "for you page" has users who attended Travis Scott's festival share their hell-like experiences. Not being one who attended the festival, I was terrified by what I heard. 
Travis Scott fills my playlists with his hype songs, and concerts of his especially are meant to fulfill that "hype" aspect, except this festival was the complete opposite; it brought tragedy to all who attended and had to witness the suffering of others while living through their personal hell. 
Finn Elliott: I also came across similar posts, but it's hard to imagine such a horrific situation without seeing it in person. It's also unclear on how Travis Scott will be held accountable or what consequences he will face.
AM: I am aware that Scott has had previous incidents with inciting "ragers" such as his 2015 Lollapalooza show – asking his fans to disregard security and the fences; receiving a lawsuit after a fan at a 2017 concert of his due to falling over a balcony, due to his disregard to safety. Knowing that he has received consequences such as arrests and lawsuits, you'd assume that he'd take bigger precautions for him to avoid more repercussions.
FE: Arguably, I think that's a large part of what makes his shows iconic, but it's never gotten as problematic as his most recent concert. There's a fine line between chaotic fun and a deadly stampede that took at least nine lives and injured hundreds.
I'm not trying to disregard Travis Scott's culpability, but I've also seen videos of fans dancing atop EMS vehicles, completely oblivious to the gravity and urgency of the situation. This combined with Scott's encouragement for fans to sneak in led to an overcrowded and riotous venue, making disaster inevitable. It should also be noted that the artist acknowledged what was happening during the concert, yet he didn't take sufficient measures to prevent it, despite having the ability to stop the concert altogether.
AM: Concerts, meant to be a place of fun, were turned into a site of attendees lifting their heads every five seconds to gasp for air or crowd surfing unconscious bodies to receive the help they desperately need.
With many events being allowed to open back up due to some COVID-19 regulations to be lifted, this was not the way to jump back into that scene and Scott definitely played a role in its disaster that played out. You can see videos circulating from those who went, of Travis Scott acknowledging that fans were shouting for help and he went on to say "You know what we came here to do."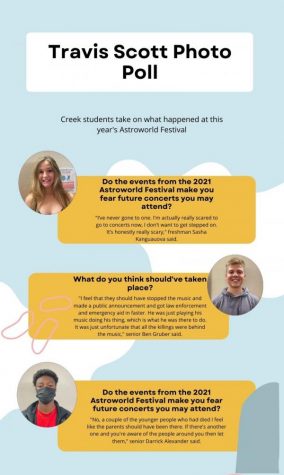 FE: I think his overall negligence was further emphasized by his unapologetic apology, which was quickly deleted after severe backlash. He appeared both disingenuous and contradictory, trying to claim that he values the safety of his fans, despite his actions. Overall, I think Scott's energetic showmanship clearly contributed to the tragedy, but it is unlikely that this backlash will affect his prominence in rap, as his two new singles continue to chart. 
AM: Throughout his apology video, he showed clear signs that he wasn't completely apologetic. Time shared the idea that through the nervousness the liar succumbs to, they end up feeling tingly and itchy sensations through their nervous system, causing them to fidget. It's clear in the video Scott is uncomfortable, rubbing his forehead throughout the minute and a half Instagram story apology video.
What happened at this year's Astroworld Festival was a calamity that could've been avoided. At a place meant to be enjoyed, disaster struck and even for those who made it out, it wasn't enough. There's so much heartbreak filling this event and to future concerts, I hope artists step up and check on those who came to support them. No one's lives should be put at risk in an area meant to be enjoyed.