The Brotherhood is Alive and Well
Bruins Mens Soccer 2021-2022 Season Preview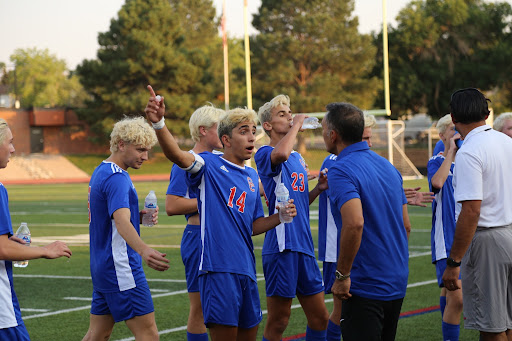 Creek men's soccer is embarking on a revenge tour this season to claim the State Title that they fell short of last year. This season's captains shared their story of the inspirational season they had last year, and told us why the team's brotherhood is alive and well. 
2020-2021 SEASON RECAP
Last year's season started off to a bit of a rough start with a long losing streak during the pre and regular season. Senior Adam Chainken, one of last year's goalkeepers, had a realization from last season that all of the guys have taken with them to this season and all future seasons.  
"I think it was after our last regular season game that we came together as a team… and we started playing for each other," Chainken said. "That's what led us to go that far in the playoffs… I think that we are grateful in the sense that we found a reason to go above and beyond."
Creek soccer's last season was difficult because of the shortened and delayed season due to COVID 19. They were playing three games a week with practices every day that there wasn't a game. 
Last season truly formed the brotherhood as they played not only for themselves, but for each other. Senior Matteo Minisini stated with emotion, "We were playing for something bigger. It wasn't to get to the state championship. It was let's play for the guys who can't play. And we've taken it as far as we can."

The emotions of losing state weren't as heartbreaking for some of the players, as just gaining the opportunity to play that season was rewarding enough. The bonds that the team made were, and still are, unbreakable. That's what started the mindset for this year's season, not just the mindset to win but the thought and ideas of keeping the men's soccer spirit and brotherhood alive and greater than ever. 
"I'm always glad that we lost that game, because if we would have won that, it would have taken away from what actually was of value from that season: actually learning what a team should be," senior Blake Wellington said. "I felt more sad about losing the seniors than losing that game, just because I'm able to play more games in my life. Even if I don't end up getting a state title, I still have done some pretty cool things with soccer."
Senior Cyrus Gulati had a harder time after the state championship game, but ultimately believed that it made him a better player, person, and competitor. 
"I think it was pretty crushing for me, just because there's like a lot of things that happen, it kind of sucked, because we got all the way there," Gulati said. "I thought we were a better team. And I got a lot of things out of the game. I think it brought me closer to everyone here."
With the bit of heartbreak that the team did have, an unbreakable bond was formed, making their family and brotherhood stronger and more empowering than ever.
THE BROTHERHOOD
Last season's heartbreak wasn't just with losing state, it was also losing the team's big brothers: the seniors. It wasn't just the star players, it was the ones sitting out on the sideline cheering and being the best support system any player could ask for. 
"The biggest part wasn't even the players on the field that made the difference, it was the guys on the bench. They were the ones that were the most supportive of us," Minisini said.  
The support that the players brought showed what the team was for them, a family. 
"They were the biggest fans of their biggest night," Minisini said. "And then they made sure we were doing okay, and they gave us everything we needed to perform our best."
It wasn't just on the field where they bonded, they understood that a true brotherhood and bond both on and off the field were the true key to a successful team and season.
"With that stuff off and on the field helped us click as a team, we bonded really quickly. We came together when we really needed to, the speeches from the guys really motivated us," Minisni said.
Even without bringing the state title home, the boys were determined to play the next season to the best of their abilities, strengthening their soccer family.
"We had built a family and understood what team culture should actually be like, I'd rather have that than the state title," Wellington said.
Creek boys soccer has been bleaching their hair for many years, and it's become somewhat of a right of passage.
"It's another one of those things that's like alright, once you do it you can't go back,"  Chainken said. "I think you're part of the family when you bleach your hair. We are all united."
GOT BLEACHED HAIR?
One of the main traditions going on for over 20 years/seasons is the bleached hair. It's a tradition that's going to stay for a long time.  
"10 years ago, when I used to go to soccer games, I remember watching these kids. I'm like, 'dang I want that to be me,'" Chainken said, "'One day, I want to bleach my hair.'"
It's a huge part of their tradition and makes them fierce and standout.
"Now that you're here with your bleached hair, I think it's just so cool," Chainken said. "And also it's another thing that goes with commitment. It kind of says you're all in the gun."
MEET THE CAPTAINS
This year Men's Varsity Soccer has had the amazing opportunity to have five unique and hard working senior captains. 
Starting off with Senior Cyrus Gulati, a forward and midfielder. He has been playing soccer since he was about three or four years old. His plan is to play pro next year in Germany. He was given the opportunity to play over the summer and he had an amazing time and experience. His dream has always been to play pro. 
Next we have Senior Blake Wellington, a defender. He has been playing soccer since he was three years old. Blake wants to play in college, and his brother plays at Chapman and was also a Creek varsity captain. His parents put both him and his brother into soccer and he fell in love with the sport. Blake wants to play in either D2 or D3 schools. One of his main soccer role models is Paul Pogba. 
Next, Senior Adam Chainken, a goalkeeper. He has been playing soccer since he was ten years old, and he got into the sport later because his friends all played and he decided to join. Adam is a twin. His soccer role model is Tim Howard. "He played goalkeeper as well. But he had Tourette's, and he overcame that," Chainken said. "And just the way that he grew up, he also started playing soccer late. I just see a lot of similarities in our path." Chainken doesn't want to continue his soccer career in college, however he plans on majoring in law. 
Next is Senior Carter Loui, a midfielder. He has been playing soccer since he was about three years old. His brother also played for Creek, and he plans on playing in college. As a captain, the pressure is a lot more intense than being a player. "We are the ones leaving here and I think it's more pressure to lead as a collective whole to win," Loui said. "It's more pressure to do the things that lead and collect your teammates, get them to unite together, more pressure to unite as a team." 
Last is Senior Matteo Minisini, a defender. He has been playing soccer since he was about five or six years old. He doesn't plan on playing in college, however he has had a lengthy career from playing club and at Creek. His older brother is one of his biggest role models. "He did really well in college and has done really well for himself, got a job for the government," Minisini said. "He worked really hard and he's helped me a lot growing up, and I admire that."
SEASON GOALS
This year's goal for the season is doing the best that they can to get to state, along with keeping their bonds strong and keeping the Creek spirit and tradition everlasting. All and all, this season has brought high energy that is tangible when entering the Stutler Bowl, and causes excitement throughout the crowd. 
21-22 Varsity Boys Soccer Roster
| | | | | | |
| --- | --- | --- | --- | --- | --- |
| # | Name | Pos. | Gr. | | |
| 0 | Cooper Lewis | GK | Jr. | | |
| 1 | Adam Chaiken | GK | Sr. | | |
| 2 | Joe Dumont | STRK | Sr. | | |
| 3 | David Wardlaw | D | Sr. | | |
| 4 | Alex Hightshoe | D | Jr. | | |
| 5 | Brody Ambroggio | D | Sr. | | |
| 6 | Blake Wellington | D | Sr. | | |
| 7 | Robert Bailey | MF | So. | | |
| 8 | Carter Loui | MF | Sr. | | |
| 9 | Sam Constantino | | Sr. | | |
| 10 | Reed Schneider | MF, FORW | Jr. | | |
| 11 | Macklin Riley | MF | Sr. | | |
| 12 | Alexander Dattilo | D | Sr. | | |
| 13 | Marco Chitla | MF | Sr. | | |
| 14 | Cyrus Gulati | FORW, MF | Sr. | | |
| 15 | Parker Ortanes | D, MF | So. | | |
| 16 | Matteo Minisini | D | Sr. | | |
| 17 | Bodie Curtis | MF | So. | | |
| 18 | Ben Babson | D | Sr. | | |
| 19 | Tyler Gyson | MF | Jr. | | |
| 21 | Robvbie Edwards | | Sr. | | |
| 22 | Dex Rhody | | Fr. | | |
| 23 | Zade Rogers | D | Fr. | | |
| 24 | Noah Eidenberg | | Fr. | | |