The Hammond Legacy Continues
Meet the dual sport athlete who is attempting to lead Creek football to a three-peat
It's Friday night. The lights are on and fans scream as number one runs onto the field. He's a back to back State Champion, but he isn't the quarterback that led Creek football to two rings. He does, however, share the same DNA. 
Christian Hammond is taking the field again, but he's on the other side of the ball after he won the most sought after position in all of Colorado football this year: QB 1 at Creek. As the younger brother of previous quarterback Julian Hammond III, who is now a freshman basketball player at the University of Colorado, Boulder, he has some big shoes to fill. 
"It's nerve wracking because of what he did," Hammond said. "He didn't lose a game, and he went back to back, but I'm not too worried about filling his shoes. I'll go out there and do what I have to do to win."
Creek Football hasn't lost a game in two years, and the pressure to continue that streak is high. Head Coach Dave Logan, who led Mullen Football to three consecutive State Championships from 2008-2010, could add another three-peat to his resume if Creek can pull off another State Championship win.
"It's been two years, so I mean there's a little bit more pressure, especially with how new our team is," Hammond said. "We lost a lot of players last year, so we're trying to rebuild. But I don't get super uptight about it because I'm not thinking about losing."
Hammond is one of few players on the team this year who plays both offense and defense. When he isn't in at quarterback, he'll play cornerback. Because of the sheer size and skillset of the Cherry Creek Football program, there aren't too many athletes who play on both sides of the ball.
"It shows his versatility," junior defensive end and outside linebacker Blake Purchase said. "Him being able to play corner and quarterback, which are two of the hardest positions on the field, says a lot about him."
Originally, Hammond wasn't even supposed to play quarterback. One of his close friends, junior Marté Russell, was the starting junior varsity quarterback last season, as well as Julian Hammond's backup on varsity. Hammond came in as competition, and ended up winning the spot.
"Quarterback is a super important position, and when you lose a quarterback, you try to do all you can to find a new one," Hammond said. "Just having Marté with no competition – you have to bring in someone else to see who's better. I used to play [quarterback] when I was younger, so they just thought they would give me a chance."
Purchase and Hammond were on the same eighth grade team – The Colorado Thunder – and Creek coaches watched them play, knowing that they would see them on their roster in a few short years. Hammond also played quarterback during his freshman season, but even though the coaches knew that he had prior experience, his move to offense still came as a surprise to some.
"I didn't even know he was going to play quarterback until two weeks before the game," Purchase said. "It was cool to see him fighting to get the spot, and he looks a lot like Julian at quarterback."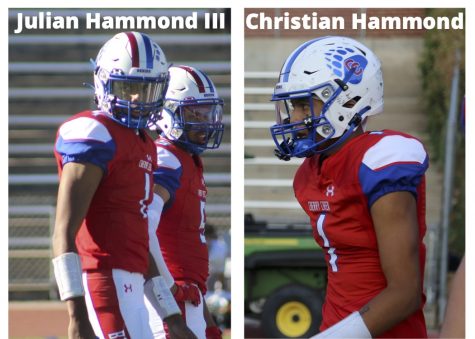 Just like his brother did in 2019, Hammond came into this season as a junior who hadn't yet taken a snap as a starting varsity quarterback. Hammond even plays the same position as his brother did on the Creek varsity Basketball team – point guard. From physical size and appearances, to their accomplishments and current athletic career situations, the similarities between the two are uncanny.
"They're both confident," varsity Boys Basketball Head Coach Kent Dertinger said. "I would say Julian's confidence was a little bit more of a quiet confidence, whereas Christian is a little bit more outgoing."
Hammond is stepping into some big roles this year after almost all of the prominent players on the football and basketball teams graduated – most of whom were also dual sport athletes, and are now playing college football and basketball on full-ride, division one scholarships.
"I've seen him mature over these past two years," Dertinger said. "He's about to be placed in some positions where he's going to have to be a leader, and I think he's up to that task."
Dertinger says that Hammond possesses God given talent that will help him out this year.
"He's very intelligent, in terms of on the basketball court and on the football field," Dertinger said. "I imagine that's why he fits that quarterback position pretty well, because things slow down for him and he understands the game. He processes things quickly, out on the field, and on the basketball court. That's why I want the ball in his hands a lot, as does Coach Logan, because he's a good decision maker."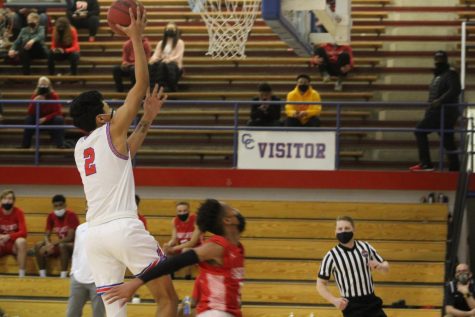 Football and basketball have a lot of cross over when it comes to the athletic ability needed to succeed and stand out as a star player. Size, physicality, coordination, and knowledge of the game are essential to both sports.
"I think there's things from basketball that translate well on the football field, like foot speed, quickness, and hand eye coordination," Dertinger said. "From football to basketball, the level of intensity always goes up when the football players get in the gym, because physicality goes up."
One of the first thoughts that comes to mind for many is: what would happen if Hammond were to get injured playing football, and how would that affect the remainder of the football season and upcoming basketball season? But the answer is: you can't play in fear.
"I'm a believer in multi-sport athletes," Dertinger said. "Obviously, there's a risk of injury with anything you do, but injuries can happen if he wasn't playing football. We would be doing offseason basketball stuff, and injuries are a risk there too, so I love that he plays multiple sports."
Hammond has reached the halfway point in his high school career, and people are beginning to wonder about his plans for college. After announcing that he received his first official Division One basketball offer from the University of Wyoming on August 28, Hammond is under some pressure to decide, but he still has time.
"It's up in the air right now, and I'm just seeing what I like to do more," Hammond said. "After this year, I've got to make decisions on what I want to do, but right now I don't know."
Balancing being a team leader for both sports, his academic load, and having a normal teenage life is no easy task. In the hard situations when Hammond has had to choose between all of his commitments is where Coach Dertinger says his character really shined through.
"His freshman year, he had the option of sitting on the sidelines of the State Championship football game, or traveling with us to Grand Junction to play some basketball," Dertinger said. "As a freshman, he chose to come with us, and I think that says a lot about him because it would have been very easy for him to just sit on the sidelines at the State Championship football game, but he wanted to be out playing." 
From the perspective of his longtime teammate and best friend, Hammond is someone who would have your back no matter what.
"I've known Christian since I was in third grade, and we're best friends," Purchase said. "He's somebody that you want in your corner, he's a good person, and if you were in trouble, he would be the first one to help you out. He's definitely that kind of friend."
Hammond is realizing his potential as a strong leader this year. He gives individual pep talks to his teammates before games, and encourages everyone to go out on the field and have fun doing what they love.
"I like to remind everyone that it's just a game, don't worry about it," Hammond said. "We got this, and let's just make sure to have each other's backs."
But don't let his previous statement fool you, Hammond wants to win just like everyone else. The competitive spirit that exists inside of him is why his teammates and coaches look to him to lead.
"He doesn't take himself too seriously and he's a very polite person off the field, but then when it comes time to compete, there's no fiercer competitor," Dertinger said.  "My most favorite thing about Christian is that he's a winner, he wants to do whatever it takes to win, and I love that about him."