Field Hockey Rebuilds
Bruins Girls Field Hockey 2021-2022 Season Preview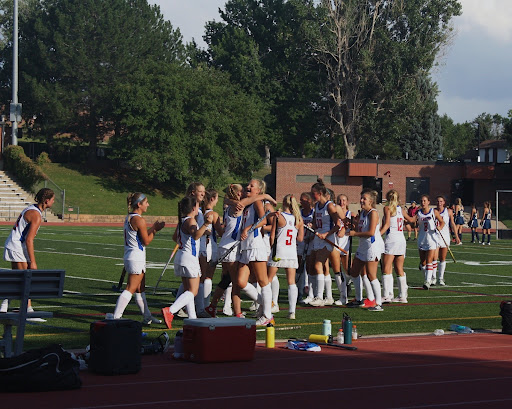 2020-2021 SEASON RECAP
Regis. That's the only team that Creek field hockey lost to last season. With an overall record of 10-2, the Bruins had a promising run for the State title, but Regis was their Achilles heel. After winning their first matchup 5-2, they lost to the Raiders 4-0 in the regular season, and 2-1 in the State Championship game.
Cherry Creeks varsity field hockey went through lots of ups and downs this past season, and many exciting opportunities are coming their way this season. This being their first normal season since 2019, they are looking forward to rebuilding their team in a more typical setting.
"There's a lot of good games coming up," team captain Alex Michelotti said. "We're really excited to play CA [Colorado Academy] and those types of teams that we haven't played since our sophomore year"
The 2020 season was eventful to say the least, and different from the rest because of COVID, which moved their season to the spring instead of the fall. Last season was a lot faster than usual and set up differently by brackets, leaving them playing the same few teams over and over again.
"It started up really fast," Michelotti said. "We didn't really have a preseason, and we went straight to tryouts"  
OFFSEASON DEVELOPMENTS
Directly after coming so close to the State title, more bad news followed. This year the team got new coaches, which only added to the multiple changes the girls were experiencing in their season.
"Our old coaches left the program the day after we lost last year" Michelotti said
Having to now adjust to a new team and new coaches, the Captains tried to stay positive and look at the bright side of all the changes. 
"With the new coaches, I think a big thing was trying to rebuild the program," senior captain Lily Assini said. "Find certain things that can connect to all three teams and use that to build off and succeed in the future too." 
The new coaches are not teachers, like a lot of other Creek coaches, and are very present in the Colorado field hockey organizations. This helped Creek Field Hockey become stronger and even better.
"It's been a good transition, a much higher level of field hockey," Michelotti said.
ROSTER
#1 Reagan Digby, Junior
#2 Isabelle Assini, Junior
#3 Taylor Shoflick, Sophomore
#4 Charlotte Morton, Sophomore
#5 Sydney Zurcher, Senior
#6 Tori Franz, Senior
#7 Lily Sheldon, Sophomore
#8 Alexandra Michelotti, Senior, Cap.
#9 Emily Gerken, Senior
#10 Erin Mahoney, Junior
#11 Annabelle Burns, Senior
#12 Sasha Lengwin, Senior
#13 Maggie Skinner, Sophomore
#14 Janelle Soukup, Sophomore
#15 Abby Lasseter, Junior
#16 Louisa Winkelman, Senior
#17 Talia Kershavarz, Sophomore
#18 Lily Assini, Senior, Cap.
#19 Ella Davis, Junior
#20 Demi Grauer, Junior
#21 Emerson Helm, Junior
#23 Neilly Watts, Freshmen 
#33 Emily Armstrong, Senior
ALL IN THE FAMILY
The sisterhood in the 2020-2021 season was quite literal. Seeing as the team was almost identical to past years, it was easy for them to play together again this season. 
"Building that chemistry from outside of field hockey onto the field, and using that to our advantage helped us," Assini said.
The bonds within the team were also extremely tight because a lot of them were related. The team formed as one big family and played for each other. The sisters on the team were, Isabelle Assini and Lily Assini, Anna Mahoney and Erin Mahoney, Samantha Shoflick and Taylor Shoflick. 
"We had a lot of sisters on the team, too," Michelotti said. "There was a big family aspect to it, and they were all our sisters. Our goal was to play for each other."
SEASON GOALS
Last season's devastating end had some silver lining, as it taught the team important lessons in perseverance. This year's captains are ready to help their new teammates understand the feelings of disappointment and the want to win this time around. 
"We're trying to help the younger girls, or the new girls, find their passion," Michelotti said. 
In field hockey, there is a huge difference between junior varsity and varsity when it comes to the jump in levels of competition. Almost half of last year's team graduated, leaving a few seniors to mentor their younger teammates this season.
"With our team having a lot of new girls, it'll take a bit to understand that level of play and intensity," Assini said. "But it's definitely something we're capable of, I have no doubt about that."
Another goal of theirs is to have a big audience, like in the State game, because it felt amazing having that much support.
"Seeing that student section last year, we really want to keep that up because it was so fun," Michelotti said. 
One of the challenges they faced this year was rebuilding that bond with an almost brand new team. Assini and Michelotti have been on the varsity team for three years; this duo has been playing together since freshman year, and both being on defense, they've built a great bond.
 "We have that connection off and on the field," Michelotti said. 
Inspired by having such a strong bond, it was their goal to recreate it within their team. 
"The most important thing during the off season was just trying to build a connection with the new people," Assini said. "We're trying to get that feeling of family again."