Coming Off National Championship Win, Cross Country Looks For Another State Title
Bruins Varsity Girls Cross Country 2021-2022 Season Preview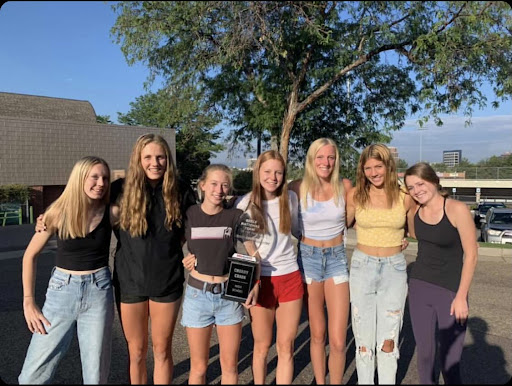 2020-2021 SEASON SUMMARY
Notable Accomplishments:
Regional Champions
League Champions
State Champions
National Champions
During normal years, cross country meets begin with runners all lining up on the start line, waiting for the go, then running in a pack to the finish line. But with the Covid-19 pandemic, the 2020 cross country season looked very different. Runners were split up into different heats, with different groups going off at different times.
"Our team was very split up, we had two girls in heat one, one girl in heat two and three girls in heat three," senior runner Claire Semerod said. "It was super hard because each runner went 45 seconds apart, so you never really knew where you stood in that race.''
Any cross country runner can agree that running in heats was something they would have to get used to. With the Covid-19 Pandemic, runners were socially distanced and kept a 6 feet distance within one another. 
 "It was just insane, knowing that my teammates were that far ahead of me," Semerod said. "Running in heats is so weird."
SEASON ACCOMPLISHMENTS
After finishing two seasons in a row as State runner-up, the main goal of the 2020-21 season was taking home a State title – and they did.
"One of the main goals last season was, of course, State," Semerod said. "Getting two runner up State championships two years in a row — we really did not like that." 
The runners began their season with starting races, smaller races designed to start off the season, get a first look at the new competition, and start ranking runners on a state and national level. With the COVID-19 pandemic, the choice whether or not to participate in these races was up to them. 
"Smaller races are just something to get in and be competitive," Semerod said. "But they're not going to affect necessarily if we make State or not."
After weeks of small races, the runners finally started competing in bigger races, which include Regionals, league meets, and State. Even though they claimed a victory in the Centennial League, they described the course to have been somewhat difficult.
''It was really hot outside, and multiple laps of the same thing," Semerod said. "We were all super on edge and very upset about that course in general, but we ended up winning it.''
After State, the top 7 girls traveled to Indiana where they competed against the best teams in the nation. They ran the Meet of Champions NCAA Championship course and weren't expecting the outcome they got. 
"We went there to race some of the top teams in the nation to hopefully secure what we thought would be a number two in the nation spot." Semerod said. 
The team finished first, overjoyed with their performance in that race, making CCHS history. 
OFFSEASON
Staying healthy and in-shape during the off season is something that cross country runners are very passionate about. After the cross country season ends, the girls regularly meet up and run together during the winter.
Addison Laughlin, a senior and University of Wyoming commit for track and cross country, is an all-around athlete, who joined Creek's swimming team during cross country's offseason. Laughlin has competed in many sports, including softball, basketball, swimming, track, and cross country. Last season was Laughlin's first year competing in cross country, which she says is her favorite. 
"Personally I like cross country more," Laughlin said. "It's just so fun to work as an individual yet also work as a team. And with COVID it was a little weird, so this will be my first normal season."
After winter, track season begins, which helps the runners stay healthy and competitive during the offseason. Then when the track season ends, the runners only take 2 weeks off. Summer camps start soon after, where runners meet in the mornings Monday through Thursday and run together. 
SEASON GOALS
Head Coach Ethan Dusto is very proud of how much his team had accomplished last season, and he hopes to have another successful season. 
"I'd like to be top three in the state, like number one," Dusto said. "I hope to see us constantly improve and stay healthy throughout the season."
The team hopes to be able to compete at the Nike Invitational in Oregon. The runners' individual goal is to beat their personal record and place top 10 in state and top 30 in nationals. And, of course, the team wants to hold their State title and win 2 years in a row. 
PLAYERS TO WATCH
It's obvious that this team has a lot of talented runners, so who do we need to watch this upcoming season?
Senior Riley Stewart has received two Colorado Gatorade Athlete of the Year awards. She holds the state record in the mile run, and hopes to break 17 minutes in the 5k. Her teammates are very confident she's going to be able to accomplish that. 
"I mean obviously Riley keeps getting faster and faster," Laughlin said. 
"Riley has two Colorado Gatorade athlete awards and she's always individually qualifying for both Nike Cross Nationals and Footlocker nationals," Semerod said.
Laughlin is another runner the Creek community needs to be watching. Her teammates are confident that she's going to have a big break this season. 
"Definitely Addy Laughlin, she's probably gonna have a big drop," Semerod said. "It was her first year running cross country, but being in a situation like COVID, it was amazing to see her adapt and develop so perfectly with the team. It was super awesome." 
Claire Semerod has been running since 7th grade and is getting faster every year, and junior Addison Price is the only junior on the varsity team.
This accomplished team is very close and can't wait to spend their last year all together. They are currently ranked second in the nation and hope to travel to New York City later this month, or in early October, to race Saratoga Springs, who's currently ranked #1 in the nation. 
About the Writer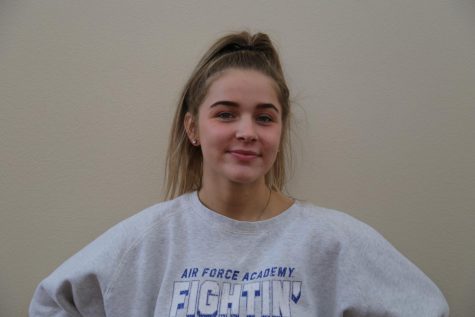 Anna Mae Simek, Staff Writer
Hi, my name is Anna Simek. I'm a senior here at Cherry Creek High School and this is my first year...