Despite disappointing loss last winter, Bruins ice hockey is gearing up for a successful season
Bruins Varsity Ice Hockey 2021 Season Preview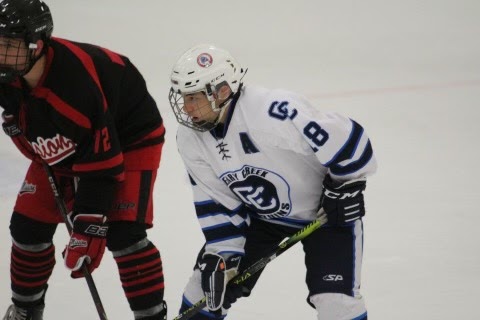 Last season, the Cherry Creek High School varsity ice hockey team lost in the State Quarter finals in double overtime with 57 shots on goal and a final score of 2-1 against Ft. Collins. The loss was hard on many of the players. 
"Losing felt like we were so close to being able to win it all, but one game, and one goal for the other team stopped our whole season," senior and team captain Riley Hunt-Bahn said. 
The team was so close to seizing victory, and would've won had they been better with their passing and playing as a team.
"We play a lot of selfish hockey, so we need to get the puck moving with quick passes. If we did, we would be a lot better as a team," senior and assistant captain, Eugene Riewe said.
Cherry Creek varsity won a close game the day before, beating Heritage 2-1, that gave them the chance to advance to the Quarter Final. 
That Quarter Final was a tough game. The Ft. Collins goaltender, Sam Simon, was named Player of the Year. He worked really hard, as did Creek's own goaltender, Lucas Banks, who stopped 33 of 35 goals in that game. 
One of last season's standout offensive players, senior Hunter Fieweger, had the first leading score on the Creek varsity team with 27 points. Another standout offensive player, junior Riley Hunt-Bahn, was the runner-up with a total of 26 points.
IMPROVEMENTS FROM LAST SEASON
Due to their loss in the 2019-2020 season, the varsity team has been working extra hard on their defense and personal skills. 
"[The loss] drove me to want to become the champions in this last high school season," Riewe said. 
The 2020-2021 season seniors are doing their best to lead the team to victory. Since many of the best offensive players from the previous season were seniors, this year's team has a larger focus on defensive skills. They're going to play to the best of their abilities to bring home the championship they were so close to in the 2019-2020 season.
"I would say we are going to continue to play as hard as last year,"  varsity head coach, Jeff Mielnicki said. "This year the kids have been working really hard and following the new restrictions with the goal of getting the new year started. Their hard work and comradery is going to make Cherry Creek proud."
OFFSEASON RECAP
The team focused on upping their game this offseason in hopes of a better outcome than the 2019-2020 season. 
"[Last season's loss] was all I could think about. I couldn't stop wanting to get back to CHSSA to make up for that season," Hunt-Bahn said. 
The team worked hard on their mental and physical strength all offseason to prepare themselves for whatever may come this season. 
"This year the kids have been working really hard and following the new restrictions with the goal of getting the new year started," Mielnicki said.
With the amount of uncertainty this season, the players have to be prepared for anything while keeping up with new restrictions.
"It's day by day," Mielnicki said. "We're in a tough time; we're lucky to have the games. I'm proud of them for persevering."
ROSTER
The section will be updated after the complete roster is released. 
PLAYERS TO WATCH  
Senior and team captain, Riley Hunt-Bahn. 
Position: left wing.
School: Cherry Creek High School
2019-2020 stats: 26 goals scored
"This year I've improved on being a leader on the ice because last year I wasn't the captain," Hunt-Bahn said. "So, this year I had to take the role from the captains last year."
Senior and assistant captain, Eugene Riewe.
Position: defense.
School: Cherry Creek High School
2019-2020 stats: 8 assists
"I've been playing hockey since I was four or five, so a while now," Riewe said. 
Ever since he was little, he's been trying to push himself to be the best hockey player he can be. So, the loss last season only fueled him more on his path of improvement.
He plans to better his defense to become a better player and play as a team. As a senior, it's his last chance at high school hockey greatness. He's willing to work as hard as necessary to win the playoffs and bring home the win for his team.
SEASON GOALS
From head coach Mielnicki:
Stay healthy. 

Outstanding grades.  

Respect opponent, teammate, coach, and the sport. 

Put it together, compete, compete, and compete.
The team has high goals to better themselves for the upcoming season. Along with their team goals, some players are looking to improve their own performances.
"If we get to the playoffs, I'll be happy. For me, if I can get better at passing and be happy in general, I'd say I'm successful," Riewe said.
Personal goals are a great help for college recruitments, but the many changes between this season and last – safety precautions, different season start times, and less games – are giving players their biggest goal: actually getting out on the ice. There's less time on the ice this year, so every game counts. 
"Success means trying to get as many regular season wins as possible to help the team get to the playoffs," Hunt-Bahn said.
About the Writer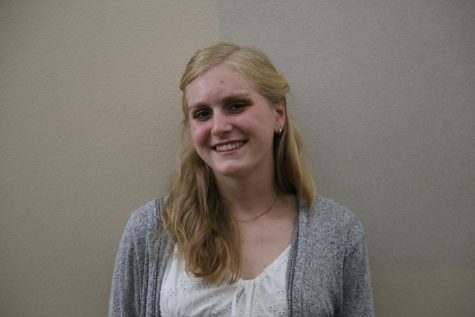 Madison Seckman, Design Editor
Hello! I am the Design Editor and a senior. This is my third year with the USJ and second as an editor,...