National Signing Day: COVID-19 Style
Three student athletes talk emotions, big decisions, and the signing process – all socially distanced, of course.
At 9:00 a.m. on Wednesday, December 16, six of Cherry Creek High School's top tier football players put pen to paper and cemented the biggest decision yet in their athletic careers: where they would be playing next season. 
Of course, this year's signing day wasn't like any other, but the typical Cherry Creek fanfare was still there. Families arrived with colorful balloons, decked out in the gear of their new favorite team, and players and their friends stood in the 25 degree weather rubbing their hands together with giddy excitement. 
Some of the athletes had committed much earlier in the year, and were simply making it official, while others were recent commits, and one was a surprise. Some were excited throughout the process, and others didn't know what to feel. Three of the athletes who signed yesterday break it all down for us below.
Highly recruited cornerback Al Ashford III completely surprised his entire family when he announced his commitment to the University of Wisconsin earlier this year.
"My parents, my coaches, no one knew I was going to Wisconsin," Ashford said. "For me it just felt like the right place and I'm so excited that I'm heading to a great school."
Ashford never had the opportunity to take a trip to Wisconsin due to COVID-19, but the Badger football program was still calling his name.
"It's the atmosphere you know? [Madison] is a great city, they support the football players 100%," Ashford said. "Just to get the chance to play for such a historic program, I couldn't pass that up."
Offensive lineman Corey Haniford was able to go visit colleges, and he says his favorite part of the signing process was "seeing what all the different schools were about and seeing all of the different campuses." 
Haniford, also being recruited by Central Michigan and Toledo, said that he picked the University of Northern Colorado because of the head coach, former Denver Broncos wide receiver Ed McCaffrey.
"I talked to him for at least two months straight," Haniford said. "They weren't allowed to come down and watch games, but he watched my film and he was really pleased with it… I just knew it was the best opportunity for me."
A certain player announced his school right before he signed. For defensive tackle Arden Walker, the decision was truly down to the wire. Walker was recruited by UCLA, the University of Colorado, the University of Texas, the University of Missouri, and others. His final choice: the Missouri Tigers.
The immediate response from the surrounding crowd was loud cheers of congratulations and pats on the back from his teammates.
"I was mostly excited but I just didn't know what to feel," Walker said. "I was waiting on the reactions and stuff, and then later on today I think I'll get some reactions from everyone."
The Tigers' defensive coordinator and safeties coach Ryan Walters was ultimately the driving force behind Walker's choice. He is a University of Colorado graduate who is currently coaching his sixth season at Missouri. 
"[Going to Missouri] was an opportunity to play for one of my idols," Walker said. "Growing up, the defensive coordinator was the whole reason I was wearing number 15 when I was playing in little league. I see it as an opportunity to play in the SEC as well."
The relationships that recruiters form with star athletes is a key component of the recruiting process, and in some instances when a player has multiple recruiters after him, the decision of where to sign becomes really difficult, really fast.
"I formed deep relationships with all the schools," Walker said. "It was hard for me, and it took almost to the last day for me to make a decision. [Throughout the process] there were ups and downs and I honestly expected it, but I feel like the weight is off my shoulders now and I'm happy to be at a school."
Also signing yesterday were wide receiver Gunnar Helm, with the University of Texas; offensive lineman Gus Zilinskas, with Rutgers University; and the 2020 State Championship MVP – who plays on offense, defense, and special teams – Myles Purchase, with the University of Iowa.
To view the Cherry Creek Bruins' Football Championship Gallery, click here.
About the Writer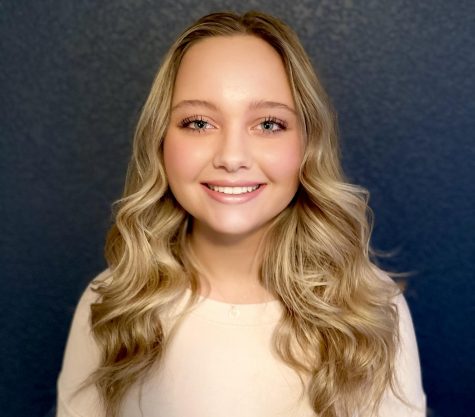 Raegan Knobbe, Sports Editor
 If I could live in a world with only sports games on tv, I would. I am a sophomore, the sports editor, and while I love all sports, baseball and football...