Denver Erupts in Protest Over Roe v. Wade Overturning
See moments from Denver's Friday protests
"We won't go back. We will fight back!"
The Supreme Court's decision to overturn the landmark case Roe v. Wade came less than an hour before the Colorado workday began on Friday. It was a day of frustration and held-back tears for many of those in favor of abortion rights. But hours later, that evening, thousands took to the streets of downtown Denver.
Since 1973, Roe has protected Americans' right to choose to have an abortion, regardless of individual state laws. Now, over half of the states are banning or expected to ban abortions, many without any exceptions for special circumstance. Colorado, with a law recently signed by Governor Jared Polis that protects abortion rights in the state, is not one of them. But it will now serve as an island for those who want to end pregnancies in a sea of heavily restricted states, and the pain of this recent ruling is felt among pro-choice citizens even here.
That pain was apparent in Denver's Friday protest, but so was an attitude of support. Protesters left free bottled water under trees and helped up those who tripped. One protester, Minnesotan community organizer Jessica Rohloff, said that a major point of these protests was not just about feeling each other's fears for the future, but about feeling each other's willingness to fight.
"We have to be out in the streets, we have to be organizing around people who have the same pains and the same hopes that we do," Rohloff said. "Because really, this isn't just about what we don't want. The whole point of having a choice so that you can build what you do want in your life."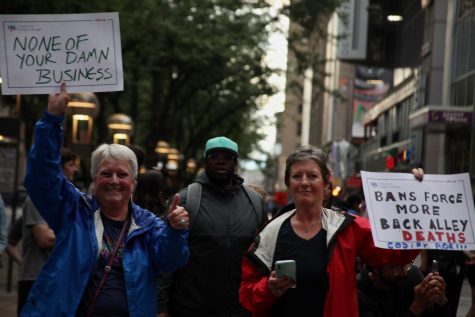 Rohloff, 48, is the Secretary of the Board of Directors for the League of Women Voters (LWV) and is here in Denver for the organization's national conference this weekend. She said that for the LWV, women's issues like abortion go hand-in-hand with voting rights.
"We're here talking to people about the importance of running for office, the importance of standing up, the importance of speaking out, the importance of organizing their neighbors, the importance of people understanding their rights," she said. "That's what we were here in Denver talking about when this decision came down."
Women did not make up the entirety of the crowd – men showed up too, often hand in hand with sisters, girlfriends, mothers, wives, or daughters. One such man was A.J., 22, who said he was there to support women like his sister, who was denied medical care because it involved contraceptives and certain surgeries. He carried a sign saying "KEEP YOUR HANDS OFF MY SISTERS" and chanted "Their body, their choice," and remarked that though this was a women's issue, men who didn't speak up were complicit, too.
"If men also don't step up and support women in this, that needs to happen, because this has all been enabled by men who have stood by and been quiet," A.J. said. "And I think it's important to make my voice heard to show other women that there are men who are out here who support them, and are here for them."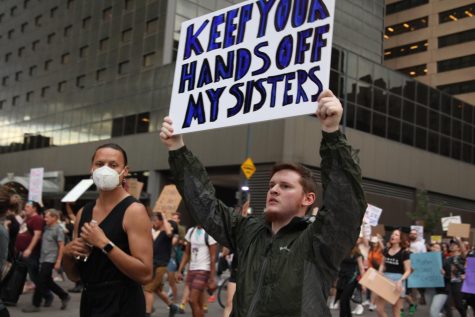 Some protesters reminded others that abortion rights don't stop with women. Samuel Jones, 36, who identifies as transgender, carried a sign that said "TRANS AND PROUD." He said he was protesting for both himself and women he knew.
"I'm marching because I have a uterus," Jones said. "I have women who I love that have had pregnancies that they've decided to terminate legally and safely. And because I feel like this is an essential human right, and it's bullsh*t it's been taken away."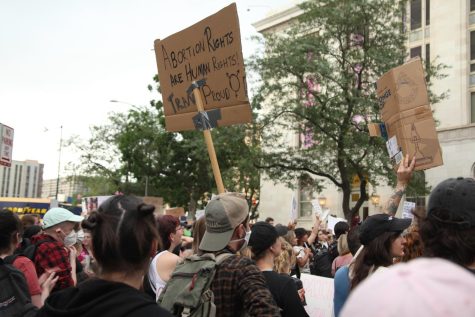 Jones described his reaction to the news of the decision as "completely shocked and a little dissociated." America has known since mid-May that the overturning of Roe was likely to happen this June following a leak of Justice Samuel Alito's majority opinion. But Jones was not alone in feeling disappointed and surprised.
"I was really distraught," A.J. remarked.
Others took the decision as an immediate call to action.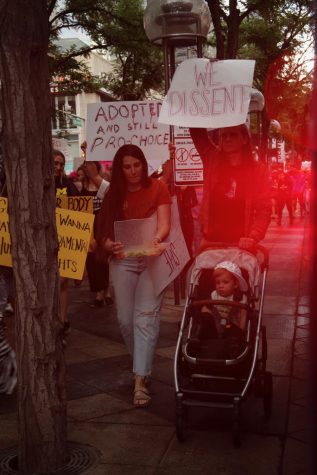 "I thought I would be sad, but I was just incredibly pissed off," Rohloff said. "The end of legal abortion means the end of a woman's right to choose the path in her life. And that's why I'm out here marching today."
Marchers ranged in age, from older women reminiscing about Roe in the 1970s to toddlers in strollers pushed by impassioned parents. Hundreds of young girls stood beside their mothers and older sisters, some carrying signs that pointed out the irony of allowing school shootings but banning abortions. One elementary school-aged girl, Mary, was there with her aunt, Marissa, 32. When asked why she brought Mary, Marissa said "because it's important."
"I'm scared. I'm scared for the women. I don't know, we just kind of feel trapped," she added. "I can't think straight."
As A.J. spoke about his sister's experience with reproductive care, chants of "Separate the church and state!" rose around him. A.J. said that the fact a law as theological as abortion prevention existed went against the very principles of the constitutional Founding Fathers of the nation.
"This wasn't [founded as] a Christian country," he said. "So why the hell are we making people follow laws that are based off of bad theology as Christians for something they don't even believe?"
The fear of a future without Roe was palpable. But for many of the protesters, the very fact that this rally existed was proof that there was still hope for abortion rights. As one chant iterated, "We have the power."
Article by Carly Philpott. Photo gallery by Carly Philpott, Norah Rudnick, and Alex Gribb.
More photos can be found under the photographers' Instagrams: @carllz_p (Carly Philpott), @quinn.rudnick (Quinn Rudnick), and @alexgribblives (Alex Gribb).