Olivia Rodrigo's Sour Tour Comes to Denver
Olivia Rodrigo recently came to Denver on her Sour Tour. Design Editor Nick Rui and Staff Writer Aurora Miller sat down to discuss their experiences at the concert. 
Normal text indicates Design Editor Nick Rui. Bold text indicates Staff Writer Aurora Miller.
Aurora Miller: So both of us went to Olivia Rodrigo's concert at the Mission Ballroom last week.
Nick Rui: Yes! I went on Tuesday and it was amazing. How was it for you?
AM: I went on Monday and it was fantastic! Definitely worth staying up late for. It was super crowded.
NR: For sure! Let's start at the beginning with Gracie.
AM: Yes, Gracie Abrams opened for Olivia. I wasn't familiar with her music, but it fit Olivia's style and I went and listened to her music again the next day.
NR: Definitely, her music has the same "sad girl pop" vibe Olivia has. My favorite song was for sure "minor." Gracie performed that song alone on stage playing the piano and it was very emotional and powerful.
AM: Something interesting is that when she sang "minor" on Monday the mic stand above the piano was messed up, so she had to hold it up while playing.
NR: I love it when we get to see some imperfections in the performance, it adds more authenticity to the experience. What was your favorite song from Gracie?
AM: Hm. Either "block me out" or "the bottom". She said she wrote "block me out" when she was struggling with anxiety, and "the bottom" was the catchiest song on her whole set to me.
NR: And she released "block me out" just a few days before the concert. We were among the first people to hear her perform it live. Other than that, I would definitely also recommend her song "21."
AM: Her opening act closed off with one of her most popular songs, "i miss you, i'm sorry".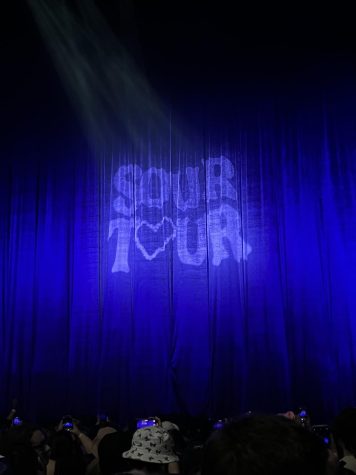 AM: After Gracie finished, the crew started to get the stage set up behind the curtain. A tech also had to get on the mic to tell people to back up from the stage. It was about 15 minutes before the lights dimmed and "Olivia" by One Direction started playing.
NR: The curtains unveiled with the bland playing the intro to "brutal" and lights violently flashing off and on. The crowd went crazy. 
AM: It went straight into a rock-heavy version of "jealousy, jealousy", which was unexpected but sounded really good.
NR: I remember that I couldn't even recognize "jealousy, jealousy" until Olivia started singing. She should definitely release a more hard rock-style studio version of that song.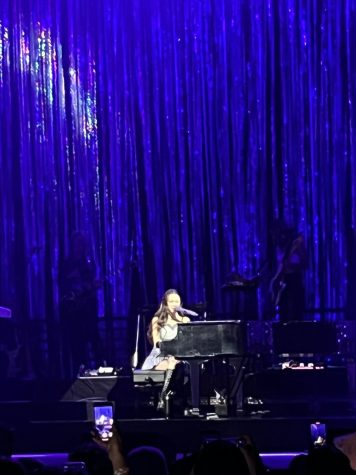 AM: After that was finished, she sat down by the piano and said that the next song was about her driving through the suburbs crying to Gracie's song "i miss you, i'm sorry". The crowd went wild.
NR: "drivers license" was definitely the highlight of the concert for me. Everybody knew the lyrics and couldn't stop themselves from singing along. When the bridge came, Olivia let the crowd take over the song completely. 
AM: I remember that! And the lights were sweeping across the crowd like car headlights. The set in the show was impressive.
NR: After "drivers license" Olivia surprised everyone with a cover of "Complicated" by Avril Lavigne. 
AM: It surprised me too. She said Avril Lavigne was one of her favorite artists. 
NR: Olivia and her backup band definitely did this song justice. Her voice complemented the punk-rock style perfectly. I never thought I would have been singing this song at her concert!
AM: Neither did I! And she sang so energetically. My mom commented that not all performers are like that.
NR: She switched the vibe with her next song, "hope ur ok," and brought out an acoustic guitar to complement her performance. It was definitely one of the more simplistic songs she performed but also the one that created a more personal connection between her and the audience. Near the end the curtains closed behind Olivia and it was just her and the crowd. 
AM: I agree on the simplicity. "hope ur ok" is one of the most emotional songs from her and I thought it was the right style to perform it live. Olivia said that she wrote it on the floor of her bedroom and that it was very dear to her, which just added to the personal nature of it.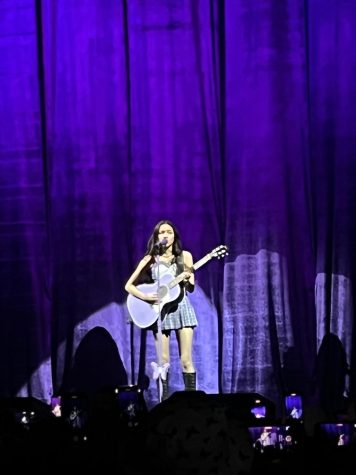 NR: It was certainly a great transition into her next performance, "enough for you" with a little excerpt of "1 step forward, 3 steps back."
AM: It's interesting, before the concert I wasn't that crazy about "enough for you", but after hearing her perform it live, it's become one of my favorites.
NR: I loved the authenticity and genuineness of her performance. No loud band or flashing lights in the background, just Olivia with her guitar. I was glad that she included "1 step forward, 3 steps back" into her performance because I feel it is one of her most underrated songs on her Sour album.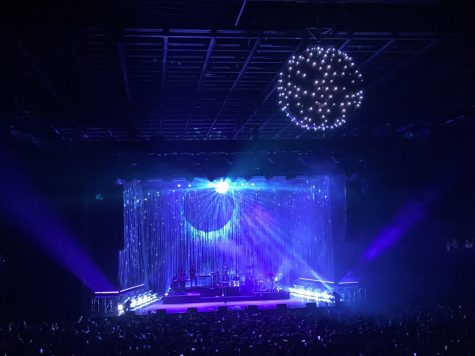 AM: After that mash-up, Olivia went off stage while the band played an interlude that slowly started to sound like the beginning of her song "happier." The disco ball that hangs above the mosh pit was lit up and the lights were dim. Then she walked back onstage in a silver, sparkly outfit and began singing.
NR: Olivia's performance of "happier" felt dreamy and mesmerizing. The blue and purple lights combined with the band's performance made it really magical. 
AM: I remember distinctly that "happier" had an electric guitar duo that worked really well despite how quiet the song is on the album.
NR: Yeah, and I would say that the band overall did a great job adding volume to her songs, which by themselves are a bit more quiet in nature. 
AM: However, the next song she performed was by no means quiet. It was a cover of "Seether" by Veruca Salt.
NR: I thought that it was really sweet how Olivia dedicated this song to her mom. Unfortunately, I don't think a lot of people in the audience, including me, were familiar with it.
AM: The opening was familiar to me, but that's about it. My parents, however, knew almost all of the lyrics and sang along the whole time.
NR: Olivia surprised everyone again when she performed a song of hers that is not on the Sour album. 
AM: Leading up to "All I Want", Olivia talked about how it was one of her first songs she ever wrote. It was written for the Disney+ show, High School Musical: The Musical: The Series, which she stars in.
NR: I was excited for this one! I never watched the Disney+ show but I definitely heard the song before. I think it was actually the first Olivia Rodrigo song I ever heard. The crowd was super happy about it as well. 
AM: It was definitely fun. It originally wasn't part of the set list, so Denver was only the second place to hear the song in concert, after Salt Lake City.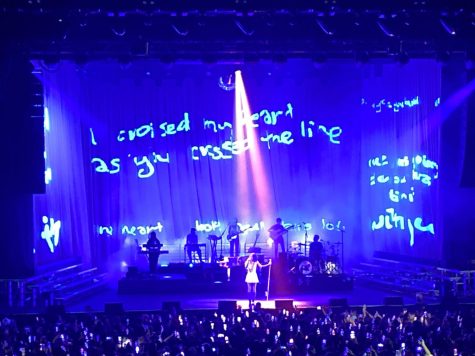 NR: "favorite crime" came up next. I remember there were light projections of little words and notes all over the curtains. 
AM: It was my favorite out of the performances in terms of visuals. It added to the regretful, sorrowful nature of the song.
NR: Speaking of sorrow, "traitor" was up next, with Olivia returning to the piano. I was especially excited for this one and I know the crowd was too. It was heavenly to hear everyone's voices harmonizing on the long notes. 
AM: Honestly, I don't remember this performance too well, because in the middle of it Olivia stopped all the music to help out someone in the crowd who had fainted, and waited until the person got out safely. She was a little shaken and had to start twice, but ultimately got back on track.
NR: That's great honestly. It's always nice to see artists take care of their fans at concerts. I know that it was crowded at the Mission Ballroom, especially up front. 
AM: Very much so. Apparently Olivia received a bit of criticism for choosing smaller venues, but I think it was a good choice and it would have been harder to help that person and connect with the audience overall in a football-length stadium.
NR: I enjoyed the smaller venue, it allowed me to enjoy her performances up close. "deja vu" was next and blew me away.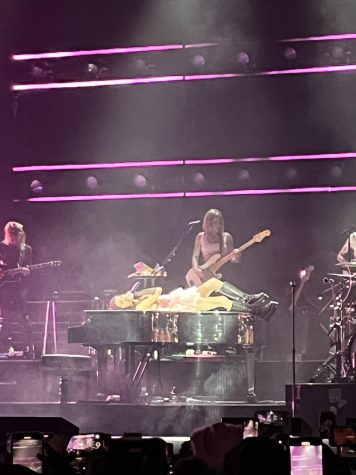 AM: It felt like they turned on every spotlight at once. Olivia got up on the piano and laid back during the song, which made it feel dreamlike and unreal.
NR: It amazed me how full of energy she was, even though she was nearing the end of the concert. She was literally running across the stage, hyping everybody up. 
AM: I never felt tired at all. The curtains completely dropped right before she started the encore, "good 4 u". The lights blazed out and illuminated the whole place.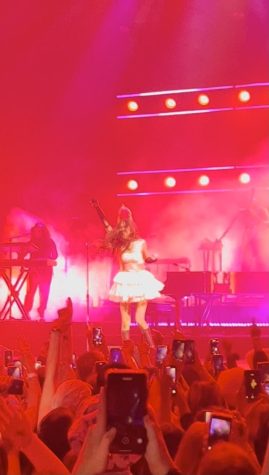 NR: So many notable things happened during "good 4 u." The band had a quick performance before Olivia jumped back on stage. I remember Olivia got so excited that she took a drumstick and hit the cymbals along with the drummer, then threw the stick into the crowd. 
AM: There was so much energy during the end. Some guy was up on someone else's shoulders in the pit. Then the lights went completely red, and the entire crowd screamed the line "like a damn sociopath". Confetti shaped like butterflies dropped from the ceiling and I swear the whole place was shaking.
NR: That moment is one that I will never forget. It was the perfect way to end the concert. I left the venue completely breathless. 
AM: It was one of the best concerts I've ever been to.
Visit the link below for a Spotify playlist of the SOUR Tour set!
https://open.spotify.com/playlist/1NzpAraLhiIyKLoj2QgyTA?si=07628f6b43314d9d