Brooklyn Nine-Nine's Series Finale Is Bittersweet, But Not Devastating – And That's How It Should Be
Warning: This article contains spoilers for Brooklyn Nine-Nine.
There's always someone who hates the series finale.
Whether it's because a favorite character didn't have a cameo or because an inside joke wasn't rehashed, someone is always displeased with how the show ended.
But I've scrolled through comment section after comment section, review after review, and I have yet to find someone who didn't like the series finale of Brooklyn Nine-Nine, which aired this Thursday. And it's easy to see why.
Brooklyn Nine-Nine ran for eight seasons. It centered around an immature detective, Jake Peralta (Andy Samberg), and his precinct, the fictional 99th in Brooklyn. It saw Jake's ups and downs, his losses and his best moments. We watched him fall in love and become a father. We watched his friends find themselves and become happy, too.
I'd argue that Brooklyn Nine-Nine thrived on three elements: the core characters, who couple comic flair with emotional depth; their recurring jokes, which brought sometimes inane (but quality) humor; and the show's cultural awareness of what was happening in the world. Some of these jokes came in the form of characters who would show up once or twice a season: Captain Raymond Holt's husband Kevin Cozner (Marc Evan Jackson), Jake's archnemesis-turned-bestie Doug Judy (Craig Robinson), a rotating cast of ridiculous family members and even more ridiculous significant others. And so, in concluding the show, it was vital that those people and jokes reappear one last time. And Brooklyn Nine-Nine did not disappoint.
Even before the finale, the series was already tying up loose ends in the eighth season. Much of the season focused on revolving current issues such as COVID-19 and police brutality (necessary, because the show is a cop procedural). Kevin and Holt (Andre Braugher), who had endured a rough patch in their marriage got a fairytale ending complete with a vow renewal; Doug Judy returned one last time; longstanding mysteries were solved and characters said their goodbyes. But in the final episode, it all came to a head, bringing together long-lost characters and dropping Easter eggs nearly every second in one last, giant farewell.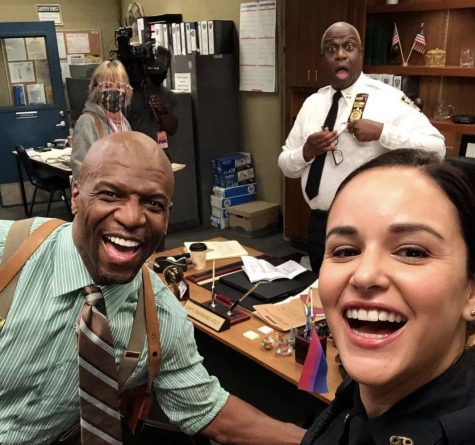 The episode centers around the final installment of the show's "Halloween Heist," an event they've done every year, in which all the characters compete to steal an item without the others' knowledge. In past years, the Heist fostered new friendships, new relationships, and even Jake's proposal to wife and soulmate Amy Santiago (Melissa Fumero) in season five. In the finale, as many characters are preparing to leave the 99th, the Heist evolves into a contest of who can create the perfect goodbye.
We saw the return of Gina Linetti (Chelsea Peretti), an original main character who left in season six. There were inside jokes and nostalgic moments. It's total fan service, but isn't that what a finale should be?
More importantly, however, the series finale of Brooklyn Nine-Nine doesn't leave us completely devastated. And I think that's the best possible outcome.
Most shows bring closure in their finales by having their characters move on. In Friends, the characters split off to different places and different lives. In Parks and Recreation, almost everyone moves out of the city that once was like another character in the show. In The Good Place, all the main characters literally disappear into the universe. It's heartbreaking, but it's meant to show you how the characters are ready to move on. These chapters of their lives are over, and that's why the show has to come to a close.
And while Brooklyn Nine-Nine does force us through some major heartbreak (well over half of the central characters leave the precinct in the final season), it ends on a happy note. Characters are leaving to do something bigger and better. Captain Holt becomes Deputy Commissioner of police reform, making real change in the NYPD. Amy signs on under Holt as a Chief, coming ever closer to fulfilling her own dreams and creating a special equity commission within the department. Jake leaves his dream job as a detective to spend more time with their young son, Mac, which he calls his "new dream job." Terry Jeffords (Terry Crews) finally achieves his dream of becoming the captain of the 99th, now that Holt is leaving. And the final scene of the show is not a farewell, but rather a reunion one year later, for another Halloween Heist. And so, in a sense, this chapter of their lives is over, but it's not really gone. 
Aside from the usual sadness of finishing such a long show, the series finale of Brooklyn Nine-Nine did not leave me depressed. It left me happy and reminiscent. It made me want to rewatch earlier episodes (which I will). Above all, it made me excited for what these actors do next.
After the last couple of years we've had, I think everyone needed a happy ending. In Brooklyn Nine-Nine, we got one. And I couldn't be less devastated.