The Long Wait Is Over: Kanye West's Album, Donda, Is Out
After months of anticipation, Kanye West's tenth studio album, Donda, has finally dropped. Many have high expectations due to delays in the album's release and I do not believe it was over-hyped or "mid."
It is transparent that this album has many important themes to West, with ideas such as family and his relationship with God. Many fans dislike the album because of this, but I believe it is still necessary for fans to respect his beliefs.
The album immerses the listener in feelings of nostalgia as West hosted Sunday Services and the album was released Sunday morning.
It has been almost 2 years since his last release, Jesus Is King, and these five songs from Donda did not disappoint.
West on his own is a strong artist, and often samples Lauryn Hill's music, making his songs top-tier in my opinion. One of my top five songs from him is "All Falls Down", which too is sampled by Lauryn Hill and her song, "Mystery of Iniquity." "Believe What I Say" is sampled by Hill's song "Doo Wop (That Thing)," allowing him to continue his "older" music kind of feel.
Compared to other songs in the album such as Moon, it is very upbeat and "vibe-worthy" in itself. 
"Remote Control" (featuring Young Thug)
The storytelling of this song is pristine, as he goes in on the idea of how we as a society are so fast-moving and rush everything rather than living in the present.
I believe we can see what he is singing about all in real time, on our phones, and technology we already have today. It is "getting out of hand."
Here we see West confronting the fact that he knows people are hurting and "going through it." With his past and personal issues he is facing himself, he understands the hurt some are going through, making this song so personal to many.
Just knowing that in some aspects, he is just like us, is comforting to know. Being able to relate is what makes us empathize with others and see experiences from different points of view.
"Off The Grid" (featuring Fivio Foreign and Playboi Carti)
Coming from New York City, artists like Fivio Foreign and Pop Smoke were played everywhere you went and the vibe the song brings, reminds me of my old home.
Diversity is so important for an artist's career and Off The Grid brings Donda to another level.  Drill music definitely is not something we have seen from Kanye and with Fivio Foreign, this song is not a skip.
"No Children Left Behind" (featuring Vory)
This is such a strong outro for this album (excluding the part two's for Ok Ok, Junya, and Jesus Lord), closing the aspects of the importance Christianity plays on West's life and the way he lives. As he sees himself a "child of God," he is always able to "count on God," no matter what stage in life he's in and I think the faith West has is beautiful and really shines through the album.
Although it was such a long wait, Kanye West's era may never end, and his resurgence with Donda really made an impact on the music he produces and creates even higher expectations for his next releases.
About the Writer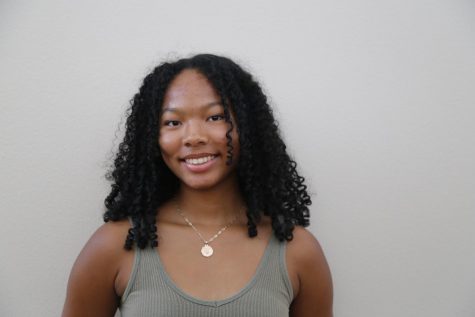 Aila MonLouis, A&E Editor
I am currently a sophomore and this is my first year as an editor. During my free time, I love to hang...