16 Creek students receive perfect ACT scores
It was a sunny March day. The birds were chirping and a pleasant spring breeze flitted the leaves in a whoosh motion. Senior Maya Hunter was opening up her school apps with a feeling that her day was about to take a turn for the better. She opened up her email, she read the letters scrawled on the screen in neat lines, and she smiled as warm happiness flowed through her veins. Hunter had been recognized for her perfect ACT score.
"The college process can be so stressful and hectic sometimes," Hunter said. "But winning this award was a great way to step back and be grateful for all that I have accomplished."
Twenty students in the Cherry Creek School District and sixteen at Creek received an award for achieving a thirty-six on the ACT. This number has about tripled compared to the amount of receiving students in earlier years.
"I'm very very happy for these kids and I'm proud of them," Principal Silva said after expressing how big of a deal this accomplishment was.
The students interviewed were ecstatic to be acknowledged for this rare achievement, considering less than one percent of students nationwide received a 36.
"I think it's really amazing that the school district honors all of the students that received a perfect score," senior Eliza Hill said.
And since 16 of our very own students scored 36 on the ACT, we have the luxury of exploring just what it takes to score a 36. Here are a couple of words of advice from these hardworking students.
"I would recommend trusting your instincts and remaining confident throughout the test," senior Aidan Bub said. "You can do all the studying in the world but if you are stressed and second-guessing yourself you will never do as well as you could."
"Get lots of sleep the night before, eat a healthy breakfast the day of, and try not to stress about it." Hill said. "I would highly recommend just finding free full practice tests online and taking those…It's helpful to learn the types of questions that are asked and to figure out your timing for each section."
"The worst thing you can do is stress about the test," another recipient, senior Tai Roberts, said. "If you've scored well on the practice tests and you're good enough to get a high score, then trust yourself."
"Don't put too much pressure on yourself," senior Nicole Chen said.
"The more practice you do, the more you will come to expect the types of questions you will get and feel prepared to answer them," Hunter said. "Some people are better at the SAT than the ACT (and vice versa), and you usually don't need both to apply to college so see which one works best for you."
About the Contributor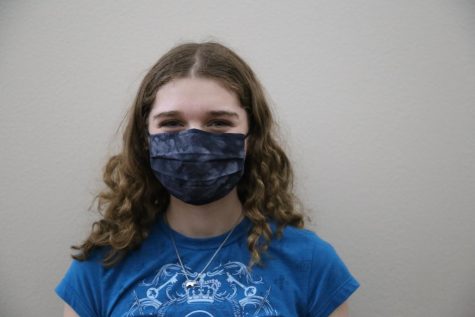 Lily Deitch, News Editor
I'm Lily, a sophomore at Creek. This is my second year on the USJ staff, and I am so excited to be...