Joker Review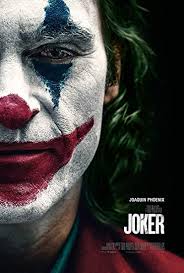 For the audience who appreciates the dark horror of the joker character, this movie portrayed a flawless version. Or a common person in the audience, someone who finds themselves encapsulated by dark humor and unfazed by gore; this movie definitely doesn't disappoint. 
To a movie geek, excited by shots and unusually perceptive to screen direction, The Joker is, once again, a flawless choice. 
Although I'm definitely less sensitive to those types of themes and scenes, anyone who may not be should certainly take caution with this movie because of its intensity throughout. 
Through an online exchange with the news agency, Etai Benson wrote,"All the nervousness built around the film made the experience particularly unsettling." 
Coming from someone who is drawn to scary movies at their finest, the Joker was a choice I couldn't resist.
Walking into the theatre, lights dim, a tub of popcorn in hand, my expectations were more than high. I was about to see a spin off of one of the greatest (and arguably the most accomplished) super villain of all time. I'm happy to report with the review that it was nothing less than impeccable. Juaquin Phoenix portrayed both the best and worst qualities of the Joker with ease. Almost as if it was any other role. It isn't. Phoenix possesses an idiosyncratic stage presence that fits this role as if it was specifically made for him. 
The Joker as a character requires nothing less than a manic attitude and a broken past that consumes who he is as an adult. Laced with inner pain and a will to keep going, throughout the whole movie, you feel like you are right there with him. Fighting for everyday and clinging onto what feels like lost hope just to feel something. 
Phoenix makes you feel for him throughout the entire movie by showing Joker's hard and mangled life. It makes you feel for him in a way that you never thought you would.
He's the bad guy, the antagonist, the one that you should be hating. But for just a minute, you almost feel like you're on the same side. this unsettling sympathy is the exact thing that people don't want to feel and in return, criticism was overly unsympathetic to the way that it made the audience feel.  Let's just say, if Phoenix doesn't win the Oscar for this one, I'm suing.    
 I may be a little biased. Actually, according to the New York Times, the Joker definitely wasn't a masterpiece. Instead of critiquing societal issues it instead,  "painted an overly sympathetic portrait of a man whose descent into brutal villainy echoes the back stories of actual mass shooters." This as expected raised ongoing tensions from the 2012 shooting in Aurora and the theatre actually refused to play the film. 
The film also matters right now because it ties into current politics. It has things to say about mass shootings, climate justice, and police brutality. 
Apart from character development, the storyline aspect of the film was brilliant. The plot thickens by the minute. 
Not once was there a time that I felt like it was dragging on or that there was an excessive scene like some films. There were twists and turns in almost every scene and was extremely entertaining to say the least up until the very last line.