April 2018 17 Coach Art Quinn wins TIA Coach of the Year Award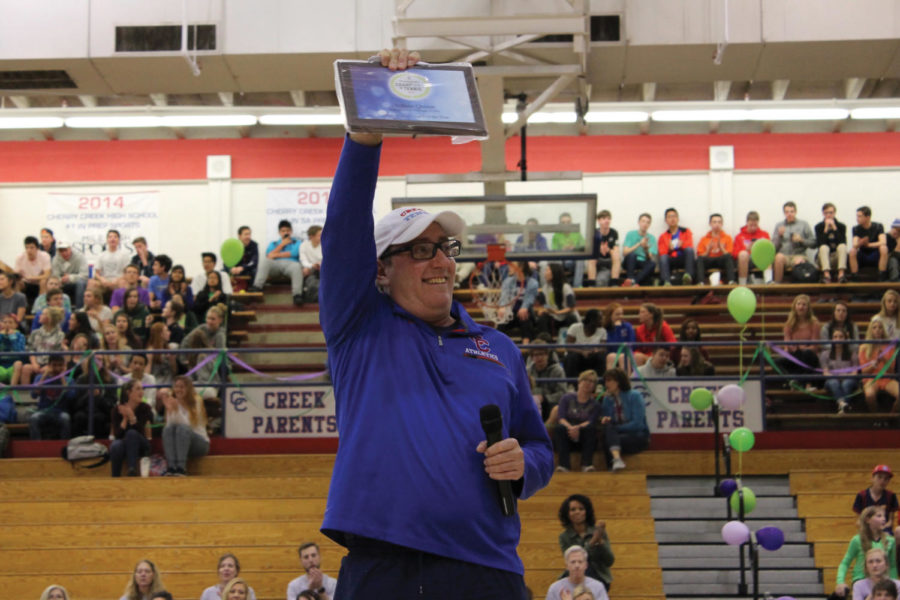 Head Tennis Coach Art Quinn was awarded the National High School Tennis Coach of the Year award by the Tennis Industry of America.
During the Power Week pep-assembly, Quinn walked out to accept the award.
"It was a tremendous honor," Quinn said. "I was excited and happy not for just myself but the team and program and everyone that came before me."
The tennis program itself continues to achieve, winning eight of the last ten 5A state championships.
"It's a marker and an acknowledgement of the program's achievements at large, and certainly I'd like to think I've done my part," Quinn said.
Known for emphasizing success on the court, in the classroom, and everyday life, Quinn wants his players to be good people in every aspect.
"Somebody is looking, even if you think they are not," Quinn said. "Even if no one was looking, in your heart you would know."
Quinn is a Creek alumni and was also on three state championship teams during his time here as a student.
Quinn took up the reigns for the varsity team after legendary head coach Kirk Price retired in 2015.
In his three years as head coach, Quinn coached two teams to State Championship wins, one in 2015 and another in 2016.
Creek lost last season to Fairview in the state tournament by a five-point team score difference.
Coach Quinn will continue in his position as head coach of the tennis team for the foreseeable future.
About the Contributor
Cameron Barnard, Editor Emeritus
Cameron Barnard is a senior at Creek. This is his fourth year on the USJ staff. Cameron enjoys pop culture and writing. He plays tennis and supports the...