Peanuts and Cracker Jack #1: Small Ball Is Dead
The Kansas City Royals made history in 2015. Yes, they won the World Series, and nearly swept the New York Mets in the process. But the thing that was so monumental about their victory was how they did it. Led by speedsters like Jarrod Dyson, Lorenzo Cain, and Alcides Escobar, they stole 14 bases in 16 postseason games.
Not only did they steal with efficiency, they stole to win. On multiple occasions during the Royals' run to the trophy, a stolen base put a runner in scoring position and gave them the opportunity to win the game. And, on most of those occasions, they capitalized. This is small ball – using singles, doubles, and stolen bases to score runs.
However, the 2015 Royals victory was one-of-a-kind. In 2022, the average major league team will build their squad around home run hitters more than speed demons, and hit-for-average players. Even the speedy Royals don't steal half as many bases as they did 30 years ago.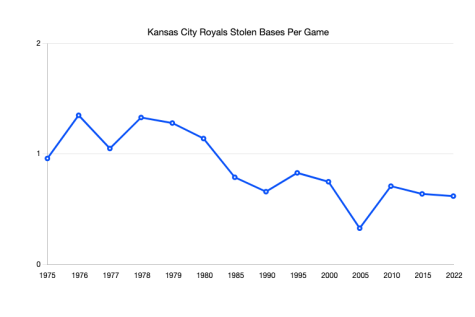 Rickey Henderson was the best thief the game has ever seen. In 1982, he stole more bases (130) than a whole major league team combined in 2022 (averaging about 85 stolen bases per year). Even the speedy 2015 Royals stole 29 fewer bases than Henderson in '82. Nothing screams "small ball" like stealing bases all over the place.
Now, in the age of Instagram and Twitter, the MLB has designed their social media pages and commercials to make fans more excited about pitchers who can throw 100 mph and batters who hit bombs. They don't pay much attention to the players who hit singles a third of the time and steal as soon as they get on base.
The league will also never see as many sacrifice bunts as it did in the 70s and 80s. Same goes for singles, walks, and sacrifice flies. Teams don't manufacture runs anymore, it's unfortunately how baseball has evolved. In 1985, the typical run would be scored with a walk, then maybe a sac bunt followed by a single to score a run. Teams would work together to produce runs with each person in the lineup contributing something small that could lead to exciting runs.
The thing about baseball is that it's more exciting when the ball is in play. Shortstops diving for ground balls, center fielders making a diving catch, batters scrambling just to get to first. Now, we're seeing ball after ball exit the park without fail and pitchers striking out hitters 22% of the time.
Baseball is and will always be my favorite sport. It's America's pastime. It's watched in millions of households across the country and inspires young athletes to get outside and dedicate themselves to a sport that may improve their mental and physical health. I know it certainly inspired me to do that.
I just wish we could all pay attention to the batters like the Colorado Rockies' José Iglesias, who, at the All-Star Break, was rocking an elite .302 batting average. He played small ball like it was 1989, hitting doubles and singles, getting RBIs 30% of the time, and he wasn't even considered for the Midsummer Classic.
Some players with smaller builds have a much harder time hitting the ball farther, but they're often also faster. But these guys don't get as much recognition because of that lack of power.
I advise you, next time you watch a game, to pay attention to the players who hit bloop singles, work smart walks, or poke doubles into the corner.
This story was among the submitted entries of this column which won First Place Column from CSMA.