Fast Fashion is Killing the Planet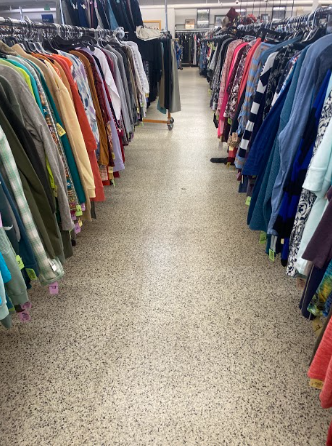 Did you ever think that buying a shirt could kill the planet? With the rise of brands that combine trends with affordability, like Shein and Romwe, fast fashion has taken over the industry and has succeeded in promoting biodiversity loss and decimating the Earth.
The fast fashion industry is among the most damaging industries for the environment. It is responsible for 10% of global carbon emissions and 20% of global wastewater. According to Fashion on Climate, a study by the Global Fashion Agenda, a climate advocacy organization, and the consulting group McKinsey & Company, if the fashion industry does not change by 2030 it will produce two times more carbon emissions than allowed by the Paris Climate Accords.
I personally have been no stranger to the fast fashion industry, and its affordability has always been appealing to me. Using these fast fashion brands, it is easier to stay on trend while also not draining your bank account. I have been guilty of shopping at Shein and Romwe and as I look into the piles of synthetic shirts and pants in my closet I can now only see the thousands of habitats that have now been destroyed by this industry.
According to the report A New Textiles Economy: Redesigning Fashion's Future by the Ellen MacArthur Foundation, the Textile industry produces 1.2 billion tons in greenhouse gas emissions annually. With this type of pollution, the climate will become warmer which can have devastating effects on the environment.
Additionally, according to the United States Environmental Protection Agency, in 2018 landfills received 11.3 million tons of discarded textiles. This waste is unregulated as major companies prefer to manufacture their goods in countries where ecological conscious laws are less enforced or not present.
Currently, bright colors are very trendy for spring and summer seasons, but these require the use of extremely toxic dyes. Many companies carelessly discard the waste from these dyes into waterways, this water cannot be treated to become safe again. The bi-product of these companies is destroying marine life for the sake of profit. Change in the fashion industry is not only necessary, but urgent. Without action, the industry could produce 2.7 billion tons of carbon emissions yearly by 2030. As a society, it is necessary to call out these corporations for their environmental violations.
Thankfully, we can see some much needed change happening right now. In an interview with the Ellen Macarthur Foundation for their report, A New Textiles Economy: Redesigning Fashion's Future, the former Chief Executive Officer of the H&M group, Karl Johan Persson, said, "This ground-breaking report lays the foundation for a new mindset and creates a shared vision for a circular fashion industry. It's a call for action for systemic collaborations and is aligned with our efforts in making sure that economic and social development can happen in a way that the planet can afford".
H&M has made strides to acknowledge the climate crisis with their new campaign, Sustainability, this campaign recycles materials that would have otherwise been put in a landfill and makes them into wearable, fashionable garments. H&M has been honest and open about their waste, making their annual waste report open to the public.
Other companies like Shein and Fashion Nova have not been transparent about their effect on the environment, and refuse to do the same. This secrecy just highlights the corruption in this industry. Not only do they ignore marine life, they discard the value of human life and the life of our home.
The UN has also committed to fighting the atrocities within the fashion industry with their new initiative called The United Nations Alliance for Sustainable Fashion. The UN has opened this initiative to allow non-state and private sectors to help the fight against climate change.
It is possible to make a change in an ethical way despite being so young. Try to donate your clothes, explore thrifting, and support environmentally conscious companies. It is important to educate your friends and family on the biological genocide being committed by the fast fashion industry.
The current trajectory of this industry will turn our world into an unlivable landfill of toxic waste and trash. It is our job as stewards for the Earth to take care of our planet and hold this deceitful industry accountable for their hand in destroying our home.