How Some Survive Senate and Sports
Junior Parker Ortanes wakes up at 6:30 and is lucky to be in bed by 11. Averaging six to seven hours of sleep per night, Ortanes is one of the many students at Creek whose sleep average falls below the recommended average of eight to ten hours. But, unlike many students, Ortanes both plays varsity soccer and is an elected senator. On top of that, he has two hours of homework on a "good" day.
This is just one experience of a student who participates in both Senate and sports. Despite the commitment, these students' communities help them maintain balance between their responsibilities.
With schedules often packed full of APs and highly competitive sports commitments everyday, finding an obtainable balance isn't easy.
"It took a lot of time to learn how to [balance everything], but I think that I try to focus on one thing at a time," senior Devon Stern said. "I try to do the things I enjoy more often than the things that I don't."
Stern is one of three managers for the boys varsity soccer team. She takes stats for the team and takes part in senate as the head of the spirit committee.
Sophomore Dex Rhody plays varsity soccer as center midfield and is on the community service committee in Senate. Despite being new to Senate, he has found support in the other senators.
"Senate is really fun because you make friends with people in different classes and it really opens up new opportunities and paths that you can take," Rhody said. "Especially with people who are older than you who can mentor you and tell you which way to go."
Both Rhody and Stern love being involved at Creek, but senators know that some weeks are busier than others.
"When it's Homecoming week or Prom week, I designate time for [Senate] because I know it's gonna be a lot," sophomore and JV soccer player Kate Ley said.
Obligatory meetings and appearances are some of the responsibilities that come with Senate. All members' grades are dependent on participation and showing up to class, which makes prioritizing commitments easier.
"It gets to be a lot, but if I do have to decide [between Senate and soccer], most of the time it's soccer, and then I can make up stuff in Senate," Ley said.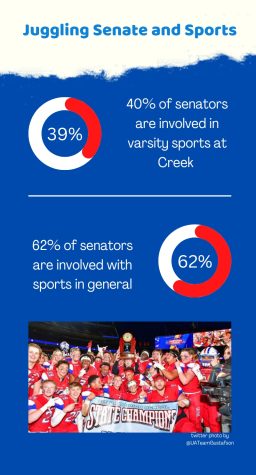 Ironically, there is a lot about Senate that is similar to a sports team.
"You're all working together for the same goal of representing Creek and bringing people together," Ley said.
Junior Ella Reeves, a first year senator on varsity poms, plays a big part in the decorations committee and helps with setting up monthly community service projects for senate.
"[Poms] is pretty similar to Senate. I love how involved you get to be with the school, even just with football games and appearances and basketball," Reeves said.
While Reeves enjoys both Senate and poms, finding balance can become overwhelming.
"We practice so much every week and there's a lot of responsibilities," Reeves said. "It's a big commitment."
While Reeves practices to perform on the sidelines, Rhody maintains a similar sentiment about tension on the field.
"It's a lot of pressure, but it's really fun," Rhody said. "Sports teams are a lot more toxic [than Senate], I think."
Balance can be difficult to find, and while many just hope for the best, others have perfected strategies to make things easier.
"The way I see it is you can't be involved in everything, so you have to just pick what's most important to you," Reeves said.