Colorado Contractors Lend a Helping Hand in Artemis Mission
Local scientists and engineers contribute heavily to NASA missions
After being postponed twice, NASA announced that the rocket for the Artemis 1 moon mission will launch the uncrewed Orion capsule on Sept. 27. 
Though the launch will be 1,894 miles away from Colorado, many aerospace companies located in the state play a vital role in Artemis and other NASA missions. 
"There are some critical companies here and organizations that do great work for NASA," said Mark Matsumura, Program Systems Engineer for the Astrophysics Projects Division at NASA.
"[Ball Aerospace in Boulder] is a company that NASA gives contracts to, [that is] competing for different aspects of building like hardware, space, or technology that they're trying to develop for future missions," Matsumura said.
Matsumura, along with working at NASA, previously worked at Ball Aerospace in Boulder, where he was involved in overseeing the Ozone Mapping and Profiling Suite for a flight on the Joint Polar Satellite System-2, which will provide global environmental data after its launch scheduled for early November of this year.
"The weather and climate scientists want [consistent] measurements of the Earth over decades so they can study any short-term or long-term trends in the data," Matsumura said.
According to the Colorado Space Coalition, Colorado has the nation's second-largest aerospace economy compared to other states in the country, likely due to having nine of the nation's top aerospace contractors having significant operations in the state.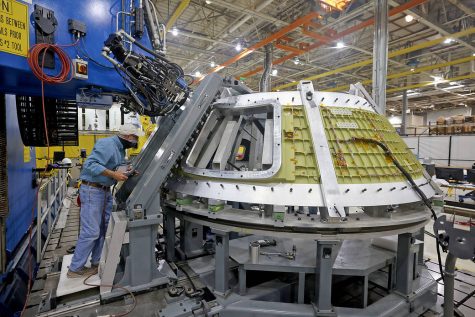 Lockheed Martin in Littleton, another main aerospace contractor located in Colorado, is developing many different space launchers, satellites, and defense systems. Recently, they created Orion, which is a reusable crewed spacecraft that will be used for the Artemis mission.
"There were at least 100 engineers that were there [at a watch party in the Littleton location] some brought their kids and families and it was really exciting; we were all gathered around the screen waiting for updates,"  said Tatyana Berdan, Communications Specialist at Lockheed Martin. "[The Artemis launch is] a really exciting moment in time. I hope people tune in and pay attention.'' 
Due to Colorado's heavy influence on the mission, the launch's delay was met with some disappointment from people within the Colorado community. 
"I wanted to see the launch," physical engineering teacher Keith Harrison said. "It's the most powerful rocket ever built… so it's going to be spectacular when that happens. So yeah, I was a little bit disappointed. But at the same time, I knew that there was a good chance that it wasn't going to happen."
Living in the heart of Colorado and the center of the aerospace community, there are many opportunities for students who want to learn and participate in future projects.
Within Creek, many students pursue their passion for aerospace engineering and astronomy through courses and clubs like Robotics, Math Club, and the Astronomy Club.
Alexandra Blumeburg, a member of the Astronomy Club, was sparked by the Fermi Paradox (the idea of life outside of planet earth) and further developed this interest by joining the astronomy club and taking specific classes. 
"If there's anyone at Creek that's interested in getting a career in engineering or some kind of science-related field, there are a lot of opportunities here to get involved," Harrison said.