Teacher, Student Awarded For Helping Students With Special Needs
Theater director Alex Burkart and senior Steele Billings were given the Golden Heart Award by CCSD this month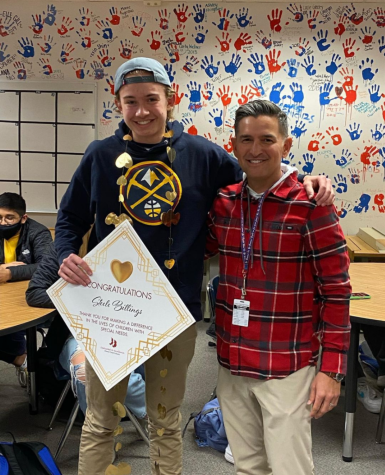 This year, theater teacher Alex Burkart and senior Steele Billings won the annual Golden Heart award, which is presented to individuals who have "opened their heart" to help and influence students with special needs. 
Burkart won the award because of his work in MAL unified theater, a program at Creek in which ILC students and gen ed students work together to put on a show every fall semester. However, Burkart says that he thinks it was mainly his teaching style that made him stand out among the other nominees.
"When I approach my teaching, I always consider the individual students' experience and background, whatever that might be," Burkart said. "I really try to get to know each and every single one of them as much as possible, and that includes all of my students with special needs."
His student freshman Brynn Jensen adds how Burkart's caring and compassionate demeanor is what helped make him stand out, and it also makes his students comfortable with referring to him by his first name.
"I think Alex won the Golden Heart Award because he's really just a genuinely kind, caring person, and he cares for every single one of his students and puts his hardest amount of effort into everything he does, especially his teaching and his shows," Jensen said. "He's just a very genuinely nice person to talk to, and he's a good person to be there to help you."
Billings was awarded for his work in Open Arms, a club that focuses on building connections between students with and without special needs.
"I primarily interact with students with special needs through my role as President of Open Arms Club," Billings said through email. "I also am involved in the East Courtyard Project, which is an ongoing effort to revamp the East Courtyard, spearheaded by Ms. Canham from the ILC [Integrated Learning Center]."
Burkart's and Billings's work with students with special needs are different, but they both express gratitude for the opportunities they've gotten from being able to work with these students. 
"Seeing how much joy [unified theater] brings to other people and then how much joy those individual students get from that class [is] really incredible to watch," Burkart said. "It's literally one of my favorite things I teach."
Billings also agrees that his experience with special needs kids has impacted him for the better.
"Through [Open Arms] I have made some wonderful connections and friendships with students and teachers within the ILC," Billings said. "Through this club, I have made many great friends with whom I interact outside of Open Arms."
According to Kimberly Avalos, Coordinator of Special Education, the joy Billings describes is generally shared among the winners of this award.
"People who get this award are often not looking for recognition, so it makes it even more special to appreciate them," Avalos said in an email interview. "The work they do is inspiring and truly impacts [special needs] students and their families."
Billings hopes that winning the Golden Heart award will inspire others to join unified programs based on his positive experience.
"I feel immensely grateful but also somewhat undeserving," Billings said. "There are so many people who do so many great things for the special needs program, and the ILC is such a fantastic community of which I am so lucky to be a part."