Vandalism Becomes Problem At Creek Due To "Devious Licks" Trend On TikTok
Students on TikTok often expressed their dread for returning back to school, but this year they see it as something to look forward to with their "devious licks."
User @jugg4elias on TikTok introduced tiktokers to "hitting these licks" by stealing a box of masks from his school, allowing for it to grow into larger and more expensive stolen items such as hand sanitizer dispensers torn from restroom walls and even costly microscopes from science classes.
"I've seen a video where someone supposedly stole a toilet from one of the bathrooms. Not sure if that was actually gone through with, but the trend is just kids trying to top one another," junior Sammy Thomas said.
Many videos circulating TikTok users "For You Pages" include stolen paper towel dispensers, bathroom stall hinges and doors, and attempts of stealing exit signs attached to the ceilings.
No matter the steal, students are taking a large risk just to participate and hopefully attain clout that isn't necessarily guaranteed.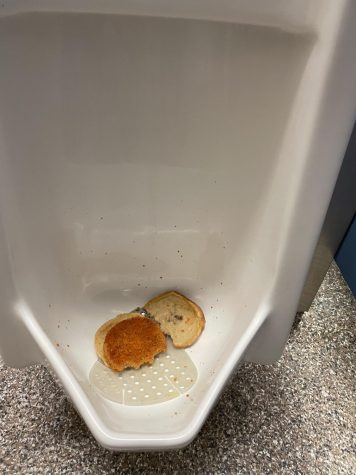 The rebellious aspect of it gives the participants a sense of adrenaline and forces them to push the boundaries and see how far they can go before being caught, yet it poses the idea of inconveniencing custodial staff.
"I feel like for the most part, it's not hurtful. It really depends what the item is because sometimes it can be a major inconvenience to the school," sophomore Alexander Fellows said. "I don't really have anything against it."
Administration and janitors have voiced their concerns over this trend, however, as it creates messes and can be costly. At Creek, to confront the issue, bathrooms have been closed and emails have been sent to parents. Meanwhile, on TikTok, videos have gone viral of principals condemning their student's participation in the trend.
Recently, the hashtag #deviouslick has been taken down from TikTok as it violates their community guidelines, but it's hard to say these steals will stop as it only just got started and it was replaced with #diabolicallick which was also removed in just a few days.
The Cherry Creek School District recently sent out an email regarding this trend and "request that parents and guardians have conversations with their students about the impact of vandalism and theft of school items."
Participation in this trend will lead to consequences by the school such as "suspension, restitution, law enforcement referral, and/or expulsion," which was also included in the district's email.
Ever after hearing from the district that they could face major discipline, students continue to cause chaos in the school.
"On the surface, I guess it's funny," said senior Mae Mitchell. "But it makes me think, how do you even manage to do that without getting noticed?"