Creek receives $10k grant for mental health
Recently, Creek received a $10,000 donation meant for mental health resources at the school. The contribution by the Leaffer family is meant to help the mental health of the students at Creek and allow for them to open up and understand that no one is alone during these tough times. To advocate for better mental health, guest speaker Jessica Pfeiffer came on Thursday, February 4th to speak on the influence of stress during this pandemic. With this, there is also a plan to put in place an outdoor recreation area on campus to also better the contentment of students.
School psychologist Dr. Lisa Geissler, who has worked at Creek for 20 years, is excited for what's to come. She, Mrs. Leaffer, three other school psychologists, Dr. Keogh, and Principal Silva are working to bring awareness to the wellbeing of students. Dr. Geissler brings to our attention that she is even talking with students at Creek to get some insight on how they're feeling and to better understand their needs.
In an interview with Dr. Geissler, she explains everything that's going on behind the scenes.
What information is there on the family who donated to Creek?
It was given to us by the Leaffer family, and they very specifically wanted to benefit the mental health needs of Cherry Creek High school students. I've been working with Mrs Leaffer, Karen Leaffer more directly. They've had their children come through Creek. They were personally touched in some way by a family friend and realized that they just wanted to help the community because they're seeing our kids struggling and and felt that they wanted to help make an impact.
Who is deciding where the money goes and how is it being decided?
We're working together as a mental health team. There are four of us, the school psychologists, but we're also working closely with Principal Silva, and our activities director, Dr Keogh. There's a lot of it that we're trying to target: what we would call primary prevention, which is when we're trying to put into place things that will help students so they don't get into trouble. So they don't, you know, get more depressed or distressed in some way. So that's what Sources of Strength is meant to be. So we're partnering with Dr. Keogh quite a bit as we do some of that work.
What is Sources of Strength and how are they contributing to the mental health campaign at Creek?
Sources of Strength is a program that people use across the country to kind of put things into place to help kids who are struggling with depression and suicide before they get to the point of going suicidal. So, the idea is that we all have different strengths that we can use and that's whether we have access to medical care, we exercise, we have strong family relationships, there are different parts of the wheel that they encourage us to look at and know what our strengths are and know what we should develop. We're not really working directly with them, although some of the sources kids are helping us with some of the campaigns that we're going to do tomorrow and Thursday to advertise the speaker coming on Thursday night. We're going to do a little gratitude campaign and give out some stress and fidget toys to some of the students that say one thing they're grateful for.
How did you first hear about this speaker, Jessica Pfeiffer, coming to the school and why did the school choose this speaker?
So, I know of her personally. She's a colleague and I know her work. She's been trained in an approach called the neurosequential model that is Dr. Bruce Perry's model of trauma. She is an internationally known trauma expert, and she knows Bruce Perry very well and his model very well, and is local so I knew she'd have really great information for our community to learn about how the past 10 years has impacted all of us. I have actually presented with her and she co presented with me at the diversity conference on Sunday, which just solidified for me how amazing she is. She's so knowledgeable, she's also funny and I learned something from her every time I talk to her.
How long is the money hoped to last?
Well, the first desire was for us to really help students as quickly as we can. So we're sure we're doing our best to roll out these activities as fast as we can. I don't know how long the construction work takes but, to have things in progress by the end of the month, and going into March.
What will the school do with the remaining donation?
So, we are looking at the kind of outdoor recreational activities that we want to put into place for you guys so you have healthy alternatives on campus to let off steam and, you know, exercise. So, we're looking at basketball hoops, a recreation area out by the sundial, and other ideas [that] are being bandied around, we're in the early stages of that. We're trying to reach out with a bilingual person who has a mental health background to some of our Latinx families who don't speak English, to see what they need in terms of mental health resources, because we're worried about some of those families not having access to the information that is being given out in English. We're looking at a more ongoing campaign for students and this is so in the works that I almost don't want to say more because we're still brainstorming, but we're trying to partner with some of the student leader groups and consult with teachers about what would make most sense for you guys.
Has the school received this similar donation like this in the past?
No this is really unique. I've been at Creek for 20 years and this is the first time we've been given this kind of opportunity. So we're all really excited and really trying to work hard to respect the intent the Leaffers had in donating the money.
Has Creek been working on a mental health campaign previous to the donation? 
We're always working on things so we as mental health people have worked with the Sources of Strength students before on some of their campaigns. We've tried to put information out there in other ways. There are posters around the school right now, that if you scan the QR code it takes you to a website that has some great resources. We just made the posters as part of the campaign so we've always been wanting to put more out there. This just gives us the opportunity to be more proactive with it.
What's your opinion on the donation and where the money is going?
Oh gosh, we're overwhelmed! You know, honestly, we're educators, we're not used to having this kind of money to spend. So, we've been really working hard to think about what you guys need. We've talked to students to make sure we're on track with some of this that students see what we're doing is helpful. So, we're overwhelmed, but I'm so amazingly grateful.
About the Contributor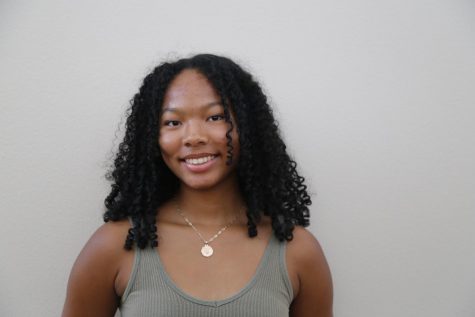 Aila MonLouis, A&E Editor
I am currently a sophomore and this is my first year as an editor. During my free time, I love to hang...