Creek alum Faith McCurdy discusses college life during a pandemic
McCurdy attends The Savannah College of Art and Design and is majoring in graphic design.
With expectations put aside, how has your first semester of college during a global pandemic been?
The school I go to (SCAD) has had a ten year program that has been completely online, so they're really ahead of the game with understanding how students learn best online. It's weird with residential life though. It's empty, but it also feels really uniting. All of us feel that we're not having the best time, so it connects us in a way. But it also creates a lot of distance because it's more of a continuation off of high school.
Usually when you go off to college, you expect, "Oh, I'll have all new friends. I'll go out and make a lot of new experiences." But with the situation we're in, we're forced to continue with what we've known throughout high school.
Do you think this setup makes it more difficult to create connections with new people?
I think the easiest way for people to connect with others is not through [this]. I thought I could get a nice, subtle introduction, but everything hits in one way or another. It's hard connecting with people. If you're more of a social person, you'll feel this more. If you're not, it's a lot easier to maintain that lack of social connection. There is difficulty, but we're all in the same boat, so we all have a mutual understanding.
What is the best way to build those connections?
To forge relationships, you need to have perspective. You can tell everyone is genuinely uncomfortable and weird, so it's just going out of your way a little bit. It's just saying, "Hey, you're in my class, and you seem nice. I'll add you on Instagram." With college, it's just getting out there and meeting new people, not necessarily being best friends with anybody, but at least it's net-working and making yourself feel the presence of other people.
How would you compare this year during college to if you were at Creek still experiencing life during high school? And what advice would you give to Creek students?
I have the benefit of leaving any home or school relationship, so I can completely start fresh. But if I were in the same situation at Creek now, I don't think I would perform very successfully. It can feel a lot more suffocating because it's hard to see what you're doing or where you're going. Whatever you're going through, it's just about being vocal and expressing that and understanding that none of it is your fault. I know it's very difficult for a lot of people, and I don't want to gloss over any type of situation. You need to give yourself the same lenience that you would give anybody else.
About the Contributors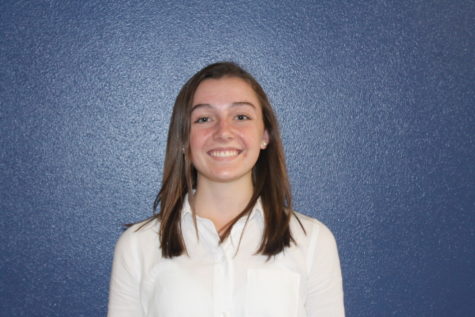 Jane McCauley, Editor-in-Chief
I'm the other editor-in-chief, and I love sleeping in, playing with my dogs and lizard, and reading...