Chasing Rings
Bruins Girls Basketball 2021 Season Preview

They were so close to winning it all, until their season ended early due to something that was out of everybody's control: the COVID-19 pandemic. The Bruin's girls basketball team won the 2019 state championship by two points against Grandview and were set to play them again in the 2020 state championship game. This game never happened, but Creek's players are still confident in the belief that they would have won again.
"Grandview is an amazing team with so much talent," senior shooting guard and Hawaii Pacific commit Abby Wrede said. "But, I have no doubt we would have won the state championship game if given the chance."
Senior point guard, shooting guard, and University of Texas Rio Grande Valley commit KaCee Kyle compared Creek's past two seasons, remarking on their similarities when it came to playing Grandview.
"At the beginning of both seasons we lost to Grandview, but when we met again later in the season, we won," Kyle said. "Obviously, in 2019 when we met them a third time, we took state. There is no doubt about it that the [2019-2020 season] outcome would have been the same."
FILLING THE VOID LEFT BY LAST SEASON'S SENIORS
Three of the team's seniors graduated in 2020: Cali Clark, Carly Thompson, and Creek's star player, Jana Van Gytenbeek. Currently, Clark is a forward for Colorado State University, Thompson is a guard at Fort Hays State University, and Van Gytenbeek is a guard for Stanford.
While each of these players was instrumental to the Bruin's success, Van Gytenbeek stands out as arguably the best girls basketball player Creek has ever seen. Van Gytenbeek was selected as the 2020 Colorado girls high school basketball player of the year by Gatorade and scored the winning shot in the 2019 State Championship.
Head Coach Clint Evans commented on Van Gytenbeek, Clark, and Thompson's absence this year.
"You can't replace Jana with just one thing or player, and we are replacing three great players," Evans said. "We might not play as fast as we did the last two years, but the things we believe in that make us successful will still be evident each time we hit the court."
Kyle agrees that this season will be different, but she views that as exciting, and not as something that is going to severely affect the Bruin's chances to win another state championship.
"Coach Evans is a phenomenal coach and will adjust things to the players he has," Kyle said. "As for filling the void Jana left, we are not going to be the same team we have been in the past few years, which makes the season that much more exciting."
Junior shooting guard Charley Gordon says that certain players have risen to the occasion and are filling the void left by last season's seniors.
"This year we are working harder as a team," Gordon said. "KaCee and Abby are really stepping up as leaders."
Gordon also pointed out that this season will be different in terms of physical height. Clark and Thompson are 6'3'' and 6'0'' respectively, and took their height advantage with them to college, leaving Creek to adjust to a shorter team.
"My role on the team this year is to be the best defender that I can be," Gordon said. "We don't have as much height this year, so defense is going to be a big factor." 
OFFSEASON SUMMARY
As the broken record that was 2020 kept telling us over and over again, everything was harder because of COVID-19. And as everyone can probably assume, the girl's basketball team faced some issues of their own during the offseason.
According to Evans, the team's main focus was "finding a place to practice."
Kyle mentioned that the pandemic drastically pushed back the timetable on when the team could actually practice together.
"Usually we could start months before our actual season," Kyle said. "But, with Covid, and with our season being pushed back, we've just recently been having practices. The main focus right now is getting everybody on the same page to be able to play when the season starts."
Kyle spent her time away from her team in the gym, concentrating on cultivating the best version of herself for when she got on the court in the winter.
"For me, even though we were not having practices, my goal was to get in the gym every day," Kyle said. "I feel like I've mostly improved on my shooting consistency and creating more opportunities for myself and teammates."
Kyle's other teammates also hit the gym regularly to improve their skills. Wrede went down a slightly different path than Kyle, working more on other aspects of her game than on her shooting.
"I have developed my game more from being just a shooter, to being able to handle the ball better and become more of a leader on the court," Wrede said.
The team also had to adjust to new faces on the court this year and learn how to play together. This year, there are more players coming off the bench who did not get as many chances to play last year.
Evans said the biggest development this offseason was "growing into the team that we are now, and not what we were the last two years."
ROSTER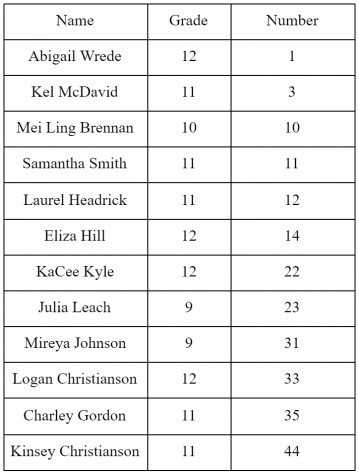 PLAYERS TO WATCH
Will a certain player step up this season and lead the team to victory, or will it be a combined team effort? Most likely, it will be a mix of both. Here is who you need to watch this season.
Senior Point Guard and Shooting Guard – #22 KaCee Kyle
Senior Shooting Guard – #1 Abby Wrede
"Abby Wrede and KaCee Kyle should be our leading scorers," Evans said. "They have earned their position, are returning starters, and probably put the most time into being the best players. They will help most by being the leaders and showing the younger kids how things are done.  They will lead by example in terms of playing relentless defense and sharing the basketball, and hopefully they hit a lot of shots."
With new leadership positions comes new responsibilities, and Kyle and Wrede are planning to step up for their team this season.
"My role on the team this season is to be the leader and captain my team needs me to be, and to push my teammates to the best of their ability," Kyle said. "On offense I have to score a little bit more than I have in the past, especially with graduating our seniors last year. But on defense, I feel like my role will stay the same."
Wrede knows that although her and Kyle will be looked to for direction from their younger teammates, there are also other players on the team who are very important.
"As leaders on the team, KaCee and I definitely have the most varsity experience and will definitely step up as leading scorers this year," Wrede said. "However, we also have Charley Gordon and Eliza Hill coming back that played a lot on varsity last year, and will be a huge part of our team this year to help us win."
RIVALS
"I would say Grandview will always be our rival," Kyle said. "They are a very talented team, so anytime we play them it will always be a rival game."
But other players say that there are many more rivals to contend with this season.
"Last year we always looked forward to playing Grandview. It was always a close game and they pushed us to be better because they were our biggest rival," Wrede said. "This year, every team we play is going to underestimate us because we graduated many great players, so we have to treat every team as a rival." 
Gordon echoes the sentiment that other teams are going to count Creek out because of the high caliber of talent that graduated. In her eyes, some teams are playing Creek this season with the belief that beating the Bruins will be easier than in previous years.
"We have a big target on our back, and I think many teams will underestimate us this year," Gordon said.
Why is that target so huge? Wrede says it's because "every team is waiting for their chance to finally beat us."
SEASON GOALS
The end goal this season is obvious. Creek girls basketball doesn't plan to stop or slow down until they have rings on their fingers. 
"No matter who we have or don't have, we will work hard every day and do whatever it takes," Wrede said. "There's no excuses this year and [the goal is] the same as the other years: work as hard as you can and play together until we win."
Evans wants the team to win, but he also wants them to have fun.
"I really want the players to enjoy themselves," Evans said. "This past year kids have had so many things taken away that I want to focus on how much we enjoy being together playing a game we love."
The Bruins are planning for the same outcome as their last two seasons, but this year is definitely different. Their star player is gone and teams are underestimating them – as was evident after they were ranked #5 in the state for this season, despite their track-record of playing in back-to-back state championships.
"It's going to take a lot more blood, sweat, and tears, but I have full faith in my team and our head coach Clint Evans," Kyle said. 
Some think that Creek would not have won the state championship last year, and probably even more think they won't win it this year, but Creek's players think differently.
"Let's not forget we are still the defending state champions," Kyle said. "No one should underestimate us just yet."