The refugee crisis in Europe – USJ Best of 2020
This article was originally published in the October 2020 issue of the Union Street Journal. The USJ staff voted this article as the best of 2020 news.
For half a decade, refugees have fled from poverty, conflict, and persecution in countries like Syria and Iraq and scattered into the homes and streets of many European countries to seek safety.
Traveling by boat in the Mediterranean Sea is one the fastest way to get into these borders which is why so many families and migrants have ended up on islands like Lesbos off the coast of Greece.
However, in overcrowded facilities like Moria on Lesbos, the safety refugees thought they had finally found was no better than the places they were trying to escape from in the first place. Instead, issues like COVID and increasing homelessness are adding fire to the flames, quite literally.
After a small group of angry migrants set fire to their own camp in Moria in retaliation of quarantine restrictions in mid-September, the flames engulfed what was left of the asylum-seekers' shelters. The fires left an already overcrowded camp with thousands of more homeless families and migrants.
"People were just extremely upset. Not only about the overall poor conditions of the camp, but because they felt that Covid was being used to hurt them even more," Matina Stevis-Gridneff, a reporter from the New York Times, said in The Daily on Sept. 17.
This refugee crisis has been going on since 2015, and there are no signs it will slow down anytime soon. Initially, many European countries like Greece and Germany welcomed these migrants into their homes to share shelter and food.
The journey many of these refugees have made was slow and dangerous. Sea sickness while on the boats for days on end is common, and it is estimated that about six people die every day while at sea.
In Greece alone, about 77,000 refugees await in these camps and facilities to move somewhere else in Europe.
Countries like Germany that have already reached over a million refugees are leaning towards the idea of closing their borders and not letting any more people enter the country.
Now that more refugees have nowhere to go and the pandemic has sparked more anger, controversy, and fear within camps like Moria, the situation is continuing to face more and more challenges.
Organizations like The UN Refugee Agency, UNHCR, and the International Rescue Committee are helping to fight this crisis and supplying the refugees with homes, food, and help.
European countries, organizations, and citizens continue to help fight this battle, but those who are in the heart of it know that these transitory facilities like Moria will continue existing as long as there is no where for these refugees to go.
"There's always going to be these places where hopes end rather than begin," Stevis-Gridneff said.
To view the original article, click here.
About the Writer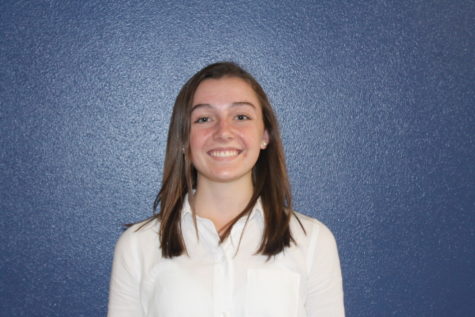 Jane McCauley, Editor-in-Chief
I'm the other editor-in-chief, and I love sleeping in, playing with my dogs and lizard, and reading and writing poetry.