Returning to school life in a pandemic
The usually crowded courtyard and IC Cafe are scattered with students here and there. Classrooms are completely silent as teachers take roll. There are fewer people in the buildings every week with COVID cases growing and students being sent home to quarantine.
For many students, like junior Arushi Srivastaba, it feels good to be back in school, but it comes with a constant lingering thought. 
"I really like in-person school, and it's really exciting. But whenever I go to school, I don't know if I'm going to come back the next day," Srivastaba said.
This isn't just a concern for students. Teachers like Philosophy teacher Chris Meagher worry about what will happen if students are sent home.
"I have this fear if we go remote, it'll be really hard for some students. I'll have limited power to change things as much as I'd like to," Meagher said. 
Inside classrooms, there are more things for students like junior Maddy McSweeney to be surprised or worried about.
"The people in the classroom aren't comfortable with each other," McSweeney said. "We're not talking to each other as much, we're not sitting together, and that's frustrating."
This is true for returning students and especially new students, which includes McSweeney. For her, it's been difficult to meet people and feel involved in a new school when classes aren't interacting as much and many of the clubs and activities after school are nearly impossible to join since the precautions are so extensive and complicated. 
But for other students like senior Teal Wall, however different the social atmosphere at school is, it's better than the alternative of staying home full time.
"I can't focus at home, and my parents bother me every ten minutes," Wall said. "I just can't make myself concentrate."
With both the positives and negatives in each situation, students emphasized one thing: if kids let their guard down and don't keep following the precautions that have been set in place continuously, cases will rise and the school will be forced to send everyone home full time. 
"I want people to know that you should have an urgency for yourself to wear a mask," Srivastaba said. "Generally people aren't very careful. Sometimes [they] just forget that we're in the middle of a pandemic."
About the Contributor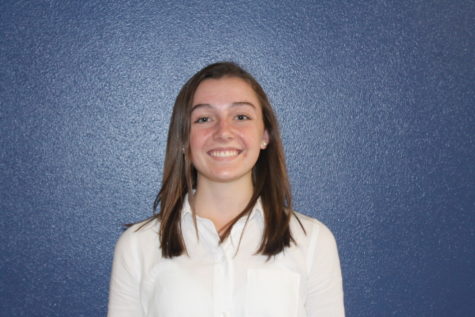 Jane McCauley, Editor-in-Chief
I'm the other editor-in-chief, and I love sleeping in, playing with my dogs and lizard, and reading and writing poetry.