The Extra Point: Week In Athletics will seek to cover multiple different Creek sports in short-form. Published weekly, the column will feature two to three different teams as well as pictures, interviews, and statistics.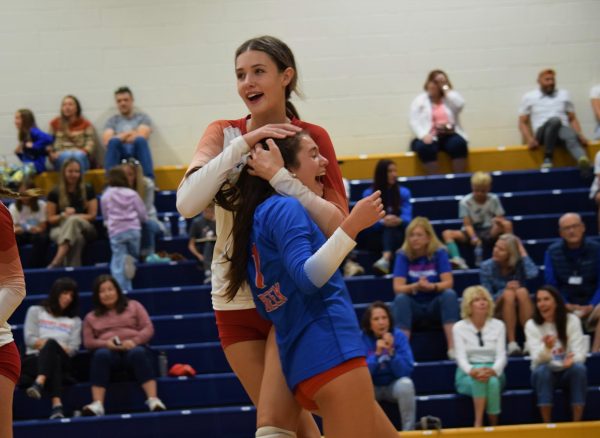 Girls' Volleyball Secures Win Over Mullen 
Creek's varsity girls' volleyball team beat Mullen 3-0 on Tuesday. Creek held the lead from the beginning, winning all three sets 25-11, 25-18, and 25-19. Going into the game, Creek held a 6-5 overall win score, lower than Mullen's 8-3, but still saw strength in their attacking positions throughout the game. 
"We did a good job getting things done and wrapping up the game quickly," senior right side and opposite Addie Kanouff (#13) said. "I think our attacking was super good tonight."
Creek has yet to maintain a steady winning streak, but the team believes their gameplay is turning around after winning their last games against Eaglecrest and Overland. For their next games, the players plan to improve their gameplay by practicing as much as possible. 
"We will keep working on blocking and serve receive at practices," Kanouff said. 
Creek will go on to play Grandview and Smoky Hill in the coming weeks, and expect more positive matches due to rivalries with those teams.
"[Grandview] should be a good game because we have a rivalry with this school," Kanouff said. "It's always fun to play them."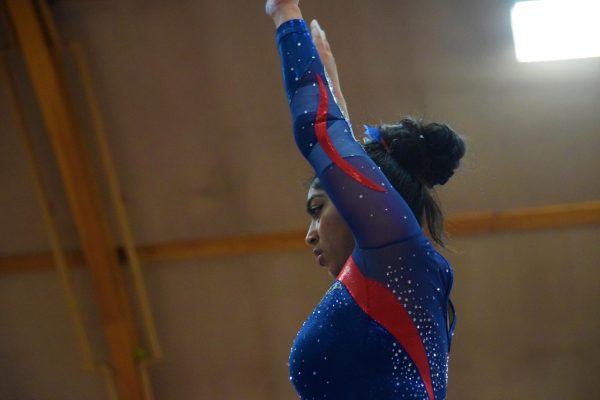 Girls' Gymnastics Claims Third In Multi-School Meet
Varsity girls' gymnastics held a meet against Elizabeth, Palmer Ridge, and Rock Canyon high schools on Thursday at home. Creek's final score was 166 points, placing third behind Rock Canyon and Palmer Ridge. The team also celebrated senior night, and recognized seniors Shayna Thige, Sam Hicks, and Sancia Perakatt. 
"Senior night was so much fun," Hicks said. "I loved the entire night so much. [I'm] so grateful for everyone who made it possible and the other seniors as well."
This match was one of Creek's most successful this season, and the team recognizes it as another addition to their already strong season. 
"I feel proud knowing we scored one of our highest scores this year," Hicks said. "We were competing against some of the hardest schools, but we still did amazing."
Creek will go on to compete against Ponderosa, Palmer Springs, and Overland on Oct. 7 after an invitational against multiple schools on Saturday. For the team, every match brings new challenges, but most players believe that they can improve in time for state competitions. 
"I think every meet brings challenges, especially in a sport as physically and mentally hard as gymnastics. It will especially be harder as we near the end of season and state," Hicks said. "I wish we were a bit more solid on our routines, but that can always be fixed with more practice."