The Extra Point: Week In Athletics will seek to cover multiple different Creek sports in short-form. Published weekly, the column will feature two to three different teams as well as pictures, interviews, and statistics.
Girls' Softball Suffers 15-4 Loss to Grandview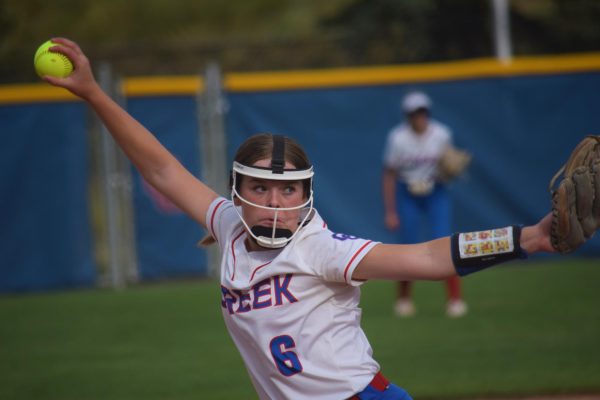 Creek's varsity softball team lost 15-4 to Grandview on Monday at home after trailing for the duration of the game. Creek failed to score after the third inning, where Grandview held the lead at 11-4 already. Grandview has proven to be a challenge for the team in the past; Creek has not won a match since the 2018-19 season. 
"It was obviously a tough game," senior catcher Violet Strand said. "We were not happy with the result but Grandview is a great team and we know what we need to work on."
Creek celebrated their team's energy after the game, and plans to generate wins and uphold a fun team culture throughout the season. 
"Our team did very well keeping energy up in the dugout and we had some great base running," Strand said. "We have a young team full of talented players and we are just trying to build a positive culture and work at getting better every game."
Despite the loss, the team will continue to build up new strategies for their home game against Cherokee Trail on Wednesday.
"We have a tough week of games ahead of us," Strand said. "It will definitely be a challenge, but we are ready to use this loss as fuel to come back and play to our fullest potential."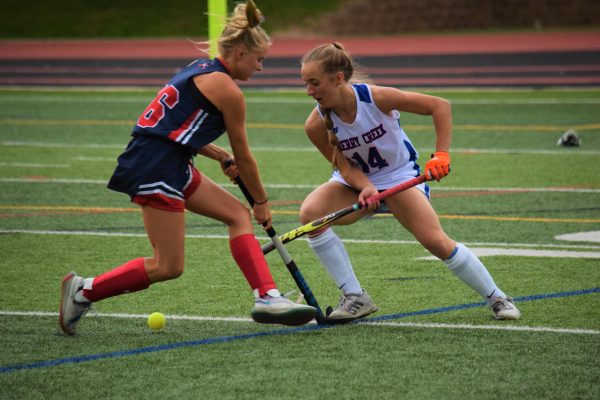 Girls' Field Hockey Tops Kent Denver 2-1
Creek's varsity girls' field hockey team beat Kent Denver 2-1 at home on Tuesday. Throughout the game, both teams focused on taking as many shots on goal as possible, but the game was low-scoring compared to Creek's history.
"I feel amazing about the result of the game," junior left forward and left midfield Grace Manning (#6) said. "We're all super happy about how the game ended."
Despite losing to Kent last year, Creek demonstrated new strategies which led them to increase their lead after scoring rapidly in the first period. To claim the win, the team remained on the offensive and continually worked to score without being affected by Kent's tough defense.
"We succeeded [by] finding the open space and taking as many shots as we could," Manning said.
Creek will play Denver East on Saturday, and most players expect it to be a tough game after tying 0-0 during the 2022-23 season. 
"It will be a challenge next game but I think coming off strong from our last game will help us," Manning said. "I definitely believe we can do it."
Boys' Tennis Dominates Kent Denver 6-1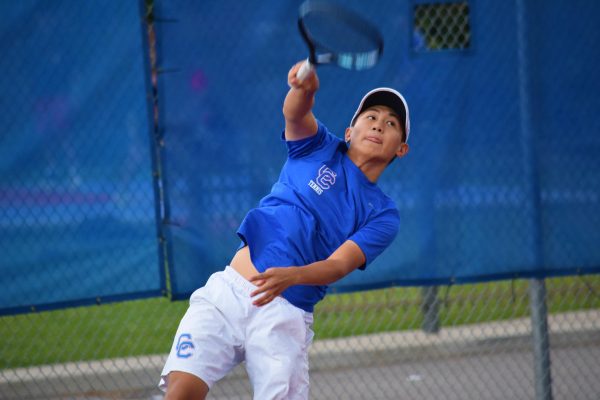 Boys' varsity 1 tennis beat Kent Denver 6-1 on Wednesday at home. Despite having a 12-3 overall win score compared to Kent's 6-0 prior to the match, Creek believed they could win all seven positions.
"I feel great but I think we definitely had the potential to sweep them," junior singles player Charlie Stern said.
Creek's power resided in their singles matches, where they held a clear advantage over Kent. The only match Kent won was a the #2 doubles position against seniors Trey Zurcher and Ryder Landry.
"The team did a good job with getting the result we wanted, but I think that we could be more dominant in our doubles lines and take over the points with how strong of a team we have," Stern said. 
Creek will shift focus on games against Pueblo South and Cherokee Trail in the coming week before preparing to play potential rivals in the State Championships, which will be held on Oct. 12.
"Our next couple matches won't be a huge challenge but we are getting geared up for state semifinals potentially against Valor and finals against Regis," Stern said. "Those will be matches that will definitely test us at all levels."