"The Record" by Boygenius: Boy, Is It Genius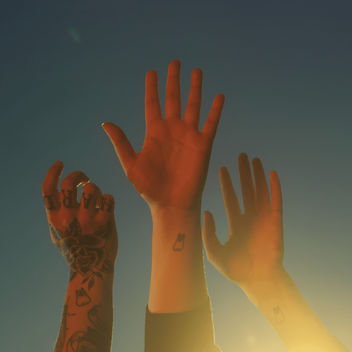 Boygenius, the all-female supergroup comprised of singers Julien Baker, Lucy Dacus, and Phoebe Bridgers, released its debut album the record on Mar. 31. After releasing an EP in 2018 to promote their tour, boygenius gained a lot of popularity from fans all over the world. The name "boygenius" is an inside joke about male musicians who were raised to believe that all of their ideas are genius. Being an all-female group, the name is a play on irony that exposes the truth of male domination in the music industry. Boygenius' music focuses on the feeling of growing up in a society where the group has felt victimized and silenced for no valid reason. 
The record centers around themes of coming to terms with the past, acceptance, and growing up. This album is filled with devastatingly depressing lyrics and angelic harmonies, which make these soul-crushing lyrics sound alluring from far away, while they really hide a deeper meaning. The three songs explained below, embody these themes excellently. 
Letter to an Old Poet 
This song is my absolute favorite off of this album. It's a continuation of "Me and My Dog" from their self-titled EP, which discusses the soul-crushing feeling of loving someone despite knowing that they are harmful to you. "Letter to an Old Poet" ends this process, with the group singing about struggling with letting a manipulative relationship die. The song is a letter to older versions of Dacus, Baker, and Bridgers, the old poets referenced in the title. The track also includes recordings of the audience cheering during their 2018 performance at Brooklyn Steel, which the group described to be an extremely pivotal moment in their careers that is forever burned into their memory. 
$20 
"$20" was released as a single a month before the album's debut. This song is a lighthearted, chaotic mess, but that's what's so beautiful about it. It shows the learning process of making music: how not everything has to be perfect to make people feel something. The upbeat indie rock roots that this song draws from make it arguably one of the best songs on the album and one of the best of boygenius's entire discography. Random harmonies are scattered throughout the song to accompany the fun, messy lyrics that don't have any true correlation to each other. 
Emily I'm Sorry 
Although "Emily I'm Sorry" is a beautiful song with intricate harmonies and honest lyrics, the melody is reused and sounds a little too much like the majority of Bridgers' work for my taste, seeing as I was hoping for all new and unique songs from this album. This song is dedicated to Bridgers's ex-girlfriend, Emily Bannon, and how Bridgers feared that she was changing herself to fit Bannon's expectations of a relationship. 
The release of this album solidifies the importance of all-female bands in the music industry. Boygenius together and through their own solo projects have inspired countless women to go out and create what they want to create. Three self-made, inspiring women set out to make music that is truly their own, not in a style that is pushed onto them by stereotypes. The doors that this pivotal supergroup have opened for the world will forever impact the music industry, and those who look to be a part of it.