CCHS Students Win Colorado and National Awards for the Scholastic Art Awards
For the first time in Creek history, students earned a total of four national awards at the competition
Breaking a Creek record, two Creek students won a total of four national awards in the national Scholastic Art Competition. Their work will be featured in Carnegie Hall in June.
"This year's national achievements are a huge honor: only one other year in the school's history have we earned a National Gold Medal (2021) [the highest award possible in the competition] and never have we earned four national awards in a single year," AP Studio teacher Alissandra Seelaus said via email. 
The Scholastic Art Competition is a statewide and national competition that recognizes students who have submitted either written or visual art.  The competition holds a certain level of prestige, and Creek consistently has approximately eight to ten students earn regional awards, which are called Keys, although the numbers can vary from year to year.
According to the Colorado Art Awards website, "judges look for work that best exemplifies originality, technical skill, and the emergence of a personal voice or vision." Those who win the highest award, a Gold Medal, have the opportunity to present their art in Carnegie Hall in New York. Colorado winners get their art shown in the Denver Art Museum.
Emily Zhang, a senior artist, won two national awards, called Medals. Juniors Emily Chang and Aila Paris each won a Medal.
While she helped win a record-setting amount of National awards this year, Zhang remembers when she submitted pieces to Scholastic in eighth and ninth grade and did not win any awards.
"That was really frustrating for me, and I felt for a time [that] my art kind of plateaued in the sense that I didn't feel like I was improving," Zhang said. "I think the way that I got over that was [by realizing that] it's very important to not obsess over awards and over the external achievement aspect and understand the intrinsic beauty of making art."
Seelaus entered the Scholastic Art competition in highschool and understands the demands Zhang and other students face to earn high awards in the competition. Her senior year she won a Gold Key for a self-portrait. 
To provide students with the most support and guidance when creating their art, Seelaus believes that structured opportunities that allow for experimentation and risk-taking creates "the most potential for students to make dynamic work." 
"There's a creative theory of 'enabling constraints' – that with no limitations, your creativity is stifled by too many possibilities, but that with just a few constraints that you can problem-solve within, artists can propel themselves to more complex, unique, and meaningful works of art." 
Despite the fact that art is a time consuming, competitive, and sometimes critical activity, sophomore Lina Shroeder, who won a Gold Key, enjoyed entering the competition. 
"It was a pleasant experience, and I encourage other people to submit art too," Schroeder said. 
Here are three Creek students who won awards at the Scholastic Art Competition this year: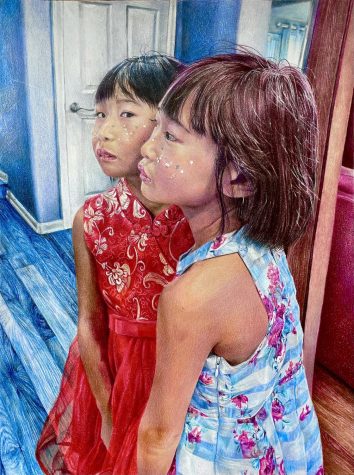 Emily Zhang
Awards: Gold Medal in Drawing and Illustration, Silver Medal in Drawing and Illustration, 5 Gold Keys in Drawing and Illustration and Painting, Honorable Mention in Digital Art
Zhang has been doing art for as long as she can remember, and this year she focused her art on how multifaceted identities are formed and conflicting aspects of identity.
Through her art, Zhang explores many different themes including politics, emotions, the pressure that the transition between childhood and adulthood creates, and her Chinese identity.
"It's very easy for immigrant narratives to be condensed to simple, trite phrases, but that's actually not what the experience is like. The experience is a very multi dimensional, layer[ed] process. And that's kind of the depth that I wanted to express through this piece." Zhang added, "I feel like growing up, especially here, it was kind of hard to combine my Chinese identity with who I was around in school and all the American culture around me. I think for a long time, I really tried to hide that aspect of my identity."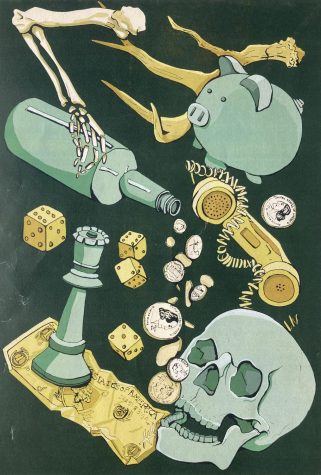 Lina Schroeder
Awards: Gold Key in Digital Art
This year was Schroeder's first time entering an art competition. Despite being nervous about entering, Schroeder came out successful and won a Gold Key in Digital Art for her piece "Monopoly Money."
"I was nervous about getting awards and stuff, and I was super surprised when I got one," Schroeder said. "It was really fun to go look at everybody's art; you could go downtown and look at what other people submitted, and it was just really fun."
Schroeder initially started art out of boredom, and after getting encouragement from those around her, she continued to pursue it. She enjoys using greens and gloomy tones throughout her pieces.
"Art is both like a therapy and the thing you need to go to therapy for," Schroeder said. "It can be really stressful and sometimes other people don't like the things you create even though you spend so much time on it, and it's sometimes hard to be open about what your art is about because art is very enjoyable. If other people are like 'Ew, that's ugly,' then it hurts because maybe your art is about your depression or maybe it's about something good in your life or a trauma. And when people give feedback on it, it can be really harmful to your own ego."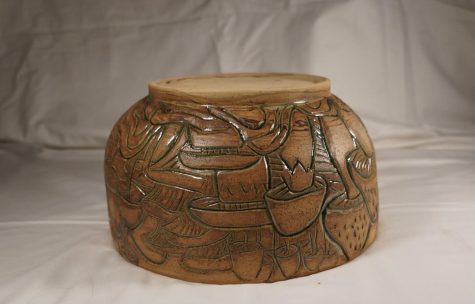 Annie Nuetzal
Awards: Gold Key in Ceramics, Gold and Silver Key in Photography
Sophomore Annie Nuetzal submitted pottery and photography to the competition. "I've been doing the scholastics competition for a couple years now, originally Mr. Jones was the one who introduced me to the competition in 8th grade," Nuetzal said.
While Nuetzal does not have a main medium, she has been focusing on darkroom and digital photography, pottery, and painting. 
"Recently I've been working on improving pottery throwing at the studio I work at," Nuetzal said.