Boy's Soccer Season Ends in Heartbreaking Loss
The Bruin's season ended in the first round of the playoffs after two overtimes and a penalty kick shootout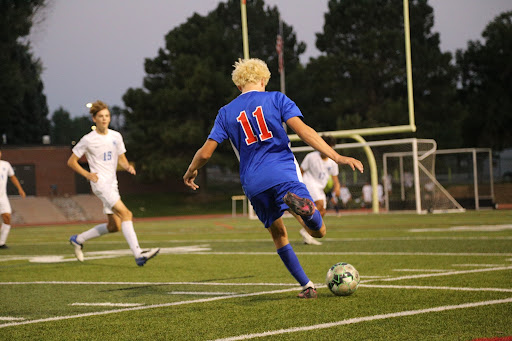 The varsity Boys Soccer season ended after an 80 minute overtime in a 1-1 tie against Fossil Ridge. After 90 minutes of regulation play resulted in a 1-1 tie between Creek and Fossil Ridge, the teams played two fifteen minute overtimes in an attempt to decide a winner. After that proved unsuccessful, the game finally came to an end after Fossil Ridge scored in a penalty kick shootout. 
The first round of the playoffs did not go as expected for Creek. The team was devastated by the loss and subsequent disappointing end to an admirable season. "It was a heartbreaking loss for the team and the school," senior midfielder Cyrus Gulati said. "It's sad for us seniors because that was our last high school game of our careers."
After the unexpected trip to the State Championship last year, the team had hoped for a different outcome this season. The rare occurrence of a double overtime and PK shootout came unexpected to the team, and the loss was viewed as something that was left up to luck for Fossil Ridge. 
Head Coach Wilmer Barrera expressed sadness at the situation. "At that point it's kind of a little bit of luck and a little bit of shooting the ball well, but we cannot control those things," Barrera said. 
To Barrera, this season is something to be proud of because the team made the best out of their situation after multiple players were sidelined due to injuries and sickness. 
 "We had no luck, but this season we dominated and created opportunities," Barrera said. 
Much to the frustration of the players, there were multiple instances throughout the game where they had an opportunity to score but failed to execute
"We played well and had so many chances but just could not score," Gulati said.
The team played a long, grueling season, and according to Barrera displayed their ability and showed their determination despite it all. 
"We did a good job, our players gave everything," Barrera said. "Creek put their heart up there and we did an outstanding job."