The Comeback of Spirit Week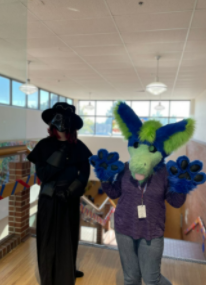 Creek spirit is back! This week of Oct. 4, Creek's student senate was determined to make this years Spirit Week memorable. Students could be seen expressing their school spirit through fun outfits and events. 
"We didn't get that last year so it's gonna be fun to have a normal spirit week and have events where everyone can be participating," senate activities coordinator junior T.J. Hubble said.
According to members of student senate, around 40-50% of students participated in Spirit Week. Still, senate was impressed with their work; more students participated this year compared to previous years.
Senate created new events like movies on baseball fields but made sure to incorporate old traditions, like powderpuff.
"I'm excited about all the activities, even though I'm a sophomore, I was online last year so this is kind of my first time at Creek," sophomore Ariuka Bayasgalan said.
A lot of effort was put into making this year's Spirit Week unforgettable for everyone at Creek. Planning for this year's Spirit Week started as early as last year.
"We start planning right at the beginning of the first week of school," senior and student body secretary Lana Ades said.
During the week, all four grades could participate in Spirit Week, and students were encouraged to follow the specific themes from extreme weather day to crazy hair day. 
"As of now, I think we did a good job of making sure we had enough things for everyone and trying to involve more students in spirit," Hubble said.
Spirit Week allows peers to see each other outside of school in a more social setting. The Student Senate has come up with events that are COVID-friendly.
"We'll have everyone wearing masks, obviously following school restrictions, [and it was] pretty easy to keep students socially distant and safe from each other," Ades said.
The senate's main goal was just to connect kids after their year of isolation. 
"I feel like this is one of the more fun parts of high school, and I know it can be so stressful at times," Ades said. "We really just want Spirit Week to be a fun time where people can bond with each other."