Green Week kicks off for the first time, raising over $2,000
The sound of awkward rustling echoed in Shillinglaw as students settled in and two speakers stood quietly behind the podium. 
As the presentation about the study and preservation of the melting ice caps in Antarctica began, president of the EcoAction Club, junior Josh Guthrie, introduced himself and the first Green Week initiative at Creek.
"There is a lot of overall awareness in the school and Colorado about climate change," Guthrie said. "Because we already have that, the overarching goal of our club is to get people taking action instead of just showing support."
The club hopes to expand into an annual event that continues gaining momentum and action from students.
This year, the group hoped to raise money in order to install a solar garden on the Nyaka School in Uganda. This school has provided for Ugandan children that have been orphaned by the HIV/AIDS epidemic.
"Currently, they don't have a reliable source of energy, and they can't read or study at night because there is no light. So the goal is to give them a consistent source of energy," Guthrie said.
To generate more publicity from students, Guthrie reached out to friends' families involved in climate careers to give presentations and lectures during each period on Earth Day. 
Some of these keynote speakers, including scientists Mike Raabe and Kaneen Christensen, discussed the science and the logistics of their expeditions to Antarctica. They also mentioned how collaborating with scientists from other countries is one of their most important job to help combat climate change and keep the oversea operations running smoothly.
"The [trips] are meant to have open collaboration between all the different areas, so having people from different countries work together to solve this particular problem is really interesting and fun to support," Christensen said.
Presenters gave similar lectures earlier throughout the day that pushed for engaging conversations between students and field scientists, allowing EcoAction to reiterate their goal that students can take any amount of action to promote sustainability within their local community.
By the end of the week, the club raised over $2,000. Guthrie believes the first Green Week was successful, especially considering the circumstances of organizing the first annual week during the pandemic.
"I think our club could definitely expand into doing more in-person activities that can continue to bring more awareness to what we were able to do this year," Guthrie said.
Photos by Jane McCauley and Carly Philpott
About the Writer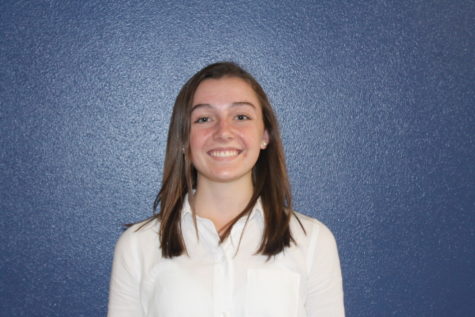 Jane McCauley, Editor-in-Chief
I'm the other editor-in-chief, and I love sleeping in, playing with my dogs and lizard, and reading...