A review of Billie Eilish's Documentary, from a fan
R.J. Cutler's first documentary, "The World's a Little Blurry" staring pop star Billie Eilish and music producer, singer, and older brother Finneas O'Connell has recently been deemed nothing short than a masterpiece. 
Billie stans all over the world have been raving about this documentary for months now, as soon as the young star broke the news that one was on the way. 
With no prior knowledge of anything leading up to the making and release of her doc, it's safe to say that fans were pleasantly surprised to say the least. 
The film came out on February 28th on Apple TV and, within the first few hours of release, immediately soared to 96% in Rotten Tomatoes making it the top documentary in the country and the number one documentary for both the months of February and March. 
With almost two and a half hours of play time and spans over a three year filming period starting when Billie was 16 years old up to the now 18 year old pop star.
 The documentary began when Billie first started succumbing to the pressures of fame after uploading her first song "Ocean Eyes" with the help of her producer and brother Finneas on Soundcloud.  
With the main focus being on the limitations that both her physical and mental health issues have played in her life, the documentary gives an outside perspective on an extremely personal struggle. 
With mentions of self harm and the toll that her tourettes have taken on her career, there seems to be a personal disconnect with the way she's been perceived online. 
"I never meant to be known as anything." Billie said in the documentary.
 "I wrote about how I was feeling. And people just happened to relate I  guess."
 Billie for the past few years has been openly battling her mental health already, but this documentary only heightens it. The documentary also dips into how people listening to her music are being grouped into the overall genre of her music. Sad. Billie explains that she doesn't really understand how her music has been classified as anything mainly because she's just creating art. 
Every song is personal and tied to a different life experience, something that she also talks about for the first time publicly. Through the film, we also get a chance to go on tour with Ms. Eilish, something she says used to be her worst nightmare. "It fluctuates." she said. "Usually if my mental health is bad then I'm less likely to want to go on tour. I want to be the best that I can for the best people in my life. [fans]" 
This documentary was incredibly transparent and probably one of my favorite projects she's worked on. This side of her was refreshing to see and I applaud her for releasing such a vulnerable piece of art to the world.
About the Writer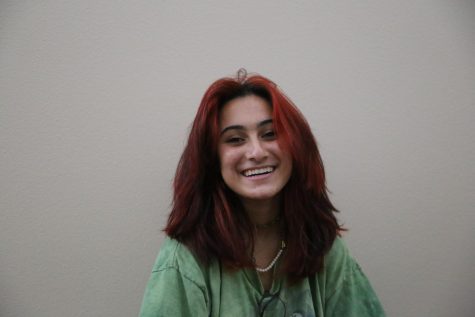 Bre Mennenoh, Features Editor
Hey! My name is Bre; I'm a senior and the features editor for the USJ this year. I'm extremely excited...