I was a little late to "Stranger Things," but I'm 100% on board now
WARNING: this article contains minor spoilers for seasons 1 & 2 of Stranger Things.
When Stranger Things first came out in 2016, I was totally uninterested. Most people I knew had seen it, and nearly all of them were completely in love with it. But I didn't really feel the need to watch it.
Part of my indifference was because I didn't actually get Netflix until about a month ago, and that's the only place to watch Stranger Things. I also was utterly disinterested in science fiction as a whole. The only science fiction that I had managed to enjoy at that point was Star Wars, which, in all honesty, barely counts.
But since then, I've watched and loved the Marvel franchise (some of which is more science fiction than the rest) and fallen head-over-heels in love with The X-Files (and that's not an exaggeration). I discovered and quite enjoyed the science fiction, thriller/action, and paranormal genres.
When my family finally got Netflix in November, I decided that it might not be such a bad idea to watch Stranger Things once and for all.
My first reaction to it? WOW.
From the very first moment, I was completely invested. I wanted to know where Will (Noah Schnapp) went and where Eleven (Millie Bobby Brown) came from. I came up with wild theories about what was happening and going to happen and I bugged my family with them 24/7. I mean, we were all invested.
The first night I watched it, I actually ended up watching the first two episodes, pushing back my homework until the very last second I could turn it in – I simply could not wait to watch the next episode to find out what was happening.
I think one of the best things about this series is the fact that the main characters are all kids. They're younger than I am now, but they're still in a very relatable age group. I know that relatability is a very cliché reason to enjoy or recommend something, but it truly applies here. Even though I'll never fight a demogorgon and I'll most likely never be able to move things with my mind, I can still relate to so much about their lives.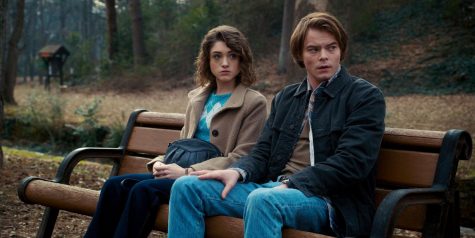 Netflix did an amazing job casting the series, too. Oftentimes, shows and movies shy away from putting kids in the main role because kids are expensive actors and they have very specific legal needs in the workplace.
But Stranger Things is mainly about the kids.
It follows the story of six middle schoolers, a handful of high schoolers, and only a couple adults. And the child actors who play these characters are incredibly good at it. In flashback scenes to Hawkins Lab, Millie Bobby Brown is able to accurately portray a very acute type of emotion. Finn Wolfhard, Gaten Matarazzo, and Caleb McLaughlin (who play Mike, Dustin, and Lucas) are perfect at acting out their characters' relative obliviousness and naïve decisions simply because they don't really know better yet. And Noah Schnapp, who doesn't appear in every scene or even in every episode, has maybe the most difficult job of all, but completely nails it the entire time.
The older actors are also incredible. Winona Ryder (who plays Joyce Byers) basically goes crazy on screen because no one is willing to believe her. Natalia Dyer (who plays Nancy Wheeler) is every second a high schooler who has been thrown into something she really didn't ask for.
And of course, these actors would have nothing to work with without excellent writing, which is consistent throughout the whole first season. Not a single episode flops, and every character is extremely developed and multi-layered.
There is so much dramatic irony woven into the entire thing: things you know but the characters don't because for some reason they can't just stick together, until all the main characters finally converge in one spot and you think you can breathe a sigh of relief but you can't because maybe an hour later they all go off in different directions again, leaving the middle schoolers (the middle schoolers!) alone until the inevitably bittersweet ending.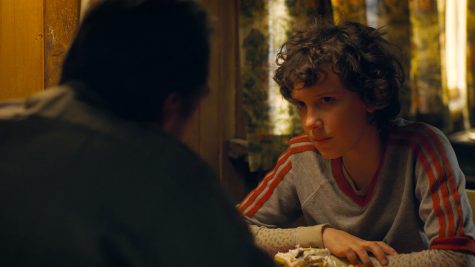 The cinematography, which I like to pay attention to in everything I watch, is amazing, with masterful cuts between scenes and character point of view so you know what's happening everywhere and yet somehow you don't quite.
Season two picks up where season one left off and keeps it running. I barely saw a drop in quality from season one to season two at all – in my opinion, season two's premiere was a little weak, and the subplot of Eleven's sister was a bit unnecessary, but that's more than made up for with the introduction of Max (Sadie Sink), the new girl in Hawkins, and Eleven's unique relationship with Jim Hopper (David Harbour), the police chief.
There is equal frustration in the second season – the same kind of frustration that keeps you watching. (Why can't the boys just tell Max what's really going on? Why aren't Jonathan (Charlie Heaton) and Nancy together yet? For that matter, why aren't Joyce and Hopper together yet? And why can't Eleven and Hopper realize that they're both doing what they think is best?)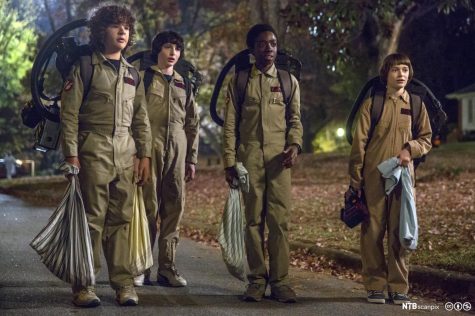 I was worried that the action wouldn't be as good in the second season, especially coming off of the amazing-ness that was the first season. But season two is incredible at providing suspense and clever motifs from previous episodes: we watch as Dustin raises what seems like a tiny innocuous creature until it becomes a very familiar-looking monster and attacks Steve Harrington (Joe Keery) and Steve has to fend it off with the same nail-studded bat he used in season one.
Perhaps one of my all-time favorite parts of the show is the music. The exceptional score by Kyle Dixon and Michael Stein and the unbeatable references to 80s music is amazing, and as someone who spends most of her time listening to music, this was such an important part of why I enjoyed the show. Combined with constant pop-culture and historical allusions, the music reinforces the true vibe of the 80s.
As of writing this, I've just finished season two and am on to season three. I already cannot wait for season four (coming out at some point in 2021!), and as we wait for the story to continue, I will not hesitate to recommend this show to anyone who wants to watch something new. Don't delay like I did. This show is worth a watch.
About the Writer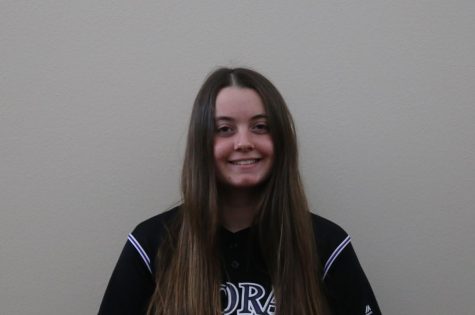 Carly Philpott, Editor-in-Chief
I'm a junior and this is my third year on staff, but my first year as Editor-in-Chief. I am also the...