Retiring after years of devotion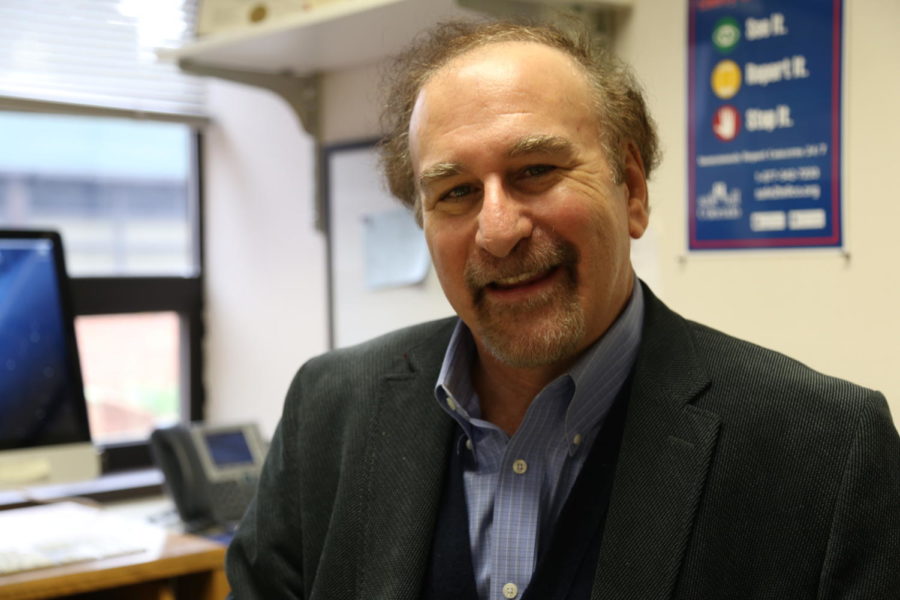 Giovanni Machado & Loza Tezera, Sports Editor & Staff Writer
May 8, 2019
Twenty-one years teaching at Creek. In total, thirty-five years of his life dedicated to teaching. That is more time than any student at Creek has lived, and now, Samuel Feld, the English department coordinator, is retiring.
"He is a friend. He is a born teacher. He is passionate, and he is often funny," English teacher Yael Abrahamsson said. "He is really dedicated, not only to his students, but to the world around him."
Many of his colleagues in the English Department share similar feelings towards his retirement.
"I think he is incredibly dedicated," said English teacher Kim Gilbert, who is going to be the new coordinator. "He really wants to support the teachers in the department. He wants to fight for us. I think that's what he's known probably best for. He advocates for teachers."
Principal Ryan Silva will also have many good memories from the time Feld has taught at Creek, both from a personal and academic point of view.
"I think he's done a wonderful job as leader of the English department," Silva said. "He's had some difficult conversations that I think we're timely. He's open to giving criticism. At the same time, he's also the first person who will come and tell you when he's wrong."
Students who had the chance to be a part of his classes, also acknowledge his passion and dedication as a teacher.
"He is a really good English teacher," Senior Samuel Lee said. "He's very experienced and skilled. He knows what he is doing when it comes to writing and literature."
Feld has been the head of the English department for the last six years.
"Being the department coordinator was a wonderful capstone to my career," Feld said. "I was able to mentor young new teachers, and help the hiring and shaping of the department for the future. I think I've become a much better teacher in the last six years."
During all this years, Feld has worked on many personal projects involving writing, including poetry and a novel.
"It's a symbolic novel that is inspired by my favorite novel, which is Damien by Hermann Hesse," Feld said. "Poetry is also something that I love because you don't have to dedicate a huge time frame to thinking about it. You can work on a poem for a couple of hours, and then it's over."
Gilbert feels like she has big shoes to fill.
"I hope that I'm able to kind of transition smoothly into the job, because of the time and effort he's given me," Gilbert said.
Feld believes that Creek is a special place, and after so much time being a part of the history of the school, is going to miss all the memories he built throughout the years.
"Creek teachers, students, and administration make this a really special place as a school," Feld said. "It's a place where students can be academically focused and feel proud of that. It's not an anti-intellectual place."
Not only the staff, but the students that were in his classes, even for a small period of time, will miss his qualities, not only as a English teacher, but as a person.
"I would like him to know how much I'll miss him," Abrahamsson said. "I will miss the academic conversations that we've had, the pedagogical conversations that we've had, the wisdom that he has brought to this place, and our friendship."
 Karate Kid, Ghostbusters, Indiana Jones. All of these classics were released in 1984, the same year Dave Benson joined the staff of Cherry Creek High School. 
Dave Benson has dedicated 35 years to educating the students of Creek.
Since 1984, Benson has taught primarily social studies classes before becoming the head coordinator of the social studies department, (with the exception of being a librarian for a year). Although his position as coordinator can be difficult at times, it's clear that he chooses to focus on the positives associated with the job.  
"I've really enjoyed the last eight years being coordinator. For one thing, it means I interact a lot more with the administration," said Benson. "That's a real upside. There's also some respect that goes along with it which is a perk."
He also mentions the important and meaningful friendships acquired as well as the many memories made over the years.  
"I'll definitely miss the great colleagues and all the great kids," Benson said.  
Along with teaching an array of classes, he has also had quite a strong and present influence over Creek's students and staff. Social studies teacher Drew Hamilton also spoke about how Benson had been able to aid students and staff in many ways throughout his years here. 
"He's always been a good listener," Hamilton said. "If you wanted to talk about various issues that come up in the classroom, he's never too busy. Anyone that's been around for forty years knows this place inside out, so in a lot of ways, that kind of experience is invaluable." 
Being around for thirty four years, it's clear that Benson has had a lot of influence, not only his students, but his fellow teachers and staff. "He is kind of like Creek royalty if you will," Principal Ryan Silva said. "He's somebody who I think is always so gentle with his approach whether it's with kids or adults. He cares a ton about the school, and I think he's been a great leader and definitely has been a great representative of the school."
Social studies teacher Mike Kraft, who is was elected to be the next department coordinator, also commented about how Benson has not only been a strong part of the department, but also sets examples for a lot of the students and staff.
"He has been a very steady, stabilizing force in our department for so long. He's a nice guy, a good teacher, and he's going to be missed," Kraft said.
Although Benson has had a strong impact on his fellow teachers and staff, his former students have also appreciated how much work he has put into ensuring their success.
"He has a huge passion for history," Sophomore Mara Zucker said. "He taught my brother and me and did an amazing job because I still remember a lot from last year."
Although it is apparent that Benson has been a strong and an ever present influence in the lives of many fellow teachers and students, it can be very easy to forget just how long he's been at Creek. "I can remember 9/11 vividly and what a shock that was. I can also remember when the Challenger space shuttle exploded in the first few years of my career," Benson said. "I've also been able to see my kids achieve in my AP government classes and get really high marks which has been exciting."
From being a student himself in the early 1970s to becoming one of the longest serving teachers in his department at Creek, Benson has been a strong influence throughout all his years at Creek and surely will be missed dearly.
"I'm going to enjoy sleeping late, playing golf on those beautiful fall days when everyone else is in school," Benson said.