Biking to school never seemed so cool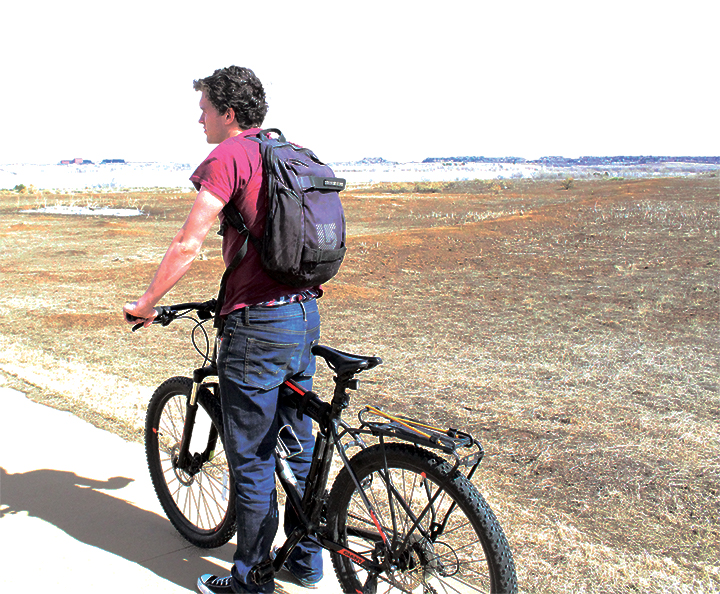 It's 6:45 a.m. and Jon Peaches has overslept. Rushing out of bed he throws on his clothes for the day. He hurries downstairs for a quick breakfast all the while searching for his left shoe. Finally organized he runs to his garage where his purple bike is, leaning against his Honda Civic. Hopping on, he journeys for the next half hour on his eight mile trip to school.
By 7:15am Jon quickly navigates his way out of his neighborhood and into the Cherry Creek Reservoir. From there he enjoys the scenery around him before reaching the school grounds.
"There's so much to look at and see and I get to take my time getting there. If you leave early enough in the mornings you can see all the wild life in the reservoir and its an amazing site to see".
Peaches is not the only kid that bikes to school. Many students by choice or based on living circumstances bike to school instead of using conventional means such as carpooling.
But of course not every morning trip to school is as normal as this.
"The worst was when a lightning storm around April last year and I almost got struck by lightning. It had split a tree a little ways away down the trail", says Peaches.
It's an understatement to call his travels normal. And he's not the only student with a crazy biking experience.
"I crashed my bike at an intersection and my friend Veronica and I had to lift my bike over a fence and then I climbed over it because my bike was broken", says sophomore Nicole Chen.
And even after their difficult travels the real trouble begins when trying to look for spots to lock bikes. With there only being three to four bike locks in the area, one by the East building and the other three by the front and back of the West building, there are only nine slots in each.
"Sometimes it's pure agony to find a place to lock my bike", says Shiloh Schwartz.
However, even with all the problems that continue to arise, there are benefits in biking to school.
According to the American Heart Association, "Regular physical activity keeps your heart healthy and strong and it helps you build healthy muscles, bones and joints. Physical activity can also raise your self-esteem, improve your mood, help you sleep better and give you more energy".
And students who bike to school see this value as well.
"You don't have to worry about giving others rides and it's good exercise," sophomore Sarah Bien said.