Finals schedule changes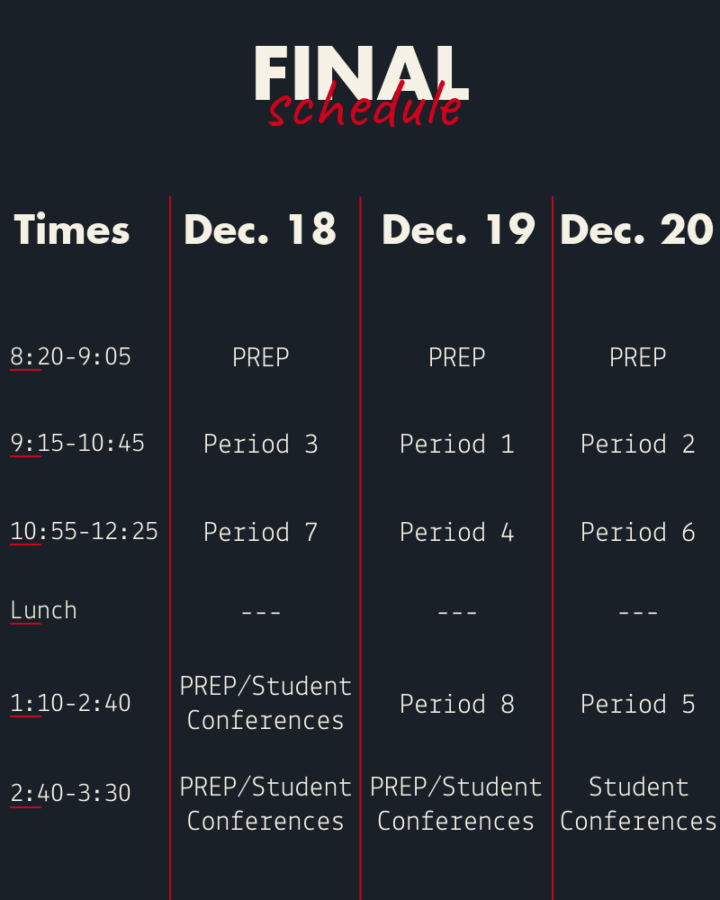 Matilde Marino, Co-Sports Editor
December 11, 2018
The last week of the semester is always a stressful time of year. Everybody wants to receive high grades, get out of school on Friday, and never come back for the next two weeks. However, what if they tell you that you are going to stay here more than expected, and that your vacation is two hours delayed? In fact, this year the schedule for finals week has changed from a half day of school to full day.
When students found about it, they were disappointed.
Sophomore Precious Bautista Alexander was upset about the change. "That sucks," she said, "I think it's stupid, staying here for a long time doing nothing."
However, school's principal Ryan Silva has an explanation of this choice. "The State has to calculate the minutes that you guys are in school," Silva said, "We have to turn in our schedules to the State, so that they know that we satisfied the minutes and that you guys are in school the minutes that you are required to be in school for public institutions. And if you are not, then we lose the fundings, because we get fundings from the State."
Therefore, in order to have the minutes required in one year, the school had to decide what was best for the kids.
"We talked about this as a district and there were a few options." Silva said. "One would be to require every senior and junior to take six classes, but doing that right now is problematic. I don't think it's what's best for kids anyway."
The other option was to change the length of the days during finals week. "So the short term fix, which will actually be the long term fix, is to make all of our finals days full days."
Math Department Coordinator Lawrence Dwyer explained how the schedule will work. "The first day, we have just two final exams. And then the second and third day, we have three final exams."
Also, compared to the past years, the prep period is going to be longer, and that is what will make the days longer. In fact, finals will last the same amount of time, that is 80 minutes.
The school tried to spread out the exams in order to avoid the issue of having students taking three exams in one day. "Hopefully, it's set up so that most students will have two exams each day," Dwyer said. "But you know, it never works out perfectly, so some will probably have them all three on some of those days."
The days, ending at 2:40 pm, are going to be shorter than a normal school day. However, at the end of the day, students will have an opportunity to go and see their teacher in case they need to clarify something or ask last minute questions. According to Dwyer, third and seventh periods are going to be the heaviest ones, whether fourth, fifth and sixth are going to be periods where the least number of students are taking exams. This will be the schedule for first semester finals. However, the situation will be slightly different on second semester because all the seniors will not be taking finals, so the number of students will decrease a lot. "Then second semester, they'll be on different days, and we will have three exams on the first day, three exams on the second day, and then two exams on the last day," Dwyer said.