Not our type? Creek struggles to donate blood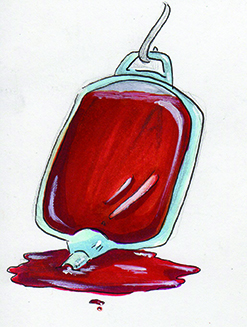 Mike Ragnow, Staff Writer
March 5, 2018
Hang on for a minute...we're trying to find some more stories you might like.
Cherry Creek High School hosts five blood drives a year, but for a school with 3600 students, Creek is underrepresented in Colorado's high school drives statewide.
The eligibility requirements to register to donate are simple.
You have to be 16 years old with a parent consent form, and fill out a simple questionnaire about your personal health at the time of your donation.
"We try to get 54 slots filled, we get about forty each drive, roughly two hundred a year," math teacher Karl Mimmack said.
Mimmack is the liaison between Cherry Creek High School and Bonfils Blood Center and has been in charge of the blood drives for a few years.
According to an anonymous source from Bonfils, Creek ranks fifth in the Cherry Creek School District and seventeenth in the state of Colorado.
Despite Creek being the largest High School in the state of Colorado, its blood drive numbers are negligible compared to smaller schools based on units of blood given in the last blood drive.
Last January, Bonfils received forty units of blood from Creek, which includes donations not only from students but from family members and faculty as well.
Creek is tied with Bishop Machebeuf Catholic High School in Denver, which homes 380 students total.
Mimmack believes outreach is the reason so few students donate blood.
"The posters look too professional," he said. Blood donation is hurt by the perception that the drives are "not for students."
Personal discomfort plays into the low drive numbers as well.
"The misconception is that [the needle used when giving blood] hurts," Mimmack said.
Several students, however, disagree. Senior Rob Chambers said he "never really got around to it."
Sophomore Cameron Sieglinger wants to avoid the hassle of filling out the paperwork.
"It's just a little harder being sixteen, cause if I was eighteen, I would definitely donate blood, but I don't want to necessarily go through the process of getting things signed and having to do all that just to donate blood," Sleglinger said.
But those who do donate often find it rewarding.
"There's something about it that makes me feel really good," said Ana Englesman, a senior who donates blood.
"There's just something about donating blood that makes you feel really good about yourself and the fact that you're helping somebody else who needs it more than you do."