Creek embraces international students
Senior Julio Torres came here from El Salvador one year ago. It was a huge transition for him, full of obstacles and difficulties on the beginning of his new journey.
"It was bad because I didn't understand anything," he said. "I felt weird, and it is really cold here. I wasn't used to it."
During his first months, he needed a lot of special attention because of the language issue.
"I needed a teacher who spoke both languages," Said Torres, whose first language is Spanish. "The school definitely did help most of the time."
Creek tries to help students like Torres and other hundreds of students that, for different reasons, decide to move here.
Torres is hopeful that Creek will help him secure a good future for himself.
"I want to [graduate] and go to a university, and I want to be an Electrical Mechanic," he said.
Torres also has social goals for the rest of his time here.
"I'd like to make more friends, because [now] most of my friends are Latinos," he said.
Andrea Aldridge is one of the teachers who helps students like Torres and about 100 other students who just came to our country and are still struggling with English language skills.
She helps Creek follow the laws regarding how the school helps new students who come from another country. The first step is testing that student's English language skills to see if they qualify for extra support.
"If their English ability is high enough that they don't need the specialized English classes, then they get welcomed and enrolled just like any other student," Aldridge said. "However, if they do test as needing English language service, then they get put in special classes in order to improve their English ability."
"In order to leave the special class, the students have to pass an access test or have grades to show that they mastered the language," Aldridge said.
However, even though Aldridge has lived here in the U.S. her whole life, she questions what is to be a fluent English speaker.
"Even though I've been speaking English my whole life, there are things that I don't know. When I'm fixing my car, I don't know any of the words of that, so I always say, 'Am I fluent in English?' I don't know," she joked.
Even though Aldridge has been working with international students for a very long time, sometimes there are still struggles with students who are having a really arduous time learning the language.
"We try to help them to learn the language as fast as we can through a lot of pictures, emotions, hand motions, drawings, pictures, and lines to connect things and similarities," she said. "So we do the non-verbal things to help them to learn the language, a lot of repetition, and clear speaking pronunciation."
But if none of those tactics works, they try to find in the school someone who speaks their language to help them.
"It's the easiest way on these occasions," she said.
Even with all these problems and struggles about having a class of international students, Aldridge loves the fact of working with students who come from other countries.
"I love working with international students, and I love learning about other countries because that is one of the greatest things about working with kids who come from around the world." Aldridge said, smiling. "They always teach me new things, too."
Seniors Yvonne Liu, Caroline Emeric and Ana Monrou, the presidents of the International Exchange Club, have a place besides the special classes offered by Creek where new students from other countries can feel comfortable and have a place to make some new friends at this difficult moment.
"Our club is really relaxed, and last year, we started to do PowerPoint presentations about the countries [students] are from,"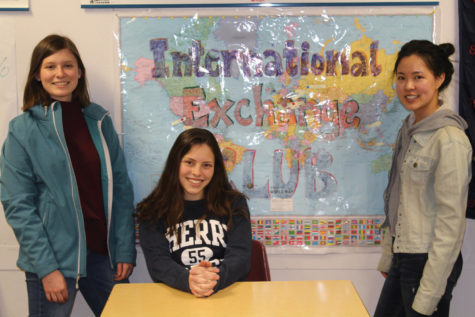 Emeric said. "I was born in the US, but my dad is French, so I lived in France for a couple of years, and I go there every summer," she said.
Liu decided to be one of the presidents after seeing a decline in the participation of the members of the club.
"When I joined as a freshman, we had a lot of people in this club, and people did a lot more, but after that, I felt there wasn't much enthusiastic leadership, so I decided to take this president spot," Liu said.
Even though they have already been in our country for a long time, Liu and Monrou, the vice president, had a really hard transition between their home country and the United States.
"I had a really heavy accent when I moved here from Mexico, and most first graders aren't used to accents, so they used to ignore me for a very long time," Monrou said. "It was really hard at first, but then I met this girl, she was really nice and she became my best friend, so after that things just started to get easier."
Liu also remembers with details how it was like, when she moved from Taiwan to the United States.
"When I first moved from Taiwan to the US in fourth grade, it was pretty hard because I had no English experience at all," Liu said.
"All my other classmates were really picky about my accent, but I think my teachers helped me a lot because I took classes for English as my second language."
The club today has about 15 members, and Liu invites all kids who want to learn more about cultures and also kids who went through the same experience as them or are going through it right now, to join the International Exchange Club.
"We are open to accept kids at every point, and there are a lot of international students in our school that don't know our club, so we want to be exposed more. If someone is interested in joining it we are totally open to that," Liu said.
"We have some kids that are 100% American, and it's really nice because you get to learn a lot about cultures," Monrou said.
"And a big misconception about this club is that this club just accepts kids from other countries or who have exchanged, and that is not true. We accept anyone who wants to join it," Emeric said.
Seniors Klara Noren and Sofia Gratton are members of the International Exchange Club. They are friends and they both share cultural experience in Sweden.
Noren was born and raised in Sweden and has been here in our country for only six months.
"I came here because I wanted to have new experiences," she said
Even though Noren has only been here for a short time,the language is not a problem to her.
"I have learned English in Sweden since the second grade, so when I came here, it just came out kind of natural," she said.
Noren had some expectations about the US and also had a lot of surprises and things she discovered when she came here.
"Everything was so weird, it was so different than I expected. In Sweden, I thought that here would be pretty much the same as Sweden because of what I saw in my research before I came here. But when I came it was so different. The school system is different, the way of receiving people in your house is different, and a lot small things are different, too."
Noren was invited to the International Exchange Club just after she started coming to Creek.
"I got an email on my first week at this school because I was a exchange student, so they told me that there was a club especially for me," Noren said. "Then, I met Sofia, and we became friends because she has also been to Sweden," she said
Gratton went on a foreign exchange to Sweden for a year when she was sixteen years old.
She found Sweden to be a great experience and also very different than the United States.
"I really wanted a new culture experience, and even though it's very similar to the US, I found it different in a lot of ways," she said. "I went to a normal Swedish high school, and it's more like a college schedule, so sometimes we had one hour classes on Monday, and three hours on Tuesday."
Gratton really likes the club and the activities they usually do there.
"I like the club a lot. We do a lot of activities to get to know each other and other countries," she said. "Sometimes, we do a small presentation about a certain country. It is really nice to know what other people have to share about other countries and other cultures."
Gratton highly recommends that students try exchanging to another country.
"It is a really great experience that you won't regret," she said.